Recently, there has been a lot of controversy and confusion regarding cameras in Apple (NASDAQ:AAPL) products. After the introduction of Apple's iPhone 4S, the controversy reached a frenzied pace. iPhone 4S has an advanced camera like no other phone. Not a day goes by without a rumor or proclamation from a self-appointed expert regarding the CMOS sensor in iPhone 4S.
CMOS stands for Complementary Metal Oxide Semiconductor. CMOS technology is used in semiconductor image sensors in the cameras in Apple products and other digital cameras. In layman's terms, an image sensor is simply the replacement for film in analog cameras.
Apple had been previously using image sensors from OmniVision Technology (NASDAQ:OVTI).
When OmniVision released OV8850 8-megapixal backside-illuminated (BSI), it was considered that OmniVision had won the race for cameras for smartphones.
Conventional sensors are front-illuminated. The light has to travel through circuit elements before it hits the photo diodes. Photo diodes are the surface where the light is received and an image is formed.
In a BSI sensor, the circuit elements are moved behind the photo diodes. This way more light reaches the photo diodes and less noise is created. If you have ever wondered why some cameras take a much better picture in low light, this is your answer.
As the chart shows, the investors' fond hopes for OV8850 were reflected in the rising price of OmniVision. My average buy price, and presumably the buy price of the subscribers to ZYX Buy Change Alert, was $12.72. Partial profit was taken at $33.97.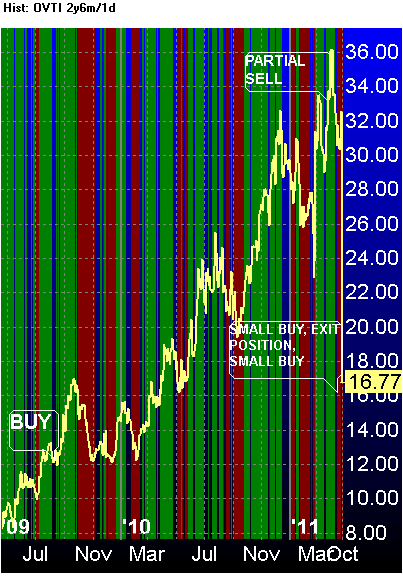 The big price decline on the chart was the result of OmniVision issuing guidance for Q2 EPS of $0.52 - $0.64 compared to consensus of $0.82. More shocking was the $255 - $275 million revenue guidance compared to consensus of $306 million.
No definitive reason was given for the shortfall in guidance. This was the point where rumors and controversy started. The introduction of iPhone 4S accelerated the rumors.
Confusion has prevailed because a large number of investors, as well as gurus, do not understand the basics. Here are the basics:
The iPhone 4S has two cameras—one rear facing and the other front facing.
The rear facing camera is a high resolution camera; the front facing camera is a low resolution camera.
OV8850 from OmniVision is a high resolution camera.
Sony (NYSE:SNE) is the other big manufacturer of CMOS sensors with specifications comparable to OV8850.
Both Sony and OmniVision make lower resolution sensors.
OmniVision has experienced some glitches with production of OV8850 and the sensor is not yet believed to be in mass production.
When OV8850 was announced, mass production was scheduled to start in 2012.
It is common for Apple to dual-source parts. This increases the competition and assures Apple of reliable supply and lower prices.
Part suppliers routinely sign confidentiality agreements with Apple. Such agreements preclude official confirmation from any company.
Apple has gone to great lengths to hide the identity of cameras in iPhone 4S.
All the reports and rumors are nothing more than someone's opinion based on very few facts. For example, earlier this week, when one website opened one 4S and claimed it had a Sony sensor, the stock briefly dropped.
From an investment perspective, image sensors supplied by Sony to Apple are likely to be less than 1% of Sony's revenues. There is no reasonable thesis for or against investment in Sony based on image sensors.
OmniVision is a different story. The stock goes up or down like a yoyo based on the latest Apple rumor.
An investor who has not yet mastered consistently making money in the stock market may ask about P/E, book value, cash flow, assets, liability, and so on. But those few investors who have mastered the art of consistently making money in the markets know that none of the aforementioned fundamental factors are instrumental in consistently generating profits on technology stocks.
A large number of investors are naive enough to believe that traditional fundamental analysis is the holy grail of making profits in technology stocks. Those who have analyzed 30 years of data rigorously, like we have, know that nothing could be farther from the truth.
My long-time readers know that the singular focus of my articles is to help them make money. Part of making money from technology stocks such as Apple is to use a proven method such as my ZYX Change Method and not waste time on what does not matter. There is nothing more fundamental than understanding the technology, the competition, the buyer of the technology, and finally, the user of the technology. I will not waste my readers' time on traditional fundamental data that has never consistently made money for anyone in technology stocks.
In case you are wondering about sensors in Google (NASDAQ:GOOG) Android phones, Research In Motion (RIMM), and Microsoft (NASDAQ:MSFT) phones, the answer is they traditionally have not been a factor in the stock price of OmniVision.
OmniVision will comfortably earn $1.60 this year. The stock trades at a P/E of a mere 10. Bullish investors can make a case for long-term investing based on the low P/E, but those seriously interested in making money should not fall into this trap. It is better to use time and energy to analyze the newly emerging competition from Asia that is heavily courting Apple.
According to our analysis, OmniVision at present is not a stock for investors, but it is a great short-term trading stock. The way to make money is to buy on dips and sell on rips.
Apple's plans and usage of camera sensors is still a mystery. What is in the media is pure speculation that no prudent long term investor should rely on to make an investment decision.
Disclosure: I am long AAPL, OVTI.
Additional disclosure: I am long Apple from an average of $131. I took profits on 50% of the position at an average price of $360. Subscribers to ZYX Buy Change Alert may have a similar position and may have taken similar actions. I was long on OVTI from $12.72 and took partial profits at $33.97 and exited the remainder of the position at $16.83. Subscribers to ZYX Buy Change Alert may have a similar position and may have taken similar actions. Now I have taken a very very short term long trading position on OVTI and may exit it at any time.