Crocs Inc. (NASDAQ:CROX) has been a remarkable story since 2007, trading as low as $.79 near the end of the year. Perhaps even more remarkable was that it had traded at over $75 in 2007. Since the sub $1's in 2008 the stock rallied to $32.47 in August of this year. On October 17th the company lowered third quarter guidance, dropping the stock from over $26/share to a closing price of of $16.15 on the 18th.
I typically analyze longer-term portfolio strategies, indices, and ETFs, but may start highlighting more individual stocks that I find in special situations. Nearly all strategies I highlight look for positive trends, relative strength via ETFs, and momentum in individual stocks. CROX is in the exact opposite position - it is a "falling knife", having gaped down strongly this week with no rebound so far: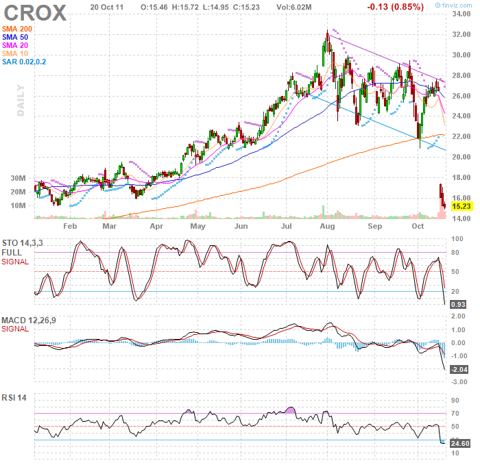 The sell-off looks to be slowing, with the trading range today narrowing (i.e. a smaller candlestick) and volume is decreasing, although today it was still 1.66 times its average volume. As already stated, I am by nature uncomfortable trying to catch falling stocks. At the same time, trading gaps and volatility offer opportunity to traders and short-term investors. How could a contrarian trader play a potential reversal in CROX?
Consider the following weekly chart, showing two potential support levels (in yellow). The chart also shows fibonacci retracement levels in red, starting from the low in 2008 to August's high. Potential support could be found at either yellow support line or the 61.8% level at $12.89: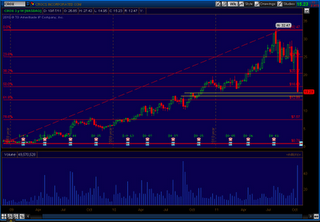 If we look on a daily chart you will see that today's close is more or less at the first support level. Failure to hold support in the short-term would mean a fairly quick move to around $14: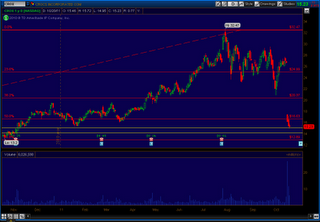 What is the risk at these levels? If the overall equity market shows weakness, I think CROX could struggle along with it. Investors are not in the mood to support companies which miss on earnings or lower guidance. I stated yesterday that I am not too excited about the overall US equity market but am trying to keep an open mind.
Institutional support could also wane, leading to further selling pressure. There has been heavy selling pressure this week, most likely led by institutions who are the largest shareholders of CROX. The stock had strong institutional support at the end of the quarter for June 30th. According to AlphaClone the stock had 15 funds buy into it in the second quarter and 0 sold out. Forty-three funds increased their position size while 8 decreased.. Three analysts updated guidance on the company on the 18th, with price targets ranging for $21-$25/share. I pay little attention to analysts expectations and price targets, but it is worth noting.
From a valuation perspective, the company's third quarter numbers still look decent. Sales are growing at nearly 30% year over year. However, jittery investors, already nervous about a European banking collapse or another US recession, are evidently worried the stock could repeat 2008. The company's specific guidance is below:
For the third quarter of 2011, the Company now expects revenue to be in the range of $273.0 to $275.0 million, an increase of approximately 27% over the $215.6 million of revenue reported in the third quarter last year. This compares to the Companys previous guidance for third quarter 2011 revenue of $280.0 million. For the third quarter 2011, the Company now expects diluted earnings per share to be between $0.31 and $0.33 compared to its previous guidance of diluted earnings per share of $0.40.
The company announces earnings on October 27th. It is a risky proposition to make an investment in the company before then, but traders may find short-term opportunity by playing the support levels highlighted above and trading a short-term rally off these oversold levels. I think a repeat of the stock's 2008 collapse is unlikely and the stock's growth still looks strong. However, when coupled with my concern about the overall equity market the stock remains risky, at least until further clarification and guidance from management.
Disclosure: No current positions in stocks mentioned.
Disclaimer: Please note that Scott's Investments and its author is not a financial adviser. Please consult your own investment adviser and do your own due diligence before making any investment decisions. Please read the full disclaimer at the bottom of Scott's Investments.