By Justin Dove
Rare earth stocks such as Molycorp (NYSE: MCP) were all the rage with investors in early 2011. The Market Vectors Rare Earths Strategic Metals ETF (AMEX: REMX) hit its 52-week high of $28.91 per share in April. Molycorp stock, included in the Strategic Metals ETF, approached $80 per share.
That all changed over the summer. Molycorp stock fell 32 percent in the course of four days in September. Part of that was due to the overall market swings. However, it also had to do with lower prices for rare earths as companies find ways to lower dependence and cut steeply rising costs.
As shown below, prices seem to have flatlined or even fallen significantly of late. However, recent news could point to another upswing for rare earths and subsequently non-China rare earth producers.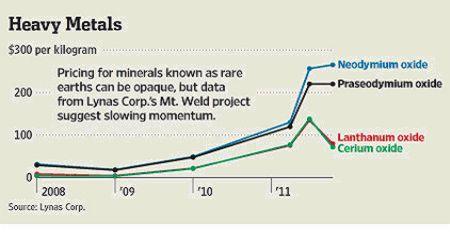 (Courtesy: Wall Street Journal)
China Restricts Rare Earth Production
On Tuesday, China's Inner Mongolia Baotou Steel Rare-Earth (Group) Hi-Tech, which produces up to 50 percent of the world's rare earth supply, announced that it was halting production for one month.
An RBS analyst told The Wall Street Journal that this move could significantly affect the rare earth market.
"We would expect a month-long shutdown from the largest producer in the world to impact prices reasonably quickly," said RBS rare earth analyst Sam Berridge. "Rare earth production is quite consolidated and the market is quite small, so one of the majors could influence the supply-demand balance quite easily."
This also isn't the first time the company has dabbled in propping up rare earth prices. In recent weeks, it bought significant amounts of certain rare earths for above market price.
According to the Financial Times, "Baotou's move suggests that Chinese efforts to control rare earths prices could be greater than previously thought."
China's Stranglehold Over Rare Earth Metals
China's control over rare earth production has been highly publicized over the last year. It's said to account for 97 percent of the world's production of these rare minerals, currently used in many high-tech applications such as camera lens manufacturing, high powered magnets and smartphones.
In the past year or so, China exercised this power over the market by setting mining and output restrictions. The drop in supply has driven prices up to record levels. Rare earths used to be mined all over the world. But in the 1980s, the Chinese undercut other producers so much that it became unprofitable to mine anywhere else.
The recent increase in prices is leading to other mining projects starting up in places such as Australia, Canada and the United States.
The lack of diversity in supply is so critical that large manufacturers such as Siemens AG (NYSE: SI) and Hitachi (NYSE: HIT) recently took steps to ensure supply from non-China producers. The Department of Defense also recently acknowledged the risk associated with China's dominance in production of rare earths that are critical to its weapons and technology systems.
Rare Earth Prices Are Stabilizing
This move should at least stabilize falling rare earths prices. Hopefully for non-China producers, such as Molycorp, it also drives more demand for production outside of China's stranglehold.
Molycorp's stock was struggling in relation to its performance in the first half of 2011. While its P/E is still very high at 145, it's set to reach full production in its first phase next year. It also recently announced a new discovery of heavy rare earths near its Mountain Pass mine in California. Heavy rare earths such as dysprosium or terbium are rarer and have a higher margin than the lighter varieties.
Canadian companies Avalon Rare Metals (AMEX: AVL) and Quest Rare Minerals (AMEX: QRM) are smaller, more volatile companies than Molycorp. However, the lower cost means less required investment and they're probably a bit less inflated than Molycorp. Quest's Strange Lake and Avalon's Thor Lake have the potential to be two of the largest deposits of rare earths in the world. But both companies have yet to turn a profit.
Rare Element Resources (AMEX: REE), covered by Investment U in August, also has the potential to capitalize in a rebound in rare earths.
Rare Earth Stocks Could Rebound
It appears that rare earth stocks may not have completely bottomed, as they continued through a rough patch on Wednesday. There's also the risk that new supply from Australia, Canada and the United States will oversupply the market and send prices lower.
At least for the time being, supply disruptions and attempts to control the market in China are likely to prop up rare earth prices. The need for large manufacturers and for the DoD to ensure supply internally and outside of China should help companies like Molycorp.
Streetinsider.com reported that Molycorp's analyst meeting at 12:15 on Thursday may provide a rally for shares if the news is favorable. It cites Morgan Stanley analyst Paretosh Misra, who gives the stock an ultimate price target of $90.
Although that's probably a bit optimistic, Molycorp could possibly be headed for an uptick. It may be worth it for investors to keep an eye on the rare earth markets, as we may be approaching a bottom.
Disclosure: Investment U expressly forbids its writers from having a financial interest in any security they recommend to our subscribers. All employees and agents of Investment U (and affiliated companies) must wait 24 hours after an initial trade recommendation is published on online - or 72 hours after a direct mail publication is sent - before acting on that recommendation.