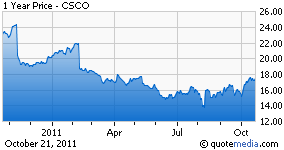 I'm not one to give in to ultimatums. The truth is, I much prefer to be the one issuing them. I once "humbly" demanded the resignation of Cisco (NASDAQ:CSCO) CEO John Chambers and told its board that either he goes or I go. The reason was simple: I was no longer convinced that the company had appreciated the sacrifices that I had made as a longtime Cisco shareholder. I felt he showed more interest in trying to prove that it could be something that wasn't.
At one point, Cisco was pretending to be a growth company. But it soon realized that it was all a façade when it looked in the mirror and reality kicked in. It was no longer growing. Its growth effectively stalled for several reasons, but most notably because of its bureaucratic structures. In a previous article, I highlighted the beginning of Cisco's struggles and highlighted in particular how the company became distracted by an unnecessary system of government such as changing its top-down decision making with "committees of executives" from across the company. This created teams to provide strategic advice and evaluate projects. In total, Cisco at one point had 59 of these internal standing committees, a complicated structure that caused the stock to reach a 52-week low of $13.30 just two months ago.
After sequential market share loss to the likes of F5 Networks (NASDAQ:FFIV), Hewlett-Packard (NYSE:HPQ), Riverbed (NASDAQ:RVBD) and Juniper (NYSE:JNPR), Cisco decided enough was enough. Today, it looks like a new company. Well maybe "new" is not the proper term, but let us just say it's different. Since reaching the low point of the business, which prompted Chambers to drastically re-structure its appearance, the stock has responded with a 30% jump to close just above $17.
Click to enlarge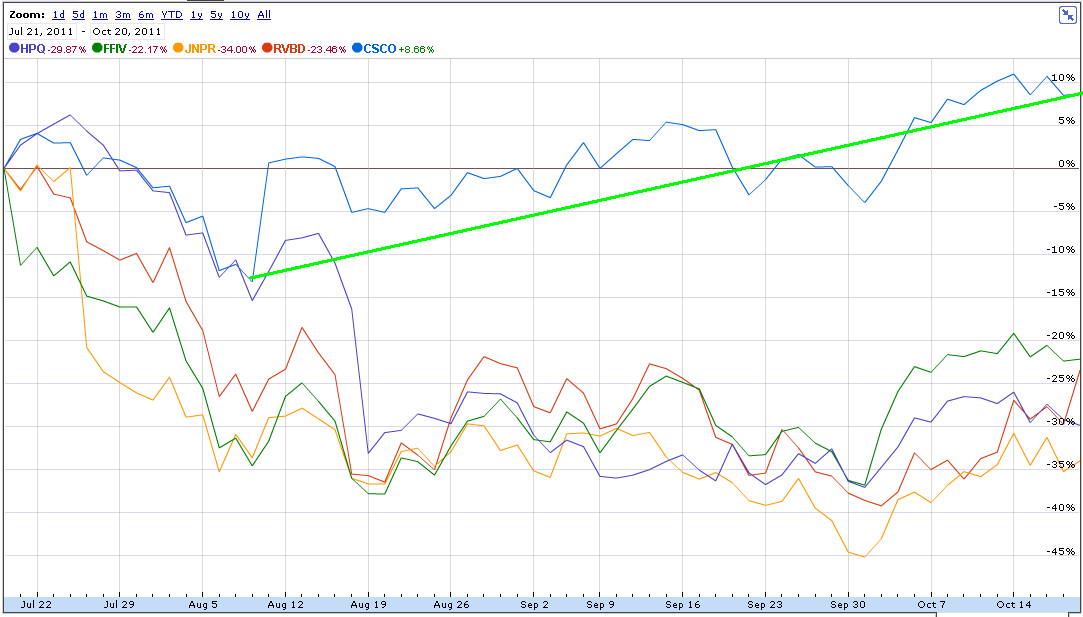 The graphic above tells a very important story. Since reaching the low point on August 9, Cisco has outperformed its peers by a significant margin and it doesn't appear to be slowing down any time soon.
Moving Ahead
On Tuesday, I was pleasantly surprised to learn that the company does in fact appreciate the sacrifices of shareholders,. something that I was convinced that it takes for granted. The press release read:
Cisco Systems Inc. CEO John Chambers saw his pay package fall by nearly a third in the company's fiscal year that ended in July, a period when the company's shares dropped by about the same amount.

The company said in a regulatory filing Tuesday that even though it achieved its operational performance goals for the year, shareholder value eroded in fiscal 2011.

"Consequently, the compensation committee exercised its negative discretion and determined that no named executive officer would receive a cash incentive award or a performance-based equity award for fiscal 2011," it said.
I'm not one to neither celebrate a person not earning what they feel they are worth, but as a long-time Cisco shareholder, this gesture has to feel good not to only me but to shareholders everywhere who have stood by the company through thick and thin. One has to consider that upon Steve Jobs' return to Apple (NASDAQ:AAPL) he worked for only $1 per year in compensation until his death. Perhaps that was motivation for Apple's stock performance. Who knows?
As for Cisco, these same investors are now being rewarded with a company that not only is showing accountability but it also producing results. In August, Cisco reported profits that beat analysts' estimates. Excluding some costs, profit was 40 cents a share compared to the expected 33 cents. Sales rose 3.3% to $11.2 billion in the period, which ended July 30, compared with an estimate of $10.98 billion.
This stellar performance was (in my opinion) the result of two major decisions. First was the cost-cutting initiative to keep the company from venturing too far into new markets that have proven to be futile in terms of profits. Secondly, Chambers shut down the company's Flip Video business in April which subsequently induced a job-cutting measure to reduce its workforce by 9%.
These changes may have strengthened my previous assessment that Cisco is a great value at current levels as opposed to its perceived "value trap." It is tough to not value a company with such strong fundamental standing. The stock price neither reflects its market share status nor fundamental status.
Summary
If investors look deep into the numbers, one will see a company that trades at attractive valuation multiples. It stands solidly with a market cap of $87 billion as well as 58 billion in EV and trades at a modest forward P/E of 8. How can a company with $43 billion in cash not be considered, especially one that has amassed almost $10 billion in free cash flow each year? One can continue to argue that there is no other company that has been able to leverage its balance sheet better than Cisco and one that can still potentially deliver another 20% premium in its stock from current levels by the end of the year.
Disclosure: I am long AAPL, CSCO.