Truth be told, I do not have a utility company in my portfolio, so I began taking a look at a few of them with decent yields, strong fundamentals, and some upside potential. My usual way of evaluating new purchases of stock in companies I have not owned.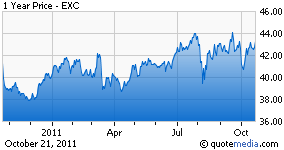 When I bumped into Exelon (NYSE:EXC) a bunch of things popped out at me that have given me a reason to be a buyer here I believe.
Exleon hit its high of 92.13 back in July 2008, and after its drop down to 50, it has basically flat-lined ... even more so than other utilities.( currently at about 43/shr).
Its significant nuclear ties might have held it back, but they do have all of the other resources available including renewable and natural gas.
Let's look at some fundamentals:
1) Their margins are at 36.4% vs. the industry avg. of 32.6.
2) They have revenues of 19.4 billion vs. an industry average of 1.9 billion.
3) Earnings per share is at 4.01 vs. an industry average of .35.
4) Its PE ratio is only 10.65 (under the industry avg) compared to AEP which is at 13.03, and only a tad over PEG's ratio of 9.99.
5) It has a current dividend yield of 4.9% (2.10/share).
Just based on these fundamentals I believe I stumbled upon my next purchase, but wait, there is more to this story.
Given the recent revelations about solar not being cost effective (OK so maybe they were not revelations), and their government subsidies going the way of the dodo bird, and less negative commentary on nuclear energy, Exelon might just add significant gains in revenue and net profits, and appeal to more utility shareholders and dividend seekers. (especially after they look at the fundamentals here).
Exelon's lackluster capital appreciation over the last 3 years is obvious, but toss in the anticipated addition of Constellation Energy (NYSE:CEG) which I believe will happen and even EDF will be satisfied, and what we have here is a very bright GREEN light to my tiny brain.
Wait. There is more.
Back in July of this year, Warren Buffett mentioned Exelon as a company he might like to own. Who knows he might just buy the whole shabang after the CEG deal goes through (he loves utilities).
My Opinion:
I envision strong capital appreciation in the near, as well as the long term, and with a dividend yield of almost 5% it pays me to wait for SOMETHING to happen. Earnings are to be announced on Oct 26th and I believe that EXC is a VERY attractive utility play.
Disclosure: I have no positions in any stocks mentioned, and no plans to initiate any positions within the next 72 hours.