Kinder Morgan (NYSE:KMI) will acquire El Paso Corporation (EP), both corporations, not MLPs, for $38 billion to create the largest midstream and the fourth largest energy company in North America with 80,000 miles of pipelines. The new business, including the MLPs, Kinder Morgan Energy Partners (NYSE:KMP) and El Paso Pipeline Partners (NYSE:EPB), will be the largest natural gas pipeline network, transporter of petroleum products and CO2, and the largest terminal owner/operator in the U.S. It is expected to produce shareholder value through strong cash flow and future growth opportunities. EP shareholders will receive cash, KMI shares and KMI warrants worth $26.87 (based on the October 14 KMI closing). EP will become a subsidiary of KMI. EP's net operating loss carryforwards will offset taxes when the exploration and production assets from EP are sold for $7-9 billion to reduce the debt borrowed for financing much of the cash portion of the purchase.
The transaction is expected to be accretive for dividends and distributions at KMI, KMP and KMR driven by $350 million in annual cost savings (5% of the combined EBITDA). With increased cash flow, KMI expects its dividend to grow at an average annual rate of 12.5% from the 2011 forecast of $1.16 (currently $1.20) through 2015 (higher than the previously projected 10% annual growth rate). The dividend would double by 2015 if KMI delivers that growth rate. For 2012, the KMP distribution and KMR (stock) dividends are expected to be nearly $5.00. In the coming years, the average growth rates for KMP and KMR are expected to be around 7%, higher than the previous estimate of 5%. Such growth would imply a distribution of $6 by 2015 and would be used to buy shares from stock dividends at KMR.
The business structure of Kinder Morgan needs to be explained ... it is unusual. Kinder Morgan, Inc. (KMI) is a leading pipeline transportation and energy storage company in North America, with more than 37,000 miles of pipelines and 180 terminals. It's the general manager for Kinder Morgan Partners (KMP), one of the largest MLPs in America, and Kinder Morgan Management ((NYSE:KMR)), with pipelines that transport natural gas, gasoline, crude oil and CO2. In addition, its terminals store petroleum and chemical products as well as ethanol, coal, petroleum, coke and steel. After the closing KMI will also become the general manager for MLP, El Paso Partners (EPB).
KMI is making this move because it believes that natural gas will play an increasingly important role in North America. New technology allows for the recovery of gas and oil from shale resources and there is an abundant supply of natural gas. Domestic supplies of natural gas are increasingly used to generate electricity and reduce carbon emissions to benefit the environment while reducing dependency on foreign energy. Gas is environmentally friendly. KMI will expand natural gas transportation as demand grows over the years.
Kinder Morgan has an outstanding record of growth, demonstrated by its pipeline company KMP which has produced rapidly growing distributions that resulted in substantial capital appreciation:
Kinder Morgan Energy Partners (KMP) Distributions
Click to enlarge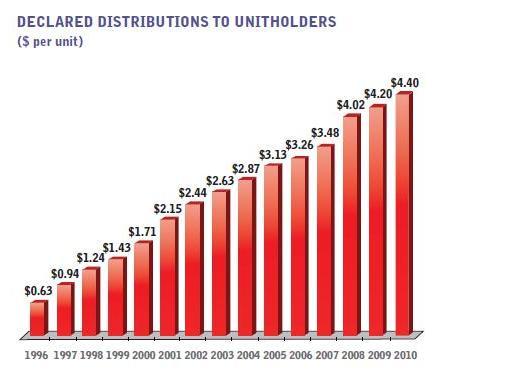 Kinder Morgan Energy Partners (KMP) Growth
Click to enlarge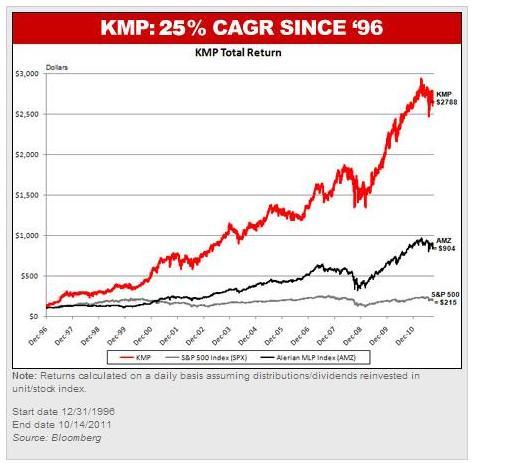 Source: Kinder Morgan
Management, led by Richard Kinder, has rewarded unit holders and stockholders of Kinder Morgan for years by investing in energy infrastructure. KMI went public earlier this year so it lacks a visible track record. KMR has been public for 10 years and its history of growth in (stock) dividends and investment value tracks growth of KMP units. KMP has a stellar growth rate for investors. A 30-cent Q4 dividend at KMI was just declared and the Q4 distribution for KMP was just increased to $1.16 ($4.64 annualized) from $1.15 in Q3.
Kinder Morgan should deliver on its projected growth rates for dividends and distributions. It has an outstanding record of accomplishment highlighted by impressive growth in investment value over 15 years that many stocks envy. Growing demand to move energy around the U.S. and Canada suggest that superior investment performance will continue. High yields from these securities will make any market declines easier to take.
| | | |
| --- | --- | --- |
| | Price | Yield |
| Kinder Morgan, Inc. (KMI) | $28.23 | 4.3% |
| Kinder Morgan Partners (KMP) | $76.54 | 6.1% |
| Kinder Morgan Management (KMR) | $67.62 | 6.9% |
Disclosure: I have no positions in any stocks mentioned, and no plans to initiate any positions within the next 72 hours.