The market has been extremely range-bound as of late, which has made it hard to buy and sell stocks. The stock market has been bouncing between 1,200 and 1,230 without much concern for the data, earnings and developments occurring in Europe. We appear to be on the bottom of this range, and it may be time to bounce up. Hopefully, this range will break and we can make a trend. Until then, its a stock-picker's market -- here are some picks:
What To Buy
Big Lots (NYSE:BIG) - The company is on a break-out right now. Big Lots is one of our favorite long-term plays, as it has top-notch management and was one of the companies to best leverage itself for success during the economic downturn by getting in on real estate in great areas that was very cheap. The company has broken out recently, and they look like the trend is higher without much resistance stopping them. The company has broken all of its moving averages, and it now broke a key pivot point. If the market takes another swing back to 1,240 on the S&P, we would be buyers of Big Lots (BIG), as the breakout is on!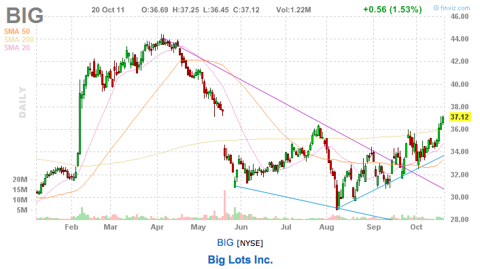 Baker Hughes (BHI) - Baker Hughes would be a play on Schlumberger (NYSE:SLB) earnings Friday. BHI has been moving well, and it is one of our top picks for earnings season. The company is moving EPS up over 100% YoY, and their sales growth is outstanding as well. We thought they may be able to make it to 60 post-earnings, but it is now looking like that could come pre-earnings. The company needs good earnings from SLB to continue higher. Good earnings could propel BHI over the 50-day MA at 55.30.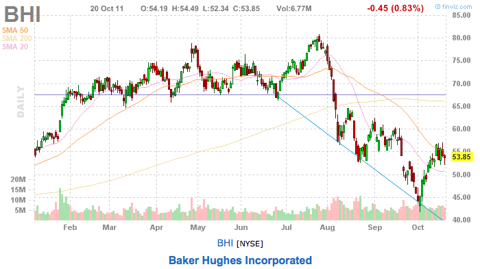 AK Steel (NYSE:AKS) - The company is looking quite nice right now. The company is expected to report a profit for the latest quarter at 0.01 vs. -0.50 EPS from one year ago. The steel industry has not been a beacon of investing glory over the past year, but we like what we are seeing from AKS. The stock is technically strong, and with a move to profits on the way, the stock could be ready for a breakout. The stock broke its 50-day MA Wednesday, and if we get a bit of an uptrend for a couple days, AKS could easily test $9.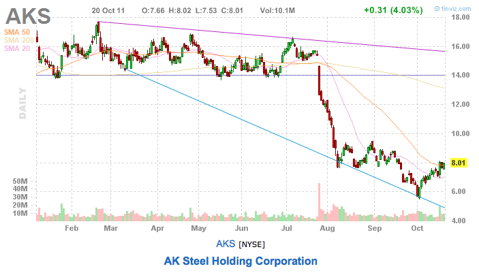 What To Sell
Thompson Creek Metals (TC) - Thompson Metals is not looking strong currently. The stock has fallen hard after breaking its 50-day and 20-day MA, and the stock has no support below it at this point. The company is seeing a significant decline in EPS YoY from 0.36 to 0.05 as well as a 26% decline in sales. The company mines copper, molybdenum, and other metals. It was not a good quarter for TC, and it looks like a sell-off for rare metal companies will continue. The company has a very low P/E, but the trend remains downward.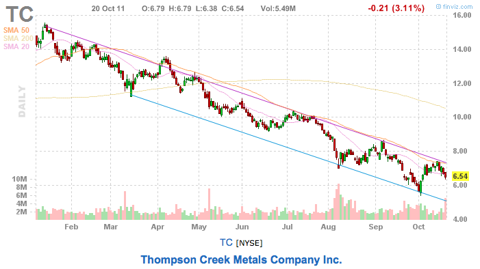 Cameco (NYSE:CCJ) - The company broke its 20-day MA today, and the upside does not look killer moving forward. The company seems to have topped out, and is ready to move back down. Earnings are on the way for CCJ, and the company is expecting growth in EPS to 0.30 from 0.20. The company, though, has missed two straight EPS estimates, and we would not expect heavy buying into earnings, with uranium and nuclear energy not in the spotlight for being positive still. We look for a sell-off into earnings.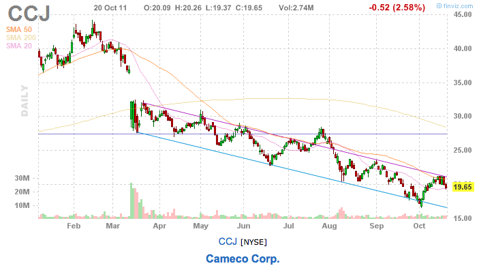 Dreamworks Animation (NASDAQ:DWA) - The company looks like another short into earnings as DWA continues to struggle this year, as many of its earnings are coming down with a weak line-up of movies this year. The company broke its 20-day MA today, and it has significant resistance there as well as the 50-day MA. The stock came up more than 10% since the beginning of September. We expect profit-taking to occur into earnings.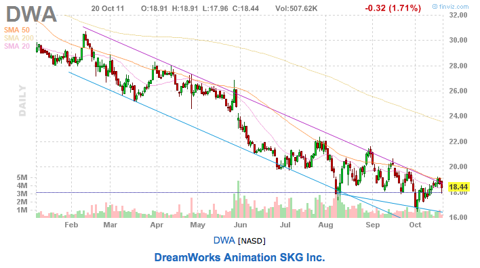 Disclosure:I have no positions in any stocks mentioned, but may initiate a long position in BIG, BHI, AKS over the next 72 hours, and I may initiate a short position in DWA, CCJ, or TC.