Eli Lilly (NYSE:LLY) reported mixed third-quarter results Thursday that showed strong top-line expansion but a meaningful decline in earnings. The road ahead will be challenging for Lilly as it will face a host of generic competition across its top drugs in coming years, but we are sticking with our $42 fair value estimate. We outline our valuation assumptions below (page 5 of our full report).
Lilly's revenue jumped 9% in the quarter (4% volume) thanks to double-digit expansion from key brands like Cymbalta (up 29%), Humalog (up 20%), Cialis (up 16%), etc. and favorable exchange rates (4%). The company also noted that it saw strong growth in animal health (up 28%), China and Japan. Though the top line growth was solid, operating expenses swelled due to marketing efforts to support new launches as well as continued investment in research and development (gross margins also took a hit as a result of foreign exchange fluctuations on inventory). Non-GAAP net income fell 7%, while non-GAAP earnings per share fell by a similar percentage from the same period a year ago. We're not particularly pleased with the magnitude of the earnings decline, given the sales increase and the fact that it faced a lower tax rate in the quarter (which also served as a boost). Lilly revised its non-GAAP earnings-per-share guidance range to $4.35 on the high end, down about 8% from last year. We think this is achievable.
Lilly noted that its clinical pipeline now contains 66 potential new medicines (including 10 in Phase III). The continued depletion of Gemzar sales (down 72% in the quarter) due to generic competition -- it lost U.S. patent exclusivity on Gemzar late last year -- and the impending loss of patent exclusivity for Zyprexa in the U.S. on October 23 and Cymbalta in mid-2013 will be difficult to overcome. It should be emphasized that Zyprexa and Cymbalta are Lilly's two largest drugs, by revenue.
Even with a full pipeline and a healthy dividend to boot (over a 5% annual yield), investors in Lilly face some considerable risks. We'd remain on the sidelines until the risk/reward is significantly in investors' favor. We think our methodology -- the Valuentum Buying Index -- is particularly important as it relates to this company, and we would only consider picking up the shares if they fell under $32 and a technical bottom was firmly in place. Needless to say, the next few years will be an interesting time for Lilly, and investors will be in for a wild ride.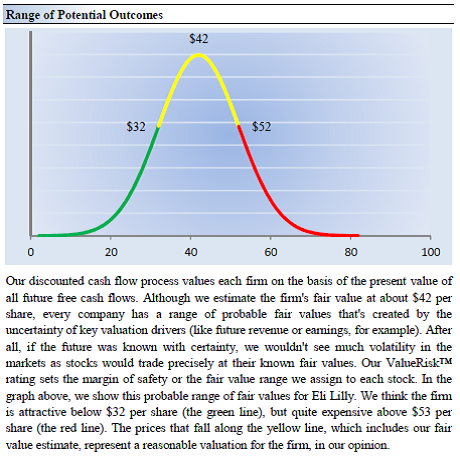 Our 16-page Report on Eli Lilly
Disclosure: I have no positions in any stocks mentioned, and no plans to initiate any positions within the next 72 hours.