The Federal Open Market Committee statement released on March 18th lost the word 'patient.' The loss of patient was expected in this article.
The FOMC statement was followed by a press conference by Federal Reserve Chairman Janet Yellen. During the press conference, a number of topics were covered. The FOMC statement showed that all voting members approved of removing the word 'patient.'
The initial reaction of the stock market, as measured by the S&P 500 ETF (NYSEARCA:SPY), was to increase from 207.15 to 209.74. The bond market measured by the iShares 20+ Year Treasury Bond (NYSEARCA:TLT) reacted by declining in yield or increasing in price from 129.00 to 130.00. The 10-year less 2-year yield curve measured by iPath US Treasury Steepener ETN (NASDAQ:STPP) reacted by having no trades.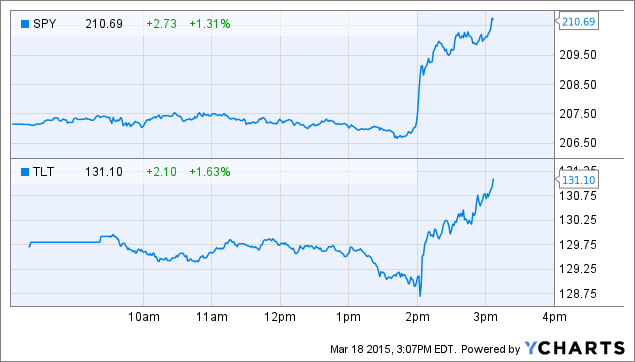 Key highlights from Chairman Yellen's press conference and FOMC data are released.
PCE inflation for 2015 revised sharply lower. The December central tendency was 1.0 to 1.6, compared to the current projection of 0.6 to 0.8.
Change in real GDP for 2015 was revised lower. The December central tendency was 2.6 to 3.0, compared to the current projection of 2.3 to 2.7.
15 members of the FOMC feel the appropriate timing of policy firming should occur in 2015, with 3 members thinking 2016 is more appropriate.
The 2016 midpoint for federal funds appears to range from 50 to 375 basis points.
Wage growth is being watched closely.
The chart below shows a different chart for unemployment. It reflects the unemployment rate of 15-year olds to 64-year-olds.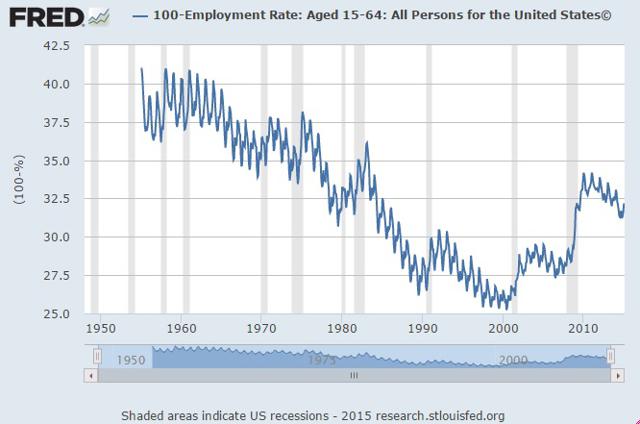 Bottom line
The FOMC statement is constructive for economic growth and stable interest rates. This should help the valuation of equities.
Do you agree or disagree with the above analysis?
Disclosure: The author has no positions in any stocks mentioned, and no plans to initiate any positions within the next 72 hours.
The author wrote this article themselves, and it expresses their own opinions. The author is not receiving compensation for it (other than from Seeking Alpha). The author has no business relationship with any company whose stock is mentioned in this article.