The Brigham Exploration Company (BEXP) buyout by Statoil ASA (OTCPK:STOHF) has put the midcap Bakken and Eagle Ford oil companies in play. Much of the attractive acreage in these two prolific oil fields has already been bought up. The only way to acquire a new major position now is to buy a company that holds leases on (or owns) prime oil acreage in these prolific fields. A few months ago BHP Billiton (NYSE:BHP) bought Petrohawk (NYSE:HK). This week Statoil bought BEXP. It seems inevitable that there will be more buyouts in the near future.
In its 2008 report, the USGS estimated that there were 3 billion to 4.4 billion barrels of recoverable oil in the Bakken. Recently Continental Resources' (NYSE:CLR) CEO said there approximately 24B barrels of recoverable oil in the Bakken using current technology. Various other reports have claimed anywhere from 167B to 500B barrels of potentially recoverable oil exist in the Bakken. It is unclear what the actual end figure will be, but it seems likely that technology will eventually improve, making more and more of the oil in the Bakken recoverable. It is already clear that the 2008 USGS estimate was an underestimate. The CLR CEO's estimate is probably accurate (or close) for the current technology. However, big oil companies tend to plan for the future. If they buy now, they may find that they are eventually able to recover several times the originally forecast amount. It's almost like purchasing an annuity for its current worth with a huge extra trust fund thrown in free as part of the bargain. A lot of big oil companies likely find this possibility appealing.
Many of the mid cap oil companies in these plays are likely good long-term investments. They are also the most likely buyout targets. A few of the most attractive of these are Continental Resources Inc. (CLR), Whiting Petroleum Corp. (NYSE:WLL), and Denbury Resources (NYSE:DNR).
Continental Resources has 901,370 net acres in the Bakken (68% de-risked) and many more net acres in other fields throughout the U.S. Its average EUR per ND Bakken well is 603,000 Boe. It has 23 operating rigs. The chart below indicates its growth in proved reserves. The chart to its right shows the approximate distribution of CLR's proved reserves.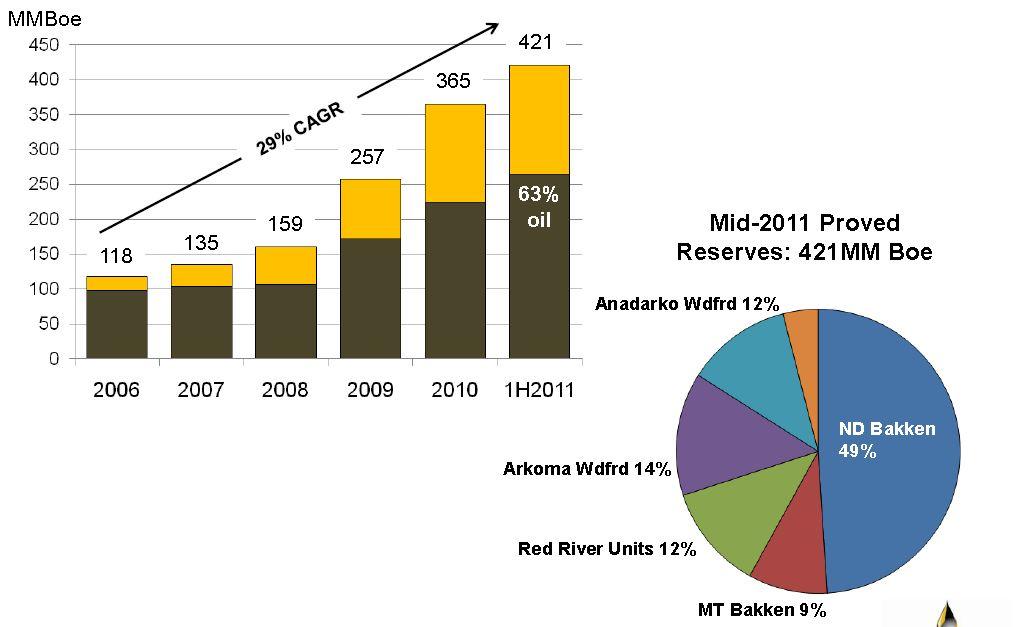 Whiting Petroleum Corp. has 680,137 net acres in the Bakken, and 1,443,499 total net acres in the U.S. It has 304.9 million boe of proved reserves, of which 83% are oil. Its Q2 2011 production was 64,100 boe/d. The chart below shows the approximate distribution of WLL's proved reserves.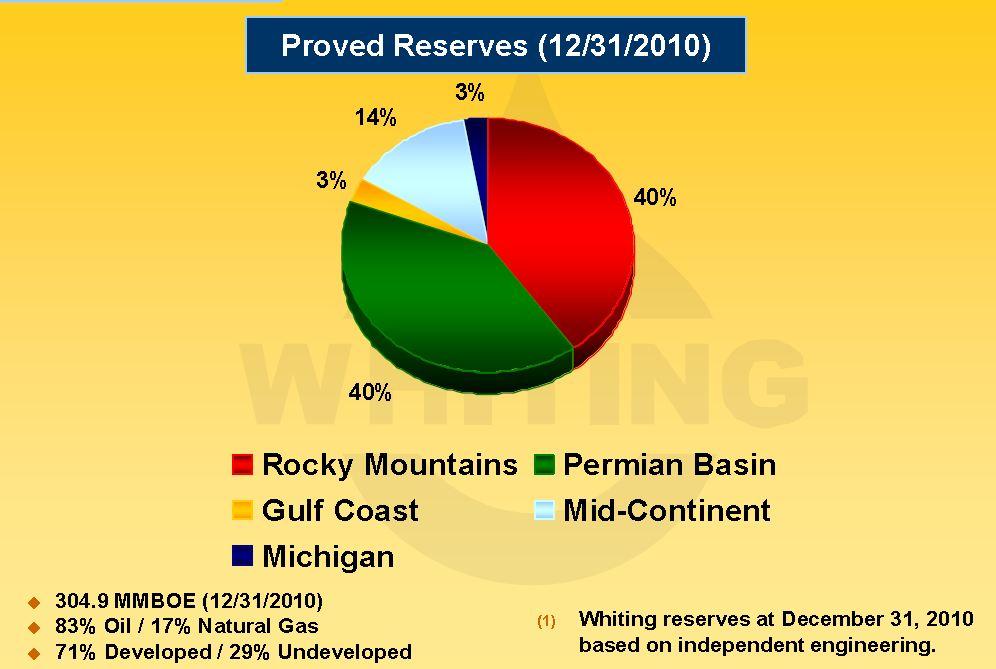 Denbury Resources (DNR) has properties in the Gulf Coast region of Mississippi, Texas, Louisiana, and Alabama, as well as properties in Montana, North Dakota, Utah, and Wyoming. It owns a Carbon Dioxide (CO2) source near Jackson, Mississippi. It has 266,000 net acres in the Bakken. Its holdings are extensive, but the Bakken acreage may be its gem. It is another lightly valued oil company with great assets.
The following table provides some of the fundamental financial data for these stocks, sourced from Yahoo Finance.
| | | | |
| --- | --- | --- | --- |
| Stock | CLR | WLL | DNR |
| Price | $58.20 | $44.18 | $14.73 |
| 1-Year Analysts' Target Price | $71.86 | $64.54 | $24.41 |
| Predicted % Gain | 23% | 46% | 66% |
| P/E | 105.63 | 17.66 | 20.75 |
| FPE | 17.96 | 10.70 | 12.48 |
| Average Analyst Opinion | 2.1 | 1.8 | 1.9 |
| Miss Or Beat Amount For Last Quarter | -$0.01 | $0.00 | $0.03 |
| EPS Estimate for FY2012 90 Days Ago | $3.24 | $4.13 | $1.47 |
| EPS Estimate for FY2012 90 Days Ago | $3.35 | $5.32 | $1.48 |
| EPS % Growth Estimate For 2011 | 45.70% | 35.40% | 96.80% |
| EPS % Growth Estimate For 2012 | 28.60% | 12.50% | 20.50% |
| 5-Year EPS Growth Estimate Per Annum | 17.67% | 18.88% | 24.50% |
| Market Cap | $10.44B | $5.19B | $5.87B |
| Enterprise Value | $11.08B | $6.23B | $7.96B |
| Beta | 1.76 | 2.10 | 1.39 |
| Total Cash Per Share (mrq) | $1.46 | $0.09 | $0.53 |
| Price/Book | 5.29 | 1.89 | 1.26 |
| Short Interest as a % of Float | 12.40% | 4.40% | 3.73% |
DNR, in many ways, looks like the best bargain above. It has the lowest beta and the lowest price/book ratio. It has the highest 5-year EPS growth estimate per annum. It beat earnings last quarter. Plus its earnings estimates for 2012 have remained virtually unchanged, while WLL's and CLR's have decreased noticeably. This looks to me to be better management. It also has the highest analysts forecast 1-year percentage gain (66%). WLL looks second best. Still CLR is still a good stock, and a good buyout target.
Let's look at the two-year charts of these stocks for some technical insight.
The two-year chart of CLR is below.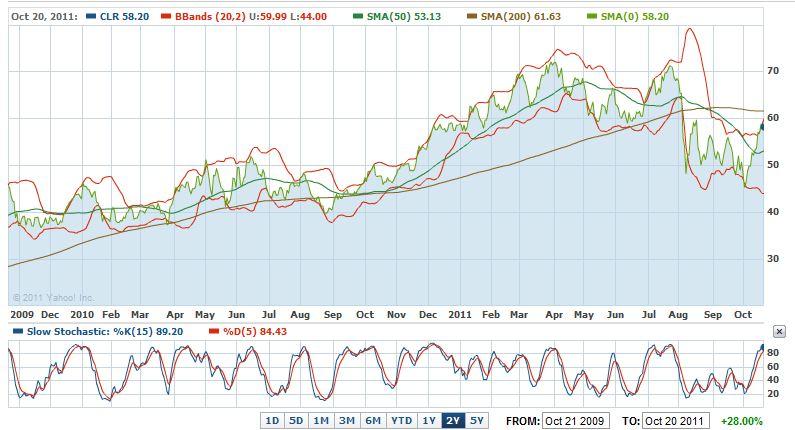 The two-year chart of WLL is below.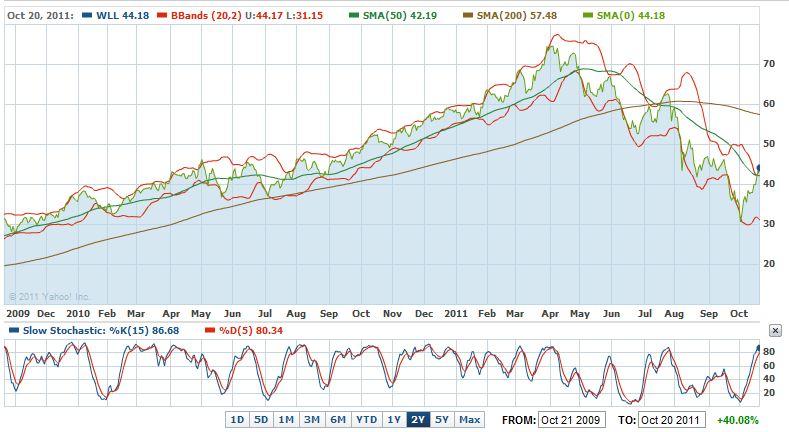 The two-year chart of DNR is below.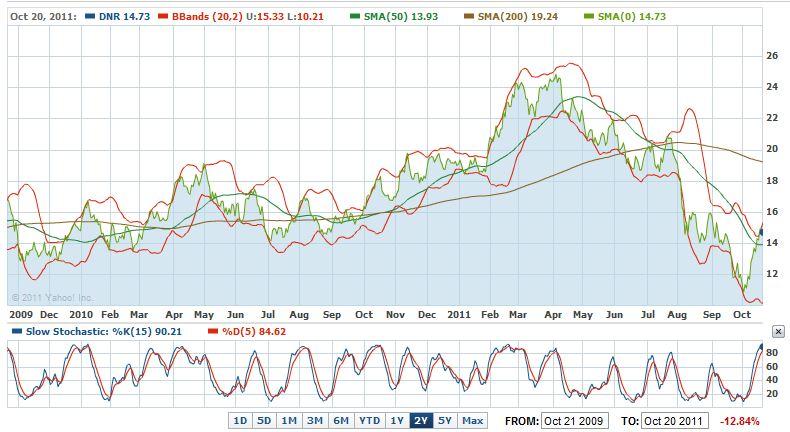 All of the above stocks have suffered mightily in the recent downturn. However, all are now above their 50-day SMAs, and they seem to be headed toward their 200-day SMAs. Charting theory says they are likely to push significantly through their 200-day SMAs too. This means each of the above stocks should still have significant upside. On the negative side, each is techinically overbought on its slow stochastic sub-chart. However, this does not mean that each cannot continue to go up near term; it merely sounds a warning that a leg down might occur in the upward process. Averaging in is a good strategy for this chart situation. I note that each of the above stocks is still significantly below its recent high. Since each is still growing rapidly, one would expect each to exceed its prior high within the next year, barring a major economic downturn.
Disclosure: I have no positions in any stocks mentioned, but may initiate a long position in DNR, WLL over the next 72 hours.