Bank leverage (assets to tangible equity) is a significant problem in Europe, but less so in the U.S.
The U.S. is not immune to the European debt crisis and would suffer collateral damage due to extra slowing of aggregate demand in Europe resulting from a bank crisis. But on a direct basis, U.S. banks are in better shape.
Collin Roche published an article listing the leverage ratio of a batch of European banks, and notes the danger that they cannot withstand the current debt problems over Greece and the potential spillover from that. We share his concerns as do most others.
Fortunately, the problem is less severe in the United States for three reasons:
U.S. banks have lower assets to tangible equity leverage
They have less direct exposure to European debt
The U.S. bank system is more diverse and less concentrated.
Leverage
Roche's data table showed European banks with leverage ratios mostly in the 20s and 30s. Our data table here shows large U.S. banks with leverage ratios mostly in the teens.
click image to enlarge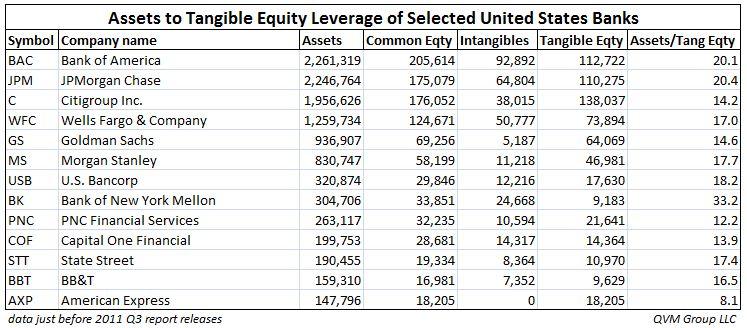 Direct Exposure
By the nature of their work and geographic positioning, large U.S. banks for the most part have a lower direct exposure to European sovereign debt than European banks.
The degree of exposure by large U.S. banks to obligations of European banks is unclear, however.
Morgan Stanley (NYSE:MS), for example, has a large gross exposure to the European debt arena, but they note that they have only a small net exposure when all of their instruments are considered. The problem with that is they do not disclose the detail of those instruments. If they bought protection from European banks, their practical exposure would be higher than their reported net exposure, but there is no way to really know what they have at this time.
Most U.S. banks by number, and perhaps by assets, do not have such exposure.
Diversity And Low Concentration
Not so much for the fate of U.S. large banks, but for the fate of the U.S. economy, the U.S. banking system is less concentrated. There are thousands of banks in the U.S., most of which are run on a simple business model of local deposit taking and local lending.
They have a simple spread business, and do not engage in complex derivative investments and do not engage in international banking. They would not experience the asset mark-to-market problems of large money center banks in the event of a European implosion.
Europe on the other hand has a highly concentrated banking system, by comparison, with greater GDP consequences should one or more major bank become insolvent.
This Week's Rally
The stock market rally this week is based in part on renewed hope that the EU has come up with a viable solution to their problem, and that they will implement it soon.
We have substantial doubts on both counts.
In addition to the daily on-again/off-again agreements between France and Germany, there may well be certain parts of the plan that are restricted by parts of the EU treaty between its members.
Germany last week said it will take months, not days, to come to a full solution. If changes to the treaty are required, it could take years.
Greece will probably get CPR and be put on a respirator for a while, but the riots in Greece are not making German taxpayers any more inclined to support the bailout of a country they consider to be "free-riding."
This chart shows this week's rally in U.S. stocks, EU stocks, emerging market stocks and U.S. large-cap banks (NYSEARCA:KBE) on a weekly basis and in perspective of four years.
Click to enlarge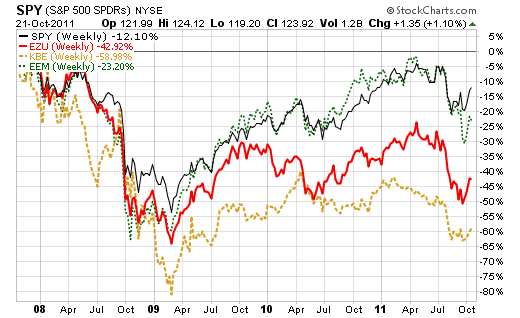 This chart shows the same categories on a daily basis for this week.
U.S. banks led the charge. If the EU ministers come out of their huddle all smiles with a plan that makes sense and can be implemented, U.S. banks will probably go up more. If they don't do that, the large banks will probably decline.
Click to enlarge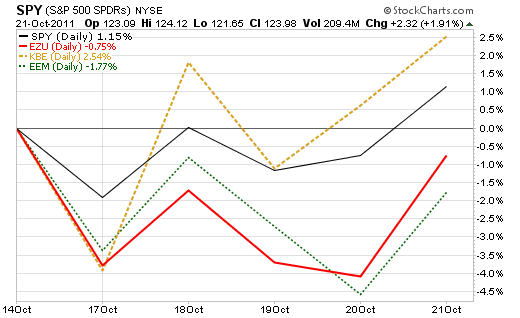 Next Week's Decline?
We would put the odds of a disappointing outcome from this Sunday's EU meeting at well above 50%, in which case the stock markets, and financials in particular, would likely give back the recent rally.
Disclosure: QVM has written near-term, far out of the money PUTs on GS, and has no positions in any other mentioned security as of the creation date of this article (October 21, 2011).
Disclaimer: This article provides opinions and information, but does not contain recommendations or personal investment advice to any specific person for any particular purpose. Do your own research or obtain suitable personal advice. You are responsible for your own investment decisions. This article is presented subject to our full disclaimer found on the QVM site available here.