The markets have continued their volatile ways in the month of October. From a recent low of 1099 on October 3, the S&P 500 index surged to 1,215 Thursday. The macro forces that have been driving the market volatility continue to set the tone, day in and day out. Despite the recent surge higher in the markets, there are some good values to be found. This is the final installment of a five-part series on finding cheap stocks in this volatile market. Last week's article focused on Wal-Mart Stores (NYSE:WMT) and JPMorgan Chase (NYSE:JPM).

This week's "cheap" picks are two very different companies with a common theme: strong earnings and a solid dividend.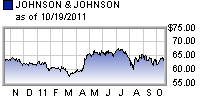 Johnson & Johnson (NYSE:JNJ)

The past year has proved to be one of the toughest in Johnson & Johnson's history. The venerable American stalwart has faced immense challenges, including several product recalls. Johnson & Johnson is in the process of putting all the pieces of its reputation back together after the company was criticized for the way in which it handled those recalls. Johnson & Johnson isn't totally unfamiliar with crisis. The company had to recall its Tylenol brand in the 1980s when tainted product hit store shelves. With that said, Johnson & Johnson seems to have weathered this storm and is on the mend.

The share price isn't reflecting the brand power of this company. Not only does Johnson & Johnson produce Tylenol, but also brands such as Band-Aid, Neutrogena, Listerine, and Splenda, as well as pharmaceuticals and medical devices. Currently, shares trade at 15.77 times earnings and only 12 times next year's earnings estimate. The price/owner earnings ratio is a very reasonable 17. Johnson & Johnson has increased earnings more than 7% annually over the last five years. The dividend yields 3.5% and has grown more than 10% annually over the last five years. During that time, the stock is down more than 7%, despite growing earnings and increasing dividend payments.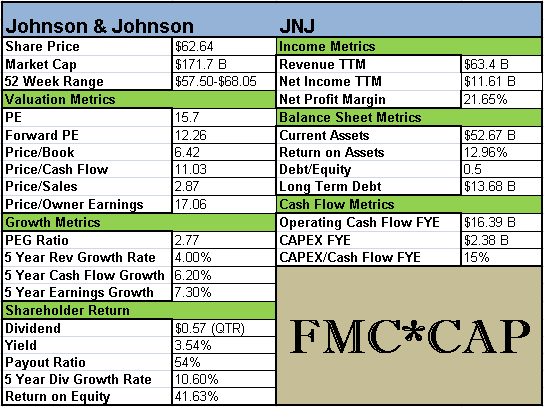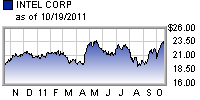 Intel Corp (NASDAQ:INTC)

Intel reported strong third-quarter earnings of $0.66 per share on Tuesday. The company also gave strong revenue guidance for the remainder of the year. Intel reported revenue of $14.2 billion in the third quarter, slightly better than the company's $14 billion prediction. All geographic segments of Intel's business were strong, with the most growth coming from Asia.

Intel is one of the few technology companies paying a solid dividend. This makes Intel attractive and tends to put a floor under the stock price. Intel has traded as low as $19.16 this year, but is currently not far from its 52-week high of $24.50. Despite this, shares remain very cheap. Intel trades at about 10 times earnings and only 9.68 times forward earnings. Intel has grown earnings 7.5% annually over the last five years. Over the same period, the company has increased its dividend 14.5% annually. Intel has only $2 billion in debt on a market cap of $124 billion.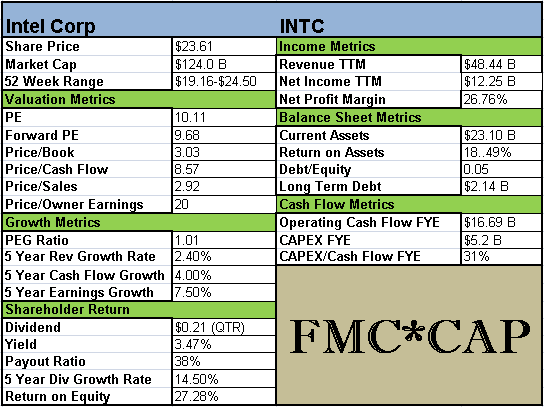 These two companies are solid picks for investors trying to avoid some of the volatile market swings we have been experiencing. Both of these companies have good long-term earnings potential. Their dividend yields are an added bonus for patient investors waiting for stocks to turn higher.

This article concludes my series on finding cheap stocks in a volatile market. The markets may continue to be volatile, but patient investors can use the volatility to seize opportunities.

Disclosure: I have no positions in any stocks mentioned, but may initiate a long position in INTC and/or JNJ over the next 72 hours.