So far this earnings season, 306 U.S. companies have reported their quarterly numbers. As shown by Bespoke Investment Group in the first chart below, 63.7% of these companies have beaten consensus earnings per share estimates. "It's still early on in the reporting period, but 63.7% is stronger than the readings seen in the prior two earnings seasons," said Bespoke. "It's still slightly lower, however, than the average beat rate of 65% seen since the bull market began back in March 2009. Market bulls would like to see the reading not only come in stronger than the prior two earnings seasons, but above the bull market average as well."
The revenue beat rate this earnings season currently sits at 67% (see second chart below). According to Bespoke, this is in line with the readings seen over the past two earnings seasons.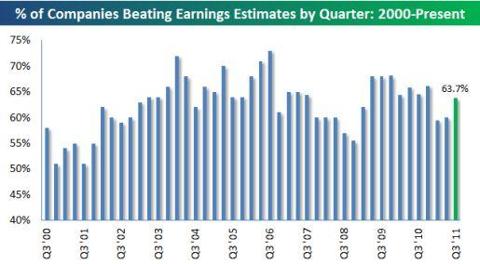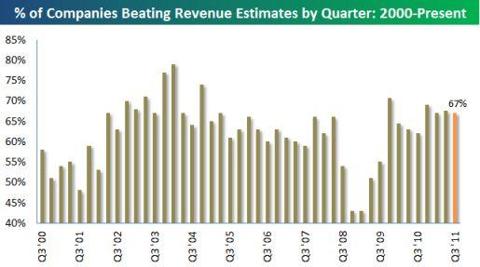 Source: Bespoke Investment Group, October 21, 2011.