In an article I wrote for Seeking Alpha last month, I discussed how Bank of America (NYSE:BAC) stock could either completely tank relatively quickly - or be an excellent buy if you are willing to take on some of the additional risk associated with owning it. When BAC was hovering near $5.00/share, I was very concerned that anything much below that level would really cause the short sellers to swarm it like vultures and completely sink it.
Bank of America released third quarter earnings this past Monday and surprisingly turned in a profit, compared to the third quarter of 2010 when it had a $7.3 billion dollar loss. See here for more on these results. The third quarter results did reveal that Bank of America is now behind JP Morgan Chase (NYSE:JPM) as America's biggest bank.
However, it should be noted that a good chunk of this profit can be attributed to one-time gains and write-downs, along with the selling of some of its assets. Bank of America has continued to try and raise cash due to impending legal disputes that, technically, are still up in the air. Nobody at this time can be certain what is going to happen with all of these lawsuits.
I think next quarter's results are going to be the most important for Bank of America going forward. All of the write-offs and one-time charges will not be able to make this earnings report look better than it was. I'm not trying to be a Bank of America basher here, either. Anyone who has any sense of finance can see these third quarter results for what they are worth - which is basically sugar-coated numbers.
Now that Bank of America is trading at $6.48/share as of Friday's market close, the bank is out of the weeds for the short-term. The question is, would it be a good idea to keep, add, or initiate a new position at the current price?
image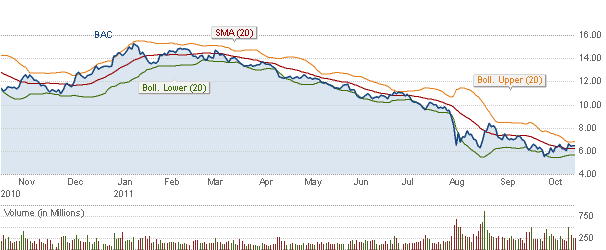 It was interesting to see the Dow go up 267 points on Friday and actually go down $0.01. In the grand scheme of things, this is really no big deal. However, it still shows that there are plenty of traders and short-sellers betting against Bank of America . The Relative Strength Index is currently sitting at 50.86 (14 day).
The risks and rewards of owning Bank of America stock or call options at this point in time haven't changed much in the last month. The upside is probably around $9.00 to $11.00 a share before the year is out. The downside is that any detrimental news, such as a new lawsuit or a heavy settlement, could knock the share price down quite a bit. My best guess is that $3.00 to $4.00 a share is probably the lowest it could hit by the end of the year. Then again, nothing would surprise me after the 2008 financial crisis.
As I stated in my last article on Bank of America , I do not recommend short-selling this stock. If you feel that the share price will fall substantially, then simply buy put options. Actually, buying put options that are out-of-the-money is a good idea for shareholders who would like to hedge their positions as a safety-net. These put options have been relatively cheap since the run-up in share price from the $5.13 level.
Good luck.
Disclosure: I have no positions in any stocks mentioned, and no plans to initiate any positions within the next 72 hours. I sold my put options last Tuesday