Risk On? Not Quite
The S&P 500 is now out of its August- October trading range and moving uptrend. But this rally might not be confirmed because many commodities didn't fully participate.
The Toronto Stock Exchange (TSX) index heavily weights on commodities. Almost 50% of iShares MSCI Canada Index (NYSEARCA:EWC) are energy and material. When risk is on, commodity prices usually go higher, and so does the TSX. However, last Friday the Dow Jones Industrial Average (NYSEARCA:DIA) stood at 11,808 while the S&P/TSX Composite index was 11,949. In other words, the TSX was only 140 points higher than the Dow. The chart below shows the weekly difference between the TSX and Dow over the last 6 years. The peak was in June 2008 with the TSX 3,000 points higher than the Dow.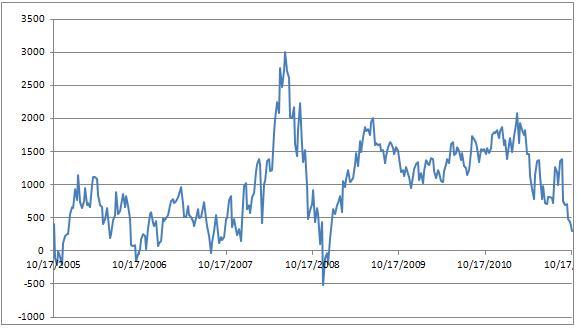 Nevertheless, many investors remain in equities because they have no good alternative and they believe markets are unpredictable. "Buy the rumor, sell the news" happens all the time. U.S. debt was downgraded in August but money poured into Treasury bonds. Historically, markets have recovered very rapidly, catching those who sold at lows failing to regain their losses.
In choppy markets, there are 2 ways to protect yourself from market turbulence: rebalance and hedge your portfolio.
Rebalancing
The key to risk management is not trying to predict random and unpredictable markets. Diversification lowers risk. 60% in equities and 40% in fixed income is a good rule of thumb and rebalance any time when your allocation drifts to a certain threshold, such as 5%.
Rebalancing is counterintuitive because we are always buying what is doing the worst and selling what is doing the best, or "buy low, sell high". Rebalancing can move you out of the high-fliers poised for a fall. The goal of rebalancing is to maintain your target asset allocation.
Correlation
In order to rebalance, you need to find 2 stocks with the biggest negative correlation. Correlation is a statistical measure of the degree to which the movements of two stocks are related. A negative coefficient means that the two stocks move in opposite directions.
Following table shows the correlation coefficients of 7 major ETFs with SPDRs (NYSEARCA:SPY) over the last 3 months:
| | | | | | | | |
| --- | --- | --- | --- | --- | --- | --- | --- |
| | | | | | | | |
| 1.00 | 0.80 | 0.89 | -0.42 | -0.84 | -0.41 | -0.43 | 0.69 |
Traditional diversity with bonds and gold still worked: they all have negative correlation with SPY. Among them, iShares Barclays 7-10 Year Treasury (NYSEARCA:IEF) has the highest negative correction (-0.84) with SPY. Following chart from Yahoo Finance shows their relationship over the last 3 months.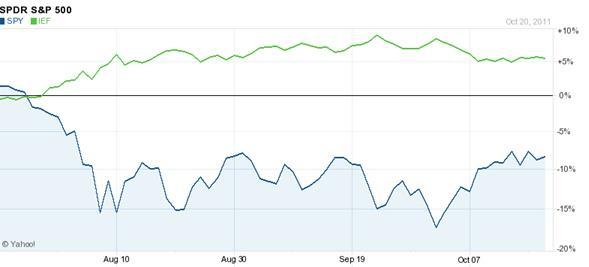 Hedge/Shoot
An alternative to periodic rebalancing is to hedge. Diversification doesn't always protect you during the financial debacle. In times of real crisis almost all asset classes seemed to fall.
Assets in U.S. based ETFs fell below the $1 trillion mark in September due to market pullback during the period, according to a new report from Birinyi Associates. Even though the total assets fell, the ETF market continues to grow because the money is still flowing into ETFs.
Retail investors looking to hedge bets by shorting the market can do so with inverse ETFs such as ProShares UltraShort S&P500 (NYSEARCA:SDS). These ETFs track the inverse (opposite) of the daily performance of the S&P 500, thus have made it possible to insure your portfolio quite easily in the short term.
Conclusion
To some extent, a long term and often contrarian approach is not always easy for many to accept or even learn, particularly in today's short-term-focused world. Value investing is all about downside protection and then trying to make a return on the upside, according to Prem Watsa, founder of Fairfax Financial Holdings.
Abnormally high stock market volatility might persist for a long time. Instead of "buy and hope", these 2 ETFs (IEF & SDS) could provide you with some protections and peace of mind.
Note: Data is from Yahoo Finance and is valid as of October 22, 2011.