Most investors look to buy the most promising business models regardless of valuation and short companies whose shares look vulnerable due to their particular business or industry whether or not the business trades below liquidation value. while this makes plenty of sense on the surface, as Buffett said famously, "price is what you pay and value is what you get." In other words,buying a great business at an expensive multiple often makes for a poor long term investment.
For many momentum oriented investors, growth expectations and the future prospects of a company's core business model are all that matters for long term investment success. Some traders tend to ignore things like price to earnings ratios, price to book value ratios, and most importantly price to operating cash flow multiples when making longer term investment decisions. With that said, growth is not always enough for success in the investment game when investors overpay for a rosy business plan. Businesses exist in a constant state of change and often times buying companies with a strong margin of safety from a valuation perspective is a good strategy even when headwinds may exist in the company's core markets or industry.
Just take a look at the one year chart of Travelzoo (NASDAQ:TZOO) common stock for an example of a stock where investors generally ignored valuation risk: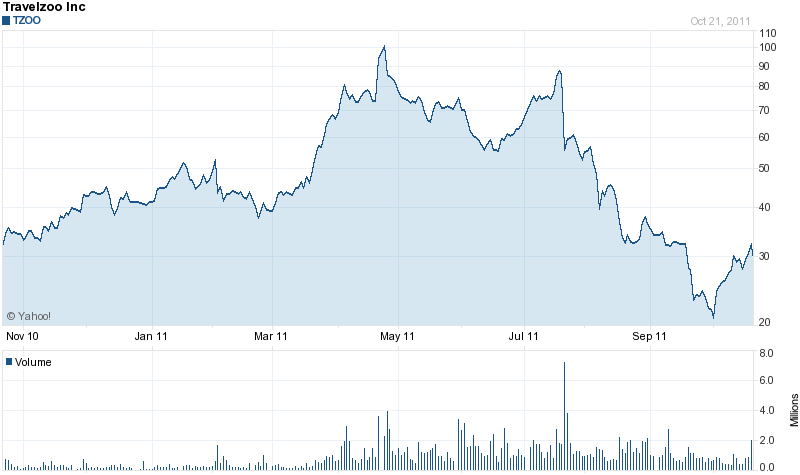 TZOO's shares were in bull mode throughout March and April due to the perception that increasing demand for internet group discounting and the rise in popularity of online travel reservations would drive earnings growth. Such a rosy industry tailwind could not prevent the reality of the business's valuation, cash flows, and balance sheet from preventing a 70% drop from the year-to-date highs in TZOO's share price to current levels. While TZOO may be a decent investment after the large drop, the bulls on such momentum stocks are a most always loudest near the top and the bears are almost always loudest near the bottoms of these dramatic share price movements, and this year has been particularly volatile for many companies which are growth oriented.
Another example of such a "business model" play was Opentable.
While Opentable commands a gamechanging business model which has in many ways revolutionized the restaurant reservation business, the growth in the marketplace could not ultimately trump the fact that OPEN shares were trading for well over 100 times earnings when the stock hit its year to date mania high of around $115 or so a few months back. Today, OPEN shares are well below $50. What has changed since then? Investors have merely weighed the future prospects against today's valuation metrics and have decided that the parabolic rise in share price and resulting valuation were simply not warranted. In other words, the hope and excitement met up with the mathematics of valuation, and the wrath of the valuation math prevailed.
Here are ten momentum names that the Street is currently too bullish on in our opinion.
Mako Surgical (NASDAQ:MAKO) -- While robotic surgery and robotic prosthesis technology is certainly taking the medical community by storm, Mako Surgical shares look to be overvalued at least according to their financial statements. Just because a company has a ground breaking new technology does not make a company immune to the reality of the cash flow statement and balance sheet. While Mako has a bright future, the shares could take a tumble in the near term if the business has to issue stock to pay business expenses.
Chipotle (NYSE:CMG) -- While Chipotle "beat" estimates, the shares are still fully valued in our view because of a 50X trailing PE multiple and the fact that same store sales are projected to grow at a low single digit rate for the next two years. The guidance is bad enough to negate the rise in revenues which came from adding additional stores. Chipotle plans on opening fewer stores in the coming quarters which likely means a slowdown in the overall earnings growth rate for the company and possibly a contraction of the market multiple on CMG shares. While this has been one of the hottest stocks over the past three years, over the next two years much of the momentum CMG has built up could slow and shares may crumble under slowing sales growth and the maturation of Chipotle's core business of selling burritos.
Salesforce.com (NYSE:CRM) -- Salesforce is a historic short opportunity at current valuations, in our view, as we believe the company simply can't grow its way into its current valuation. While many authors on Seeking Alpha have gone into detail on this stock, my goal is to help short sellers hedge their risk by using put spreads on CRM. Currently, I suggest buying the November $145 CRM puts and selling the November $125 CRM puts. This put spread has limited upside but also carries limited risk if CRM should shoot even higher with the recent announcement of possible further bond buying by the Federal Reserve. Zero interest rates and constant stimulus programs have a way of creating mal-investment in stocks like this, and the bubble may inflate before popping again. Overall, 650 times non-GAAP earnings is a lot for investors to chew on regardless of future growth prospects.
Amazon (NASDAQ:AMZN) -- Amazon may very well be one of the best business models on Earth, but that does not make the stock a good investment at current prices. The 104 PE ratio along with the company's falling earnings and misleading cash flows statements make AMZN a compelling short in our view and we would target the $175 area in the near to mediumterm. By writing a put spread investors can limit their "melt-up" risk in AMZN and can profit from the time decay of the short put. We are generally in favor of buying the in the money option which carries a lower premium versus the at the money option that we like to sell because the at the money option carries a higher percentage of option premium. In other words, buying the November Amazon $250 puts and selling the November Amazon $230 puts gives investors a way to make money even if Amazon goes slightly higher or stays flat over the next month due to the time decay of the at the money options we sell. If AMZN falls, investors can earn their maximum potential profit on the spread.
Universal Dislpay (NASDAQ:PANL) -- Shares of Universal Display are down about 10% or so from our last article on overvalued momentum stocks worth selling, but we think they have further room to the downside. Even though the catalyst for future growth exists and the business is well-positioned for growth, the mathematics of the stock's valuation makes these shares a bit too ripe at current levels from an investment perspective. While we are not overtly bearish on PANL, we would suggest avoiding the name until the future growth prospects materialize into tangible earnings on the income statement, cash flow statement, and balance sheet of the business. Until that point, investors may make some money surfing the wave of speculation created by the Fed's constant interventionism but over time buying greed and selling fear is a losing strategy.
Green Mountain Coffee (NASDAQ:GMCR) -- For months, Hedgephone has been warning readers about shares of Green Mountain Coffee Roasters because the business lacked positive free cash flow and until recently lacked positive tangible book value. While this may turn out to be a "Keurig Christmas" as Jim Cramer put it, the stock looks to be facing an "Einhorn Winter" in the near to medium term. David Einhorn made a particularly strong argument here as to why Green Mountain shares are very risky at the moment. Einhorn is negative on the stock for many of the reasons we have covered in the past, including the SEC investigation, related party transactions, questionable disclosure and accounting practices, and the parabolic rise of the company's stock price. Stocks that rise straight up without any corrections along the way are generally subject to Newton's Law and in general tend to retrace a good deal of any parabolic blow off top.
Peet's Coffee (NASDAQ:PEET) -- Peet's Coffee and Tea shares are not quite as expensive as GMCR, but the stock is still richer than the company's coffee at current levels, trading for a commanding 38X earnings. A 38 PE ratio is generally handed out to technology shares which are disrupting an industry. A 38PE is generally not handed to coffee or beverage stocks for good reason. When a fairly low growth, old line company like Peets receives such a valuation, investors should be skeptical of the shares as an investment. In general, paying over 15-20X earnings even for the best business is risky and buying a low growth business for over 20X earnings without a discount to tangible book value is usually a recipe for long term investment heartache. While Peet's may grow into today's robust valuation, it will have to sell a lot more Robusta to close the gap between today's multiple and the company's financial statements. If the wrath of the math gets there first, things could get ugly for PEET shareholders.
Simon Property Group (NYSE:SPG) -- Simon Property Group is another stock which has managed to outperform in spite of our negative outlook on the name. While we have been wrong in the short and medium term here, the overall outlook for mall-based retailing hasn't really changed. Amazon and the other web-based retailers continue to take share from brick and mortar businesses, and the overall economic picture for retail spending should suggest that Simon will face macro economic headwinds in the future in their mall properties segment. With that said, investors seem to be more than willing to shell out 20X free cash flow for these shares right now and if the business turns enough we may have to re-evaluate our outlook on the stock as it is less expensive as the other names on this list.
The Nasdaq 100 (NASDAQ:QQQ) -- The Nasdaq 100 index is close to making new year to date highs believe it or not, and while I may be a skeptic of the new web 2.0 boom and a technology focused new new new economy, many investors are rushing in to buy shares in the latest game changing technology companies. To be sure, I am positive on many of the names in the QQQ including GOOG, MSFT, SNDK, HPQ, INTC, etc... It's the rest of the members of the Nasdaq 100 that look to outweight these cheaper names in the index which make me neutral to negative onthe QQQ.
LinkedIn (LNKD) -- LinkedIn is perhaps the biggest battleground stock in the market. While the overall business model is sound and beneficial to society as a whole in helping those out of work find employment and in helping people network with one and other, LNKD from a mathematical valuation standpoint looks perplexing, to say the least, at around 500X GAAP earnings. The company boasts such a strong growth rate and social media has an exponential tailwind behind it which makes valuing these shares quite difficult for investors at current prices. One thing is certain, with more QE, the melt-up is likely to continue for many of the more fully valued technology stocks like LNKD.
Disclosure: I have no positions in any stocks mentioned, and no plans to initiate any positions within the next 72 hours.