Shares of Keryx Biopharmaceuticals (NASDAQ:KERX) have been in the spotlight ever since the company announced full enrollment for its Phase III Zerenex trial last month and KERX looked to be rebounding from its recent lows.
Now, some recent high-profile debating between popular biotech blogging sites has launched Keryx right back into the spotlight and fueled speculation about the upcoming release of Perifisone Phase III results, which are due early next year.
Perifisone was in-licensed from Aeterna Zentaris (NASDAQ:AEZS) as a potential first-in-class oral anti-cancer drug that inhibits Akt activation in the phosphoinositide 3-kinase (PI3K) pathway and joins Zerenex, an oral compound intended to treat hyperphosphatemia (elevated phosphate levels) in patients with end-stage renal disease, to form a viable one-two punch for Keryx's late stage pipeline.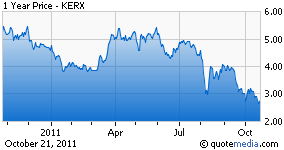 The advancement of that one-two punch through mid and late stage trials has increased the KERX share price from under a buck to highs over six over the past few years. Many have also speculated that this company is a prime takeover target, given that large pharmaceutical companies are looking to boost their pipelines in light of many popular money-makers coming off label over the next few years. That said, it's likely that any acquisition would take place on the back end of trial results when potential buyers would have a better idea of what they're getting.
The recent debate that has thrust Keryx into the forefront of biotech news these days was sparked last week when TheStreet.com's biotech blogger joined forces and issued a 'mailbag report' that the Perifisone trial would fail. As a result, last Friday saw KERX shares slip as skittish investors might have run for cover knowing that the popular biotech blogger - who likes to call what he does "journalism" - was coming in for the attack. However, additional blogging and reporting during this past week highlighting the long side of the argument has some investors taking advantage of the dip and adding shares.
With shares having slipped to below the three dollar level, there might be something to the strategy of adding now and waiting for a 'pre-results spike', as is common in the biotech sector. That strategy was also recommended by recent analyst reports that slapped tags of "buy" and "outperform" on the Keryx stock.
The short term volatility isn't likely to go anywhere, and the high-profile debates will only fuel the fire behind that volatility. The situation is going to produce some decent short term trading opportunities, in my opinion, as well as providing opportunities to buy the dips in preparation to the pre-results run predicted by the analysts and other investors.
When the results are announced next year, readers of the various blogs can chalk up who's right or wrong, but that shouldn't be the focus of the KERX investment. The focus should be playing the spikes and dips to keep an investment on the plus side of break-even.
Take biotech blog readership with a grain of salt, as the idea at TheStreet.com is not to keep investors informed; as a publicly-traded company the primary goal is to make money and they do this by creating buzz and attracting advertising clicks. That's why you have to click through seven or eight pages for each article, with each page being plastered with so much advertising that it looks more like a school yard filled with graffiti in the Bronx than it does a legitimate source for unbiased information.
Readers will also point out that, while TheStreet.com's biotech blogger makes some correct negative calls (easy to do in a sector where the inherent nature of the sector is to see the majority of companies and drugs fail), but also misses the boat quite often, with Dendreon Corporation (NASDAQ:DNDN) and Human Genome Sciences, Inc. (HGSI) probably being the most notable misses.
Enjoy the debates, but again, don't lose site of what's important, which is using the volatility to potentially produce some monetary gains. Because indications are, it's going to be a volatile couple of months for KERX.
Disclosure: Author is long KERX.