General Electric (NYSE:GE) reported what on the surface appeared to be good Q3 earnings on Friday, but despite a record order backlog, concerns over pressure on margins appear to have kept the stock in the red.
For now, I am more intrigued by GE's improving capital ratio and the $90B+ of cash on its balance sheet, since along with improving earnings, the Berkshire Hathaway (NYSE:BRK.A) preferred payback, and the eventual return of dividends from GE Capital, I would expect GE to want to please shareholders more tangibly by at least hiking its quarterly dividend again and ideally by also announcing a special dividend.
Shareholders may be disappointed in the coming months...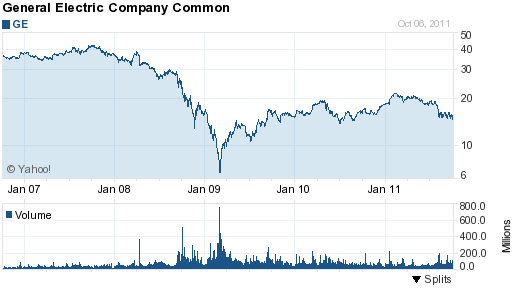 Below are extracts from GE's earnings conference call discussing the dividend and other capital matters. Unsurprisingly, GE and CEO Jeff Immelt continue to say that the dividend is a top priority. However, it goes without saying that actions speak louder than words. GE should take the high road and return more than an additional token $0.01 per share per quarter to its patient shareholders.
In the meantime, we are told that another $1B was spent on share buybacks. It seems, unfortunately, that the actual share count may not have budged much. During Q3, GE traded between $15 and over $19, and ended the quarter at $15.22. My recent review of GE's buybacks shows that the company has been effectively paying twice its market price to buyback stock. We'll see the latest cost to shareholders in early November when GE files its 10Q.
GE Q3 conference call transcript extracts are below (full transcript available via Seeking Alpha and GE):
Terry Darling - Goldman Sachs - Analyst

Thanks, good morning. A couple follow-ups. First on capital allocation, is -- do we have any update on or sense of timing on the completion of the Fed process and is that completion a necessity in terms of moving on the dividend? Are those two tied at the hip I guess?

Keith Sherin - General Electric Company - Vice Chairman & Chief Financial Officer

They are. We are working cooperatively with them. Imagine being parachuted into GE Capital in July and saying you know the whole place, they've got a lot of work to do. We are cooperating with them. I think we're just going to have a constructive, open dialogue. We are having a lot of meetings and a lot of work is going on. But we are going to respect the Fed and we're waiting for them to work cooperatively with us on when we make a decision on a dividend back from GE Capital. I think they've got a lot of learning to do and we have got a lot of information to share with them and we've got to work constructively on that. So it does matter and it does depend on them and we are going to work cooperatively with them to get to that point.

[...]

Keith Sherin - General Electric Company - Vice Chairman & Chief Financial Officer

Well, I mean, we will work with the Board as we always do on the dividend plans for GE in total and Jeff mentioned it's a real priority for us in terms of capital allocation is the dividend to our investors and we want to keep around a 45% payout ratio and we feel we got a pretty good outlook to deliver on that.

Jeff Immelt - General Electric Company - Chairman of the Board and Chief Executive Officer

You know, Terry, I just want to make sure that that is well understood that the GE dividend to our investors is a real priority. I think that moves really independently of the Fed process and from the Board and from my standpoint, it remains an extremely strong priority for the Company.

[...]

Jeffrey Sprague - Vertical Research - Analyst

Good morning, guys. Just a question on capital allocation. Keith, you mentioned just things improving at Capital and maybe in position to start some bulk originations. I think investors are kind of expecting a dividend out of capital and maybe it comes back in share repurchase and I've even heard people talking about a dividend beyond kind of the normal December hike. Is that the way to think about things? How does cash flow and capital allocation actually play out in 2012?

Keith Sherin - General Electric Company - Vice Chairman & Chief Financial Officer

Well, we expect to have a stronger CFOA from our industrial businesses in 2012 than in 2011. We won't have the drag of not having the NBCU cash year-over-year and we will have the growth in the industrial businesses including the acquisitions and obviously the growth in our earnings.

From a capital perspective, our plan is to have a dividend out of GE Capital back to the parent in '12. We've got a lot of work to do on that. We have obviously worked hard over the last couple of years to strengthen our capital ratios. You saw the numbers there.They are very strong compared to peers and other standards out there.

As you know, though, the Fed just became a regulator in mid July. It's very early in the process of them getting to understand us and we are working constructively and transparently with them, so we will have to give you an update as we go forward with them on that. Our objectives are still the same and we've got a lot of work to do to get at that.

Jeff Immelt - General Electric Company - Chairman of the Board and Chief Executive Officer

You know, Jeff, I think we expect to have a lot of cash to allocate in 2012 and I think we still want a balanced approach. We like the dividend growth. We like doing small deals but we think the energy team has plenty on its plate right now and so we will be selective in terms of where we do M&A. And then buybacks, we've done -- I think being able to do $1 billion in the quarter plus the Berkshire preferred is really $4 billion in Q3, which is going to benefit investors next year. So we will continue really with the balance and disciplined capital allocation approach.
Disclosure: I am long GE.