On October 26th, 2011, India will be celebrating Diwali - "festival of lights" - one of the biggest Indian festivals involving the lighting of small clay filled with oil to signify the triumph of good over evil. During Diwali, all the celebrants wear new clothes and share sweets and snacks with family members and friends, exchange gifts and light firecrackers.
Diwali is also an auspicious time for precious metals purchase in India. People buy jewelry, gold coins and other gift items in reverence to Goddess Lakshmi, the Hindu goddess of wealth and prosperity. Based on World Gold Council's (WGC) gold supply demand statistics, jewelry constituted around 50% of the total gold demand in 2010 (2016 tonnes out of 4000 tonnes)
Click to enlarge: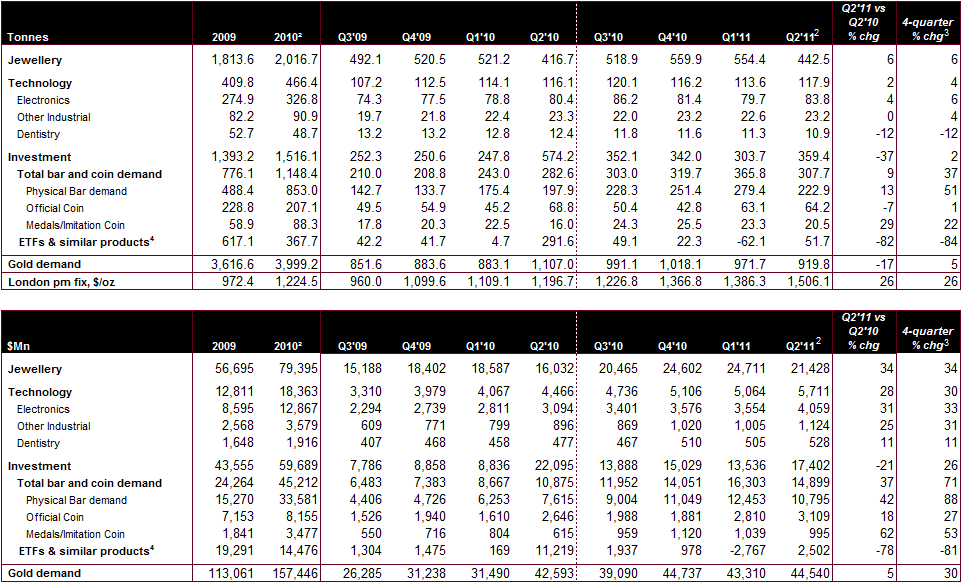 India is the biggest consumer of gold jewelry in the world and had an impressive 37% share of the jewelry market according to WGC (Indian jewelry demand was 746 tonnes out of the total jewelry demand of 2016 tonnes in 2010). Diwali falls between mid-October and mid-November and also marks the beginning of the Indian wedding season. It is deeply embedded in Indian culture to give gold and silver ornaments as wedding gifts and thus this season marks a strong demand of gold from India. According to WGC: Indian consumers are actively engaged in considering their next piece; over 75% of women say they are constantly searching for new designs. While over 50% of gold jewelry is bought for weddings, the wedding anniversary has now become the most aspirational occasion for receiving gold today, extending a couple's relationship with gold beyond the marriage ceremony.
As can be seen in the table below (source: WGC), Indian gold demand for jewelry, bar and coins has registered a strong 38% growth in Q211 (Q2'11 vs. Q2'10). This increase has happened despite the strong rise in gold prices.
For the 12 months ending Q2'11, total Indian gold demand for jewelry, bar and coins has registered a 29% growth vs. 12 months ending Q2'10. This demand is expected to exceed a staggering 1000 tonnes this year.
Click to enlarge: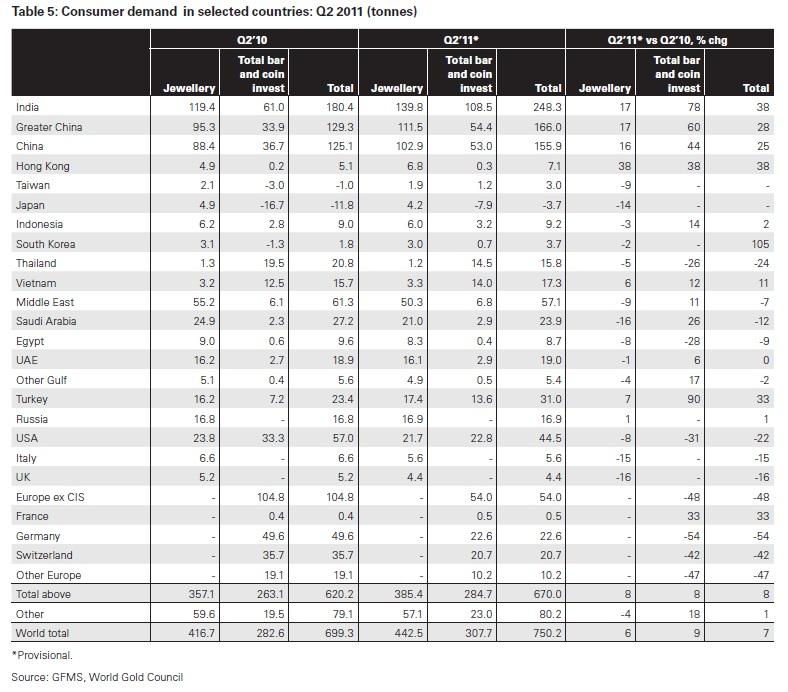 As mentioned in a recent WSJ article, India's gold demand during the peak festival season is expected to rise by around 65% to around 150 metric tons, with a slide in prices as well as good monsoon rains driving up rural purchases, according to Prithviraj Kothari, the president of the Bombay Bullion Association.
According to Kothari:
"The recent price slide couldn't have come at a better time for the world's largest gold consumer, with the end of an inauspicious buying period and the start of an auspicious one Wednesday. Gold and silver buying usually peaks around the festival of Diwali, which is being celebrated on October 26 this year. "I am still bearish on gold and silver prices," Mr. Kothari said, adding that the local gold price could fall to around 25,500 rupees per 10 grams, and international prices to around $1,560 a troy ounce."
Well, this brings us to the important point of looking at gold prices not just in $/troy ounces but also in Indian Rs/10 grams which is the price analyzed by Indian consumer before making the jewelry purchase. Even though gold prices in $/troy ounce have dropped around 15% recently, the drop in gold price in Rs/10 grams has been about 8% as the Indian rupee also weakened against the U.S. dollar due risk-off positioning in Emerging market FX over the last couple of weeks. Nonetheless, this 8% drop bring the price of gold to Rs 26,000 per 10 grams, which should bode well for the demand during the festival season.
Click to enlarge: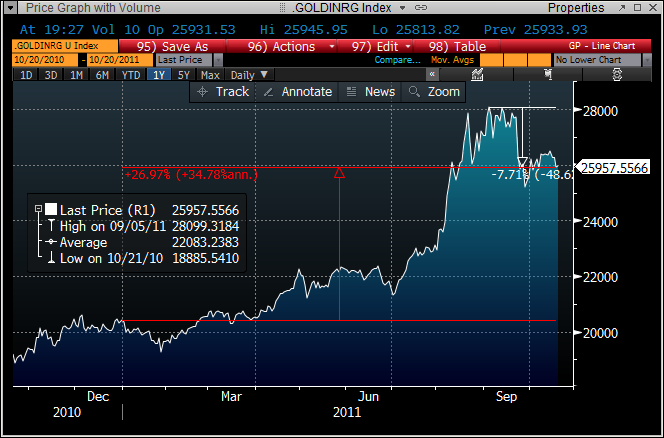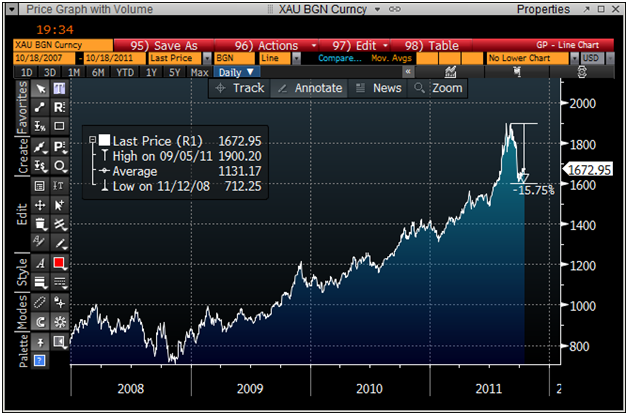 As can be seen in the following graph, the latest CFTC data shows that speculators have dramatically reduced the futures net position (possibly in the wake of the recent correction) and now the positioning looks clean and hence could be a good time to build a long position.
Click to enlarge: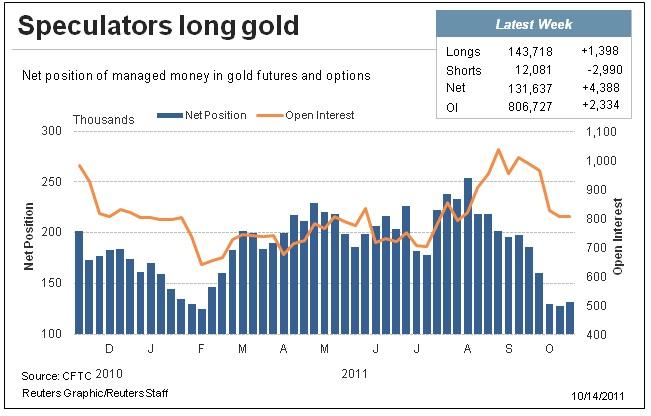 One can gain exposure to gold through many ways:
1. GLD (gold ETF) is a simple and liquid instrument to gain access to gold. Caveat emptor: Some analysts believe GLD doesn't have the physical gold to back up its liabilities and hence an investor should do some homework before getting into GLD.
2. GDX: Another instrument to get gold exposure is GDX (gold miners ETF) which has 30 gold mining companies (Barrick Gold (ABX) and Goldcorp (GG) being the largest weights). This ETF is a diversified way to gain exposure to gold. As can be seen in the two graphs below, GDX has underperformed GLD as the broad equity market sell-off has been causing index funds to sell GDX. However, fundamentally if the market sells off in an uncertain macro environment, energy prices fall relative to gold prices and gold miners should gain in value (as their input costs decrease). Thus, getting long gold exposure through GDX could be a good long term investment strategy (provided one can withstand short term volatility).
Click to enlarge: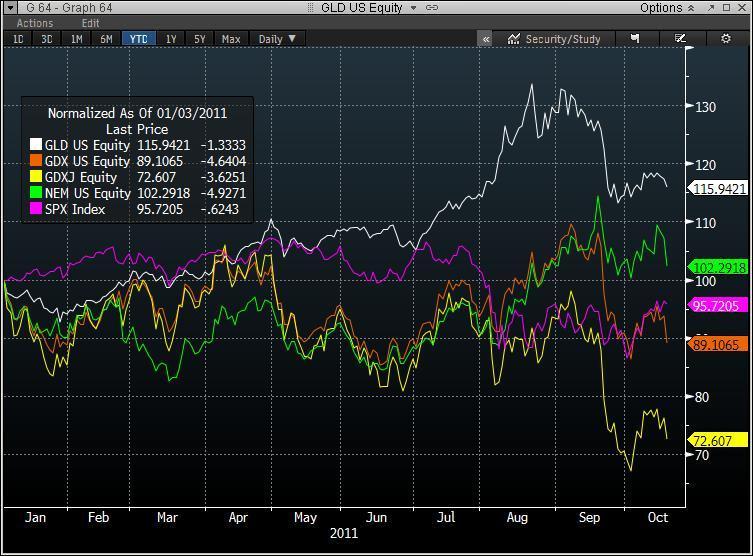 GLD, GDX, Nemont (NEM), GDXJ (Junior gold miner ETF), SPX relative performance since January 2011.

Click to enlarge: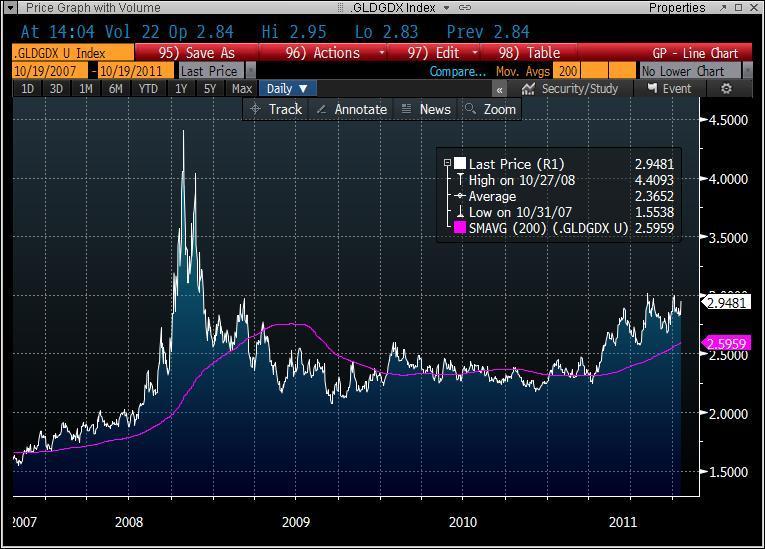 GLD/GDX chart: One can see outperformance of GLD in recent times.

Disclosure: I am long GLD.