I am exploring a few established and new dividend ideas. Ideally, my dividend portfolio should be focused upon stocks with the wind at their backs. This article's goal is to eliminate equities that are highly correlated within specific industries. Here are six stocks I am looking to potentially buy and one stock that I recommend staying away from ():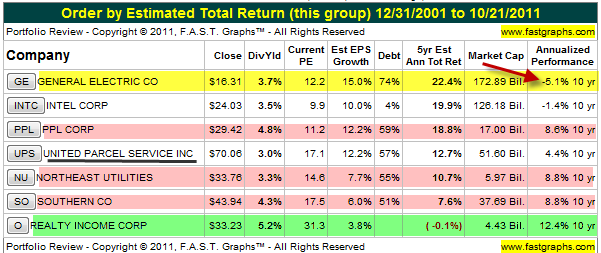 General Electric Co. (NYSE:GE)
General Electric has failed its shareholders, in my opinion, on all accounts. The company has provided a total annualized rate-of-return of -5.1% over the past 10 years. When asked for my view of the company, I simply state "avoid GE at all costs".
General Electric has 74% of its market cap in debt. The stock needed to be bailed out by the Federal Government in 2008. This is management's fault. Excuses for their performance however, do not address the realities of this conglomerate.
Investors are best served by investing in cash rather than a GE investment.
United Parcel Service, Inc. (NYSE:UPS)
United Parcel Service is strictly a play on U.S. internet business models. Individuals in search of low cost turn to the internet, and UPS provides the delivery of these sales. The company is delivering for Amazon (NASDAQ:AMZN) among others and doing so efficiently. Currently, the United States Postal Service (USPS) is under Federal austerity measures due to annual budget over runs.
On a personal note, I can't think of an item I can't find a better price for on the Internet. If I can do this, then I know every consumer can. In time, the consumer base will age and become familiar with the best price for each product. This only benefits UPS.
The equity currently yields a 3.0% dividend. My expectations, based upon a consumer desire for best product prices, are for better-than-expected earnings per share (EPS) growth in upcoming years. The company, by definition, is more efficient than a Federally funded USPS program.
UPS, also known by its nickname "Big Brown", has bought back $1.1-billion in its stock thru early September. The company typically increases its annual dividend in the first quarter of the calendar year. "Big Brown" has the advantage of efficiencies and cost savings versus the USPS. UPS continues to grow in global markets as well, which only adds to the company's bottom line.
Intel Corporation (NASDAQ:INTC)
Intel Corporation has transformed from the high-growth technology stock of the 1980's and 1990's into a cash-cow. In certain ways this is fascinating to watch and in other ways it is quite sad. The company isn't growing as it once did, but nothing lasts forever.
For the third quarter, Intel reported revenues of $14.2-billion and net income per share of 65-cents per share. What's more, share net came in at $0.65, which represented a 25% improvement over the comparable 2010 earnings per share.
The company is in a field which requires high expenses to retain quality employees. I believe in Clayton M. Christensen's paradigm as stated in "The Innovator's Dilemma: The Revolutionary Book that Will Change the Way You Do Business". Technology is changing so fast that only the innovators will notice the changes as they occur, or before they occur. Microsoft (NASDAQ:MSFT) is in the same position. These blue chip companies, void of balance sheet debt, may be debt free but the newer, nimbler technology companies are running laps around them because of their bloated size.
Intel offers a 3.5% dividend and solid growth prospects. I am reluctant to acquire this equity unless I can acquire the stock with a plan of selling covered calls for additional income. Over the past 10 years, the company's stock price has remained stagnant.
I would prefer to see Intel aggressively buy back its shares. Unfortunately this sector requires a high degree of stock option issuance. The earnings' capital structure still focuses upon unproven venture capital industries. My focus remains concentrated on business models with more predictable, slower-growth earnings and revenue business models.
Realty Income Corp. (NYSE:O)
Realty Income is an equity I prefer to own rather than disregard. The company, due to its real estate investment trust structure, is constantly issuing new shares for new asset purchases.
The company's assets are rented primarily under triple net lease terms. The equity currently provides a 5.2% annual dividend payout. The company has a number of preferred shares which make the capital structure more than a evening's work of understanding core outstanding shares, equity preference, and worse case scenarios.
I hold this equity in a lower-than-equal weight position due to the capital structure. In 2011, the company sold 7.25-million shares at $34. This is typical for the company. In March 2011, the REIT raised $285M through the sale of 8.6-million shares common shares. The continual issuance of shares provides difficulty in assessing value assumptions.
I prefer equities with a decreasing shareholder count. I recognize Realty Income is a REIT and must issue shares. The company's capital structure will one day become an issue.
Northeast Utilities (NU)
Northeast Utilities is the parent of the NU system. The system is the largest utility in New England. The company provides utility services to 1.9 million customers and over 200,000 gas customers. The equity's growth, solid 3.3% dividend yield, and its defensive sector are all positive.
I recommend, however, against owning a position due to the equity's exposure to Connecticut's unfavorable regulatory climate. Connecticut has proven to be a foe of the utility sector versus a friend to the publicly traded utility sector. Connecticut is not a pro-utility environment. I'll watch to see if Northeast Utilities addresses this point with an appropriate response. In my opinion, this would require selling off their Connecticut assets.
Southern Company (NYSE:SO)
Southern Company has four operating subsidiaries which provide electricity to 4.4-million customers. This area encompasses 120,000 square miles of Georgia, Alabama, Florida, and Mississippi.
The utility provides a solid 4.3% dividend yield. This is a strong yield in a deleveraging economy. The company has taken on growth prospects in the nuclear and surrounding areas to add to dividends, earnings, and revenues.
In a weakening economy, add Southern Company - in my opinion - and avoid problematic discretionary companies. Utilities are one of the staple businesses required by individuals and businesses.
PPL Corporation (NYSE:PPL)
PPL Corporation is known by long-time utility investors as the former Pennsylvania Power & Light Company. The utility has aggressively purchased new assets. Acquisitions include:
PPL Corp. bought Kentucky Utilities and Louisville Gas and Electric. The companies have a total of 1.2 million customers. The date of purchase was November

2010.
The purchase of a United Kingdom (U.K.) electricity utility with a 7.6-million customer base.
I believe investors will have time to add to their PPL Corp. position at a lower price-per-share on market weakness. Digesting acquisitions takes time. The dividend was not increased this year and is expected to remain flat. The stock currently yields 4.8%. I plan to open a position prior to 2014.
Summary
The overall goal is to improve one's portfolio's quality and performance. Buy on weakness and sell on strength. In between, invest in companies increasing their dividends.
In my opinion, UPS is a must own equity as they are clearly part of the Internet future.