Removing Ku 6 Media (NASDAQ:KUTV) From My Radar
I currently have 38 stocks that I follow with Groupon (NASDAQ:GRPN) to be added very shortly. The great thing about having so many stocks is that it gives me so many possibilities when trading, but the challenge lies in the fact that tracking and staying up-to-date on these companies is always a challenge, especially the Chinese ones. Today, I decided to remove KUTV from the stocks I follow, mostly from lack of reliable information about the company which makes it impossible for me to trade the name in the near to medium term. That might change if KUTV can become a serious challenger to Youku (NYSE:YOKU), but for now, I'm taking it off the board!
Click to enlarge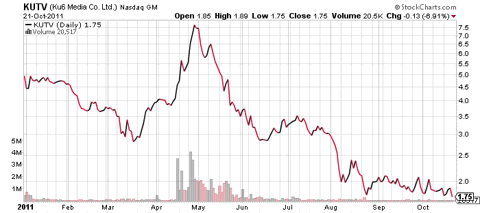 Tech Stock Thoughts
I thought I'd share my thoughts on a few names today. I've already written about my rationale for being a believer in both Amazon (NASDAQ:AMZN) and Netflix (NASDAQ:NFLX) recently, so I will ignore those two. As they are both reporting earnings this week, I might discuss them more in the next few days. While I do have good impressions of LinkedIn (LNKD) and bad ones of Pandora (NYSE:P), they are based on too little, given these companies are so new, so I will also refrain. Here are some thoughts on others:
Blue Nile (NASDAQ:NILE): Negative Outlook: The stock that I have loved to short in recent years has continued to trade at expensive prices. Sales are rising a bit but it's coming at the expense of earnings, which are more or less flat. How in the world this company justifies a 35-45 P/E ratio beats me.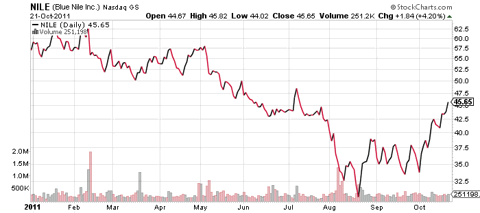 Baidu (NASDAQ:BIDU): Positive Outlook: I've been vocal about my long term belief in Chinese internet stocks-- especially in leaders-- and Baidu is the best example you could hope for. The stock is certainly risky because of its activities, the fact that it relies so much on the Chinese government, etc. I do still think that on a valuations basis, the stock looks cheap and I would certainly be positive about its prospects.
Apple (NASDAQ:AAPL): Positive Outlook: Again, not much of a change for me, I still think that despite its huge size, Apple remains undervalued as it can still put up some growth. I very much believe that the earnings miss was more than anything about millions of customers putting off a purchase in anticipation of the release of the latest iPhone [4S]. Over the long term, the company is still very well set up for long term growth. While it does face an increasing amount of competition, I think the group of loyal consumers continues to increase which will translate into more use of all of its other products. Buying Apple at a 10.03 forward P/E is a bargain no matter how you look at it.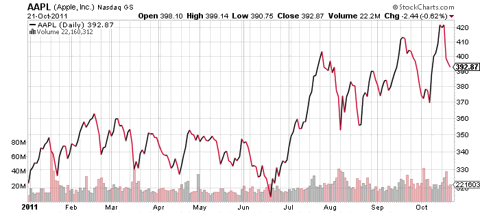 Yahoo (YHOO): Unknown Outlook: I know this might not help much, however, my point is that Yahoo's outlook is increasingly uncertain as the bidders come in and out, and management goes over different strategies concerning all of its assets. I have been very bearish on Yahoo in the past few years with much success, but until the situation does become more clear, I will personally not trade Yahoo -- neither long nor short. It becomes a guessing game unless you have a great deal of (insider) knowledge.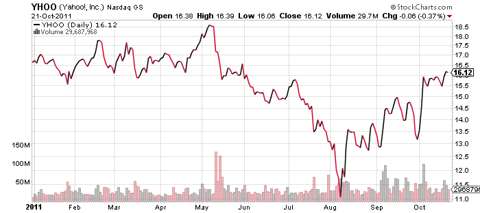 Travelzoo (NASDAQ:TZOO): Positive Outlook: Because of the way Travelzoo has set up its business, it has a strong and loyal customer base with a stronger contact point (email) than most competitors, which has helped its growth a great in recent quarters. I do expect that tendency to continue in the short to medium term, making its current valuation very attractive.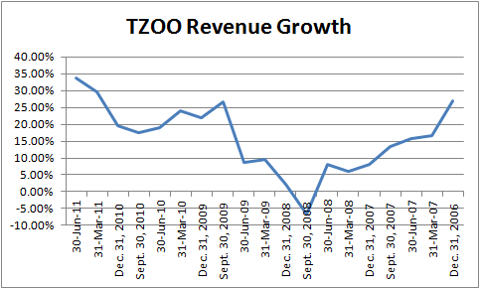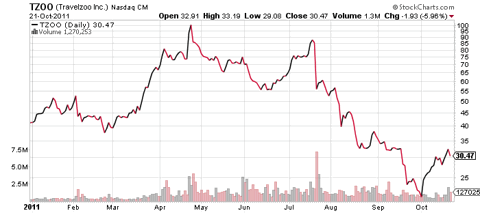 I would love to hear your thoughts on these 5 stocks or others on our radar, I will leave you with the numbers for these 5 names:
| Ticker | Name | Price | EPS | PE Ratio | PE Next Year | Return YTD | Sales Growth | Analyst rating | Book Value | Beta |
| --- | --- | --- | --- | --- | --- | --- | --- | --- | --- | --- |
| NILE | Blue Nile Inc | 45.65 | 0.98 | 47.02 | 36.28 | (21.71) | 10.18 | 2.85 | 3.59 | 1.38 |
| BIDU | Baidu Inc/China | 122.16 | 10.13 | 55.50 | 27.62 | 26.53 | 77.96 | 4.71 | 32.09 | 1.35 |
| AAPL | Apple Inc | 392.87 | 28.05 | 14.17 | 10.03 | 21.53 | 65.96 | 4.71 | 82.64 | 1.12 |
| YHOO | Yahoo! Inc | 16.12 | 0.91 | 19.51 | 17.46 | (2.65) | (2.10) | 3.76 | 9.87 | 0.92 |
| TZOO | Travelzoo Inc | 30.47 | 0.8 | 23.90 | 16.91 | (27.20) | 20.02 | 4.71 | 1.72 | 1.67 |
Disclosure: No positions. Stocks followed can be viewed here.