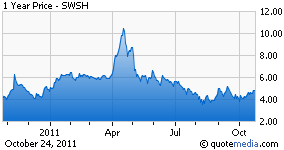 Swisher Hygiene (NASDAQ:SWSH), a cleaning products and waste disposal services company in the Southeastern United States, has seen its shares rebound nicely in the month of October. After a sharp rally to $11.43 and equally quick decline back to the $5 range in April and May of 2011, investors began to lose interest. Volume in trading of Swisher shares has fallen, and the stock continued to slump into the $3 range as the company reported poor earnings. Since the beginning of October, however, shares have rebounded nicely, rising from $3.78 to $4.79. Friday was the latest in a series of nice upmoves, with the stock trading up 6% following the announcement of a new acquisition.
However, particularly given the recent rally, shares appear to be significantly overvalued and the recent rally offers a nice opportunity for short sellers. For those unfamiliar with the company, a report from The Street Sweeper laid out a detailed case against the company's stock, pointing out numerous flaws with Swisher. The Street Sweeper quoted a report from the Value Investors Club which stated:
"This is not a particularly great business," the Value Investors Club emphasized last month. "There is no clear business logic or synergy to buying small, local bathroom cleaners in our view …

"As this stock gets more investor attention and people realize what is really going on here," the report concluded, "it will likely end up in the toilet well before (insiders) can dump their shares."
They certainly aren't kidding about the questionable merits of the business. The company is not profitable, and it sells at an astounding 7 times sales. This is for a business that sells janitorial products and disposes of waste. This is not a high-margin business nor is there some special barrier to entry to justify the high price Swisher trades at.
Investors may point to the 200%-plus revenue growth that Swisher has sported over the past year. However, there is a huge difference between organic revenue growth and growth by acquisition. Swisher takes the second approach, as it has engaged in numerous purchases to fuel its growth. In the past 10 days alone, Swisher has bought out three different companies: A.C.M. Services, West Coast Laundry and now Gulf Coast Laundry of Mississippi.
But as the Value Investors Club writer said, there simply is not any apparent benefit to rolling up a ton of tiny laundry businesses. Unlike many industries, there does not seem to be any significant benefits to scale - the businesses they are buying do not seem to be particularly good fits with each other geographically. And it is hard to understand how a business that is currently unprofitable will become profitable by continuing to merge and acquire other firms, since Swisher is itself a roll-up of other smaller firms. If merging and acquiring has built an unprofitable enterprise thus far, it is doubtful whether future mergers will improve matters much.
In addition, Swisher's balance sheet bears a little too much resemblance to a landfill for my liking. Another downside of consistent mergers and acquisitions is that a company ends up with tons of goodwill on its balance sheet. As of June 30th, the company has more than $200 million of goodwill and intangible assets on its balance sheet as compared with only $112 million of actual cash. Goodwill and intangible assets make up just shy of half of the company's total assets. It would be generous to value the company at much over its $2.01/share book value given that a lot of that book value consists of very soft assets.
For investors looking at the waste solutions/cleaning services space, there are much more attractively priced alternatives. Ecolab (NYSE:ECL) and Waste Connections (NYSE:WCN) are both profitable firms selling at fairly reasonable valuations. Ecolab has an operating margin of 13% and Waste Connections 12% versus Swisher's -14% margin. Ecolab and Waste Connections sell at 1.9 and 1.4 times sales, versus Swisher's stratospheric 7 times sales ratio. And both Ecolab and Waste Connections return a small dividend to shareholders, while Swisher uses its cash to make more acquisitions that, as of yet, have failed to lead to profits.
For now, Swisher seems to be a good short sale candidate. In particular, the recent rally in shares gives investors a good entry. Friday's 6% pop added another $46 million to Swisher's market cap. This despite the fact that the deal Swisher announced to take over Gulf Coast Laundry is only a $5 million deal. Obviously, a $5 million purchase cannot add $46 million in value to Swisher. In coming days, I wouldn't be surprised to see much of the recent pop in Swisher's shares reverse and the stock trade lower.
Disclosure: I have no positions in any stocks mentioned, and no plans to initiate any positions within the next 72 hours.