Earlier this month I posted that after a five-month losing streak for the S&P 500 (NYSEARCA:SPY), the probability of a 6th month is pretty low. In fact, that had only happened twice in six opportunities since 1957. Given that the S&P 500 is now up 9.44% for October with six trading days remaining, it looks pretty likely that the probabilities will hold and the losing streak will end at 5.
As was noted in the earlier post, when the S&P 500 snaps a 5+ month losing streak, it typically does so in a spectacular fashion. The average gain for the S&P 500 following the end of a 5+ month losing streak is 6.77%. In fact, the largest monthly gain for the S&P 500 came in October 1974, which ended the only 9-month losing streak equities have had since 1957.
To put this month in context relative to the others, if the S&P 500 stays flat from now until the end of the month, the current gain of 9.44% would be the 12th largest monthly gain for the S&P 500 in the last 54 years.
(Click to expand)
S&P 500's Largest Monthly Gains Since 1957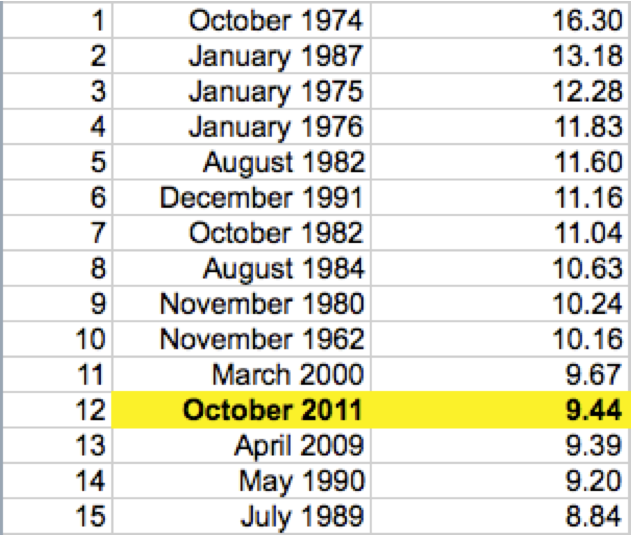 And the month isn't over yet. If the S&P continues to climb at its current pace, the index would end up by about 13.4%, the second highest monthly gain over the same time frame.
Of course, since there have only been 10 double digit return months out of 650 opportunities since 1957, the odds of a continued climb are not in investors' favor. Perhaps it would be wise to prepare for some choppiness in the days ahead.

Disclosure: I have no positions in any stocks mentioned, and no plans to initiate any positions within the next 72 hours.