A recent article published in the Telegraph Herald detailed the unpromising production environment that U.S. biodiesel producers are currently operating in. The article attributed the industry's poor performance in recent months to regulatory uncertainty surrounding the Environmental Protection Agency's [EPA] oversight of the revised Renewable Fuel Standard [RFS2]:
Uncertainty sent prices falling nearly 25 percent for all of 2014 and led to a 73 percent decline in industry profitability, Brooks said. The result: Dozens of biodiesel plants have stopped production or laid off workers in recent months.
Unlike ethanol, which the RFS2 requires to be blended in volumes that increase annually, biodiesel's share of the overall mandate is set at a minimum of 1 billion gallons per year through 2022, although the EPA can set this higher as needed. While this distinction didn't negatively impact the biodiesel industry in the past because the EPA established the annual biodiesel volumes in a relatively timely manner, its lengthy silence over the last 17 months (the Agency has yet to set the volume for 2014, let alone 2015) has prevented producers from knowing whether or not the mandate will exceed the statutory minimum. Biodiesel production has remained steady over this time period, however, and the price of biodiesel now trades at a significant discount to diesel fuel on an energy-equivalent basis (see figure). This discount hampered biodiesel margins even before petroleum prices crashed last year, and the subsequent fall in biodiesel and diesel fuel prices on an absolute basis has virtually eliminated the former's production margin in recent months.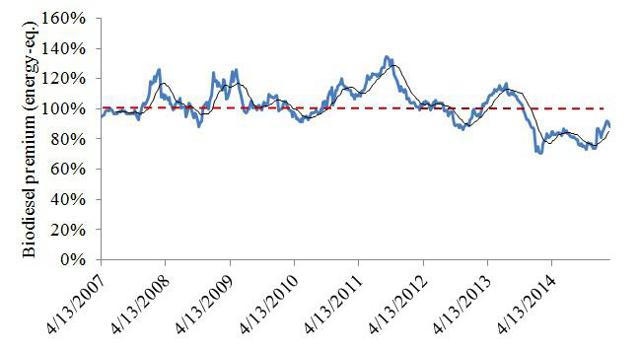 Source: CARD (2015).
While the Telegraph Herald article indicated that biodiesel facilities are shutting down in response to these low margins, this doesn't appear to have had much of an impact on production yet. According to the EPA the production of biomass-based diesel (a category of the RFS2 that primarily comprises biodiesel) under the mandate in January reached an all-time high for that month (see figure). While the rate of January production growth has slowed substantially compared to previous years, it is still increasing. Not surprisingly, data from Iowa State University's Center for Agricultural and Rural Development [CARD] reports that biodiesel margins averaged a mere $0.05/gal in January. Given this continued production growth, biodiesel margins will remain weak in the absence of stronger biodiesel prices resulting either from rebounding diesel fuel prices or an announcement by the EPA that the 2015 biodiesel blending volume will exceed expected production in the year.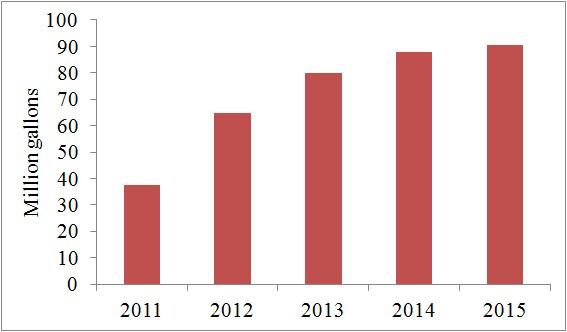 Biomass-based diesel January production under the RFS2. Source: EPA (2015).
Further complicating the outlook for biodiesel producers is the ad hoc method in which the $1/gal biodiesel blenders' credit has operated in recent years. Congress has been allowing it to expire annually before reinstating it several months later; the 2014 credit, for example, was not reinstated until December of that year. While the retroactive reinstatement of the credit helped producers such as Renewable Energy Group (NASDAQ:REGI) and FutureFuel (NYSE:FF) report decent earnings for Q4 2014, I suspect that it is also contributing to recent production growth despite falling biodiesel margins. Producers now find themselves in the position of needing to produce biodiesel despite the presence of low margins if they want to be eligible for any retroactive blenders' credit that is reinstated at some point in the future for 2015.
The biodiesel market is beginning to resemble the WTI crude market in a number of ways. While energy market headlines have been filled with reports of falling rig counts as petroleum prices have continued to fall, U.S. crude production has continued to trend higher (see figure). Firms with heavy exposure to petroleum production, as represented by the SPDR Oil & Gas Equipment & Services ETF (NYSEARCA:XES) and the SPDR Oil & Gas Exploration & Production ETF (NYSEARCA:XOP), have seen their share prices tumble since peaking in June 2014 as petroleum prices have fallen. Independent refiners such as Alon USA Energy (NYSE:ALJ), Delek US Holdings (NYSE:DK), PBF Energy (NYSE:PBF), Phillips 66 (NYSE:PSX), and Western Refining (NYSE:WNR) all initially experienced falling share prices in response to falling petroleum prices. However, they have since either mostly or entirely recouped their declines from the second half of 2014 as the low price of WTI crude relative to that of Brent crude has had a positive impact on refining margins.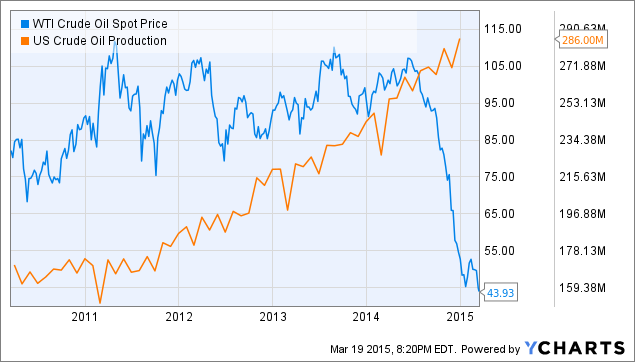 WTI Crude Oil Spot Price data by YCharts
The conditions facing biodiesel producers now resemble those facing petroleum producers. According to CARD's data biodiesel margins fell from $0.60/gal in the beginning of 2014 to $0.10/gal in the beginning of 2015, yet biodiesel production under the RFS2 was higher in January 2015 than in January 2014. In this comparison it is the biofuel blenders such as Murphy USA (NYSE:MUSA) that are serving the role of petroleum refiners: whereas petroleum refiners are benefiting from the very same conditions that are hurting petroleum producers' earnings, biodiesel blenders in particular are benefiting from biodiesel's price discount relative to that of diesel fuel. The discount benefits blenders in two ways. First, it allows them to achieve either higher retail margins or lower retail prices (leading to higher retail volumes) on biodiesel blends. Second, it also allows them to generate separated Renewable Identification Numbers [RIN] on all of the biodiesel that it blends prior to retail. D4 (biomass-based diesel) RIN prices soared at the end of 2014 and have remained high in 2015 to date (see figure). This is the first time since the RFS2 was implemented that blenders have benefited from the combination of discounted biodiesel and high D4 RIN prices to such a degree, as historical biodiesel discounts have been limited in both duration and magnitude.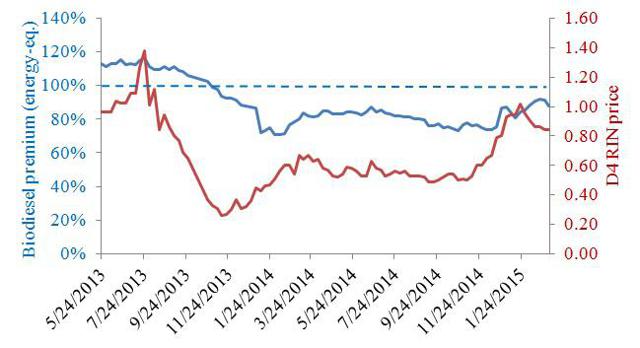 Sources: CARD, EcoEngineers (2015).
The situation in the biodiesel market is not sustainable for an extended period of time. While biodiesel blenders generate separated RINs that can then be sold on the open market, biodiesel producers are the only parties capable of generating the RINs themselves (each RIN is attached to a gallon of biodiesel at the point of production and remains attached until the gallon is blended with diesel fuel for retail). At any point these producers can cease operations until the blenders pass some of the RIN value on to them in the form of higher biodiesel prices relative to diesel fuel prices. While non-obligated blenders such as Murphy USA are not required to engage in blending operations, most U.S. refiners must submit a predetermined number of RINs to the EPA annually. A decision by the EPA this spring to enforce the RFS2's statutory blending volumes (or something close to them) will likely push biodiesel prices up as obligated blenders scramble to purchase additional RINs, driving D4 prices up until they begin to positively impact biodiesel prices. Alternatively, a decision by the EPA to reduce the statutory volumes will likely cause RIN prices to fall as refiners are relieved of part of their blending obligation. Either way, the biodiesel market's current conditions will be changing sharply at some point in the first half of 2015.
Disclosure: The author has no positions in any stocks mentioned, and no plans to initiate any positions within the next 72 hours.
The author wrote this article themselves, and it expresses their own opinions. The author is not receiving compensation for it (other than from Seeking Alpha). The author has no business relationship with any company whose stock is mentioned in this article.