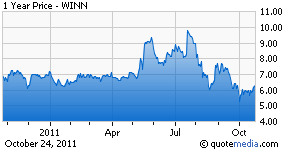 Long suffering investors are looking for a treat when Winn-Dixie (NASDAQ:WINN) reports its first quarter earnings this Halloween, and they might just get that "big candy bar" this time around. The company is forecast to lose 42 cents on sales of $1.6 billion, which is an improvement over last's year's loss of 66 cents on sales of $1.54 billion, but look for the supermarket operator to provide an upside surprise, posting a loss of 25 cents on revenues of $1.61 billion. The sales increase will be due to traction established through its fuel perk's program and the positive effect of additional remodels in its system, while earnings could be aided by a 280 basis point drop in O&A costs ( from 29.8% to 27%) and a 60 basis point rise in gross profit margin, from 27.4% to 28%.
The Street will be focusing on whether current EBITDA fiscal 2012 guidance of $120 to $135 million is increased, and if so, a rally back to the $10 vicinity could transpire, providing a decent selling opportunity for those who missed their chances the last time around. If the company ends up delivering a trick, rather than a treat, it will become even more susceptible to shareholder activism, as its five largest shareholders, who believe WINN's underlying intrinsic value exceeds its market value, could take action to monetize the situation.
The five largest shareholders are: Dimensional Fund Advisors (6.46%), Contrarius Investment Management (6.11%), Black Rock Institutional Trust Co. (5.74%), Zhengxu He ( 5.45%), and River Road Asset Management (4.71%). The company's CEO, Peter Lynch, also has plenty of incentive to see the stock grow, as his 2.14% position (70% of his stake is based on the exercise of stock options) is significant.
WINN's Annual Shareholder's Meeting is set for November 9, so it will be interesting to see how vocal any of these holders might be at that venue. The past meetings have been fairly quiet, except for the persistence of Schultze Asset Management's George Schultze, who has spearheaded a campaign to enhance shareholder value in the very short term, by recommending such methods as stock buy backs and the payment of cash dividends.
(For more click here and here.)
Disclosure: I am long WINN.