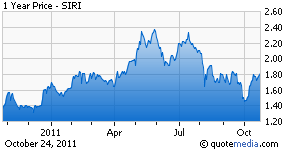 Last week, fellow Seeking Alpha contributor Cameron Kaine wrote a standard bull case for Sirius XM (NASDAQ:SIRI). In the article, Sirius XM: Understanding What It Is And What It Isn't, Kaine took me to task for my rather pessimistic view of the satellite radio provider's long-term future.
Our disagreement, however, cuts deeper than one stock. Kaine and I provide the perfect point-counterpoint for two very different types of investors. It just so happens that the case of Sirius XM illustrates this age-old distinction almost perfectly.
Like researchers who argue over the efficacy of the quantitative and qualitative methods, Kaine and I differ in the way we value stocks. I argue that Kaine falls closer to the quantitative side whereas I am more of a qualitative guy. That's no different than how I operated as an academic researcher, using both methods effectively, but favoring the interpretive, naturalistic approach.
While I could cite plenty of examples to support this contention, what follows sums things up nicely.
In the above-referenced article, Kaine summarized Sirius XM's Q2 performance and touted the two times the company raised guidance during 2011. There's no doubt that the numbers Kaine trotted out are good, but I think - caught up in the emotion-ridden, psychological vacuum of being a SIRI long - he tends to overstate them as well as Sirius XM's position in the broad audio entertainment space. I'll take things point-by-point:
...so far to this point in the year Sirius has performed as well as any company not named Apple (AAPL).
Like statistical research, you can twist data and use sentiment any way you like to make your case. As such, I guess it all depends which part of the company's performance you're looking at. I like to look at revenue growth, which came in at just 6% for Sirius XM in Q2. The company's guidance for Q3, which fell short of consensus estimates, puts growth at a relatively tepid 10%.
You certainly do not have to look very hard to find companies other than Apple putting up much bigger numbers. They exist in and out of the audio entertainment space that Sirius XM runs in. From Google (NASDAQ:GOOG) to Chipotle Mexican Grill (NYSE:CMG) to a more appropriate comparison like Pandora (NYSE:P), examples abound of companies growing at a much faster clip than Sirius XM.
I place focus on revenue growth because that's a key data point most modern-day investors use when considering whether to buy, sell or sell short a stock. Revenue growth gives you a quantitative glimpse inside the important qualitative components of a company. It can shed light on not only how far a company can run, but on the scope, breadth and reach of its business.
If revenue growth impresses, you can then look at qualitative markers related to a company's story (is it promising, does it remain "intact" and how does it compare to its competition?) to see if its stock is worthy not only of your investment, but, maybe, the lofty P/E other investors have bestowed upon it. It's really no different than using case studies or other qualitative methods to expand on somewhat dry quantitative research findings.
Investors in companies like Research in Motion (RIMM) learn the hard way when connecting other, less relevant quantitative dots to justify a long position in a company. Because financial metric X and Y are this, my professors in business school taught me that the stock price should be Z. Newsflash - this is not physics and that's not a law. In many cases, you'll be waiting a long time - quite possibly forever - for a company's stock price to catch up to your take on it "performance." Without sound qualitative support for your quantitative argument you often end up in a value or low-priced stock trap.
Kaine went on to write:
...it is clear from Mel Karmazin's many words that Sirius' management team is fully aware of what it needs to do to maintain its lead as the dominant audio entertainment of choice not only for the automobile but also in its efforts to secure the same status in the mobile subscriber.
If that's not hyperbole, I'm not sure what it is. To call Sirius XM "dominant" from any sight line in the audio entertainment space is nothing more than a false statement. These numbers do not lie.
Click to enlarge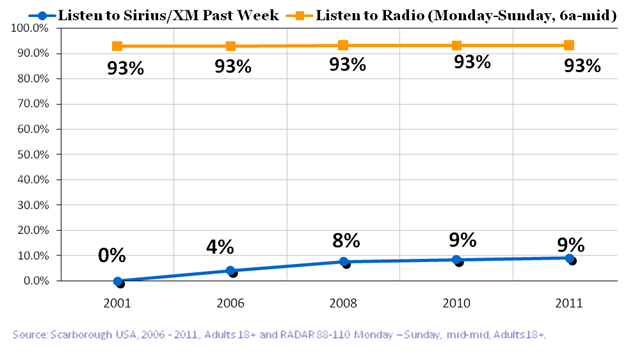 Clearly, terrestrial radio dominates at 93% compared to Sirius XM's 9% share. And, as I showed in a recent article highlighting research from Arbitron and Edison Research, plenty of other audio entertainment platforms (e.g., iPods, Pandora and other web radio) come much closer to ownership of the "dominant" tag.
Click to enlarge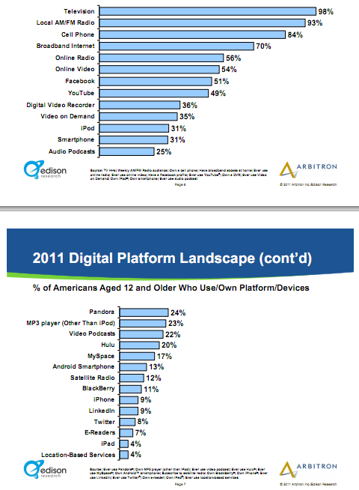 I'm not sure there's much more that needs to be said to counter the fallacy of Sirius XM's "dominance." Of course, within the satellite radio space, Sirius XM dominates, but that does very little for them in the broader audio entertainment space. And that brings me to the company's CEO Mel Karmazin, Sirius XM's closely-related passive competitive approach and Kaine's contention that the company "is not competing with Apple, Google or Amazon."
First off, if a company vies for you ear, it belongs in the wide-ranging audio entertainment space Sirius XM occupies. I don't understand why so many SIRI bulls have trouble comprehending this. If I sit at my computer all day or commute and use cloud services from Apple, Google or Amazon.com (NASDAQ:AMZN), spin iTunes, use Pandora (P) or listen to local broadcast radio instead of subscribing to Sirius XM, one of those competitive choices beat Sirius XM to get me. If I subscribe to Sirius XM and never listen - or listen less - in favor of some other option, odds are that the monthly subscription fee I pay runs a real risk of drying up.
Just because Karmazin or a SIRI long says the company does not compete with this company or that company does not mean that's reality. If you choose not to compete, you still have a made a choice. And that's where a bulk of my bearishness lays.
Even when I was long SIRI, I consistently voiced concern over the company's long-term approach. Before I closed my long position, back on July 20th, I wrote:
Outside of signing Howard Stern and other big-name talent, Sirius XM remains an incredibly passive company. The competitive space Sirus XM runs in does not reward a passive approach. If you're not Apple, you've got to take it to the competition, take the message to the streets and out-innovate or be left behind.

For instance, I want to know what SatRad 2.0 is actually going to be before Steve Jobs takes the stage to introduce iPhone 6 and iPad 3.5. I want to see that Sirius XM has plans to capture the younger demos it lacks just as terrestrial radio is doing via streaming efforts such as Clear Channel's (CCMO.PK) iHeart Radio and Slacker's partnership with AARP. I want to see proof that Srius XM believes it needs to broaden and diversify its audience through real and meaningful marketing efforts, not half-baked promotions and fleeting headline grabbers that do absolutely nothing to deliver new subscribers and sell radios.

It's easy to get lost in the vacuum of 20 million or so seemingly loyal customers, but it's a dangerous approach. This passive, we're here and we'll always be here approach almost killed terrestrial radio, particularly on the AM side. Karmazin stood by and watched it happen.
I've been a fan of Karmazin before most Sirius XM shareholders even knew who the guy was. He has always been an amazing performer in front of the media and analysts. A rhetorical genius of sorts. After all, he's a salesman. He can spin the story with the best of them. But, at some point, real actions need to follow words. He can only talk the stock up during a conference call so many times.
The reason why I think SIRI will trade closer to $1.50 (and possibly $1.00) than $2.00 as 2012 unfolds - and I am willing to make a friendly wager with Kaine on this - is because of its competitive approach, or lack thereof. As I note in the excerpt above, the audio entertainment space is loaded and truly dominated by companies like Apple. Check out the numbers Pandora continues to put up. That's dominance.
If a company is not aggressively going for the throat against those types of innovators and is willing to ride its subscription model to 6%-10% revenue growth, I want no part of it as an investment. And other than traders who will continue to pass Sirius XM stock around like an insecure high school cheerleader, serious investors will not want a part of it either.
Why bother with a stock such as SIRI when you have so many other hyper-growth options gobbling up meaningful consumer and ad market share at a rapid pace in and out of the audio entertainment sector? I don't think Kaine answered that question in his article, but he did close by saying:
Being critical of the stock is one thing, discrediting the company when it is exceeding expectations is egregiously unfair. However investors should find comfort in knowing that even the depths from which it has risen as a result of its hard work, it has yet to even come close to reaching its full potential.
That sounds great, but what does full potential mean? Is it full potential against some set of internal numbers almost solely focused on penetrating the automobile or is it full potential vis-a-vis the opportunity others continue to disruptively seize in the larger audio entertainment space? If it's not the latter, I'm afraid SIRI remains a trader's stock that's little more than dead money for long-term investors.
Disclosure: I am long P.