If everyone gets a second chance in America, it that also true of stocks? I'm talking about the fallen angels of the last high-tech bubble. Once high-flying stocks like Cisco Systems (CSCO), Ciena Corp (CIEN), JDS Uniphase (JDSU), Corning (GLW), Ariba Inc. (ARBA), Lucent-Alcatel (ALU), and Sirus (SIRI) are now trading at a fraction of their March 2001 highs.
(Click chart to enlarge)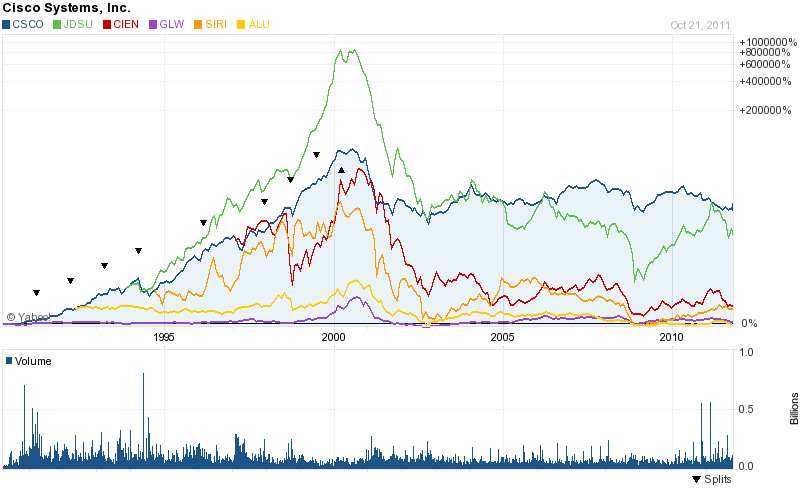 An article published this weekend Barron's argues that one of them, Alcatel-Lucent is about to get a second chance, as it is emerging as "a force in telecom-equipment business." The company is expected to benefit from the introduction of new products and from spending by telecom providers like Sprint (S), Verizon (VZ), and AT&T (T) to upgrade to 4G.
The same could be true for other telecom and Internet gear makers like Cisco, Ciena, JDS Uniphase, and Juniper Networks (JNPR)—though they all have their own problems: the transition from and emerging to a mature companies; and competition from low-end producers like Huawei Technologies Co. that will limit their profitability. This means that any turn-around will be tamed and short-lived. Investors should consider these companies only as trading buys.

One of the fallen angels that may be a long-term buy is Ariba Networks, as it is expected to ride the rapid growth of B2B electronic trade. Another fallen angel that may be a long-term buy is Sirus, as the company is a monopoly in Satelite radio. A third company that is a long-term buy is Corning, as it has a tradition of coming up with blockbuster products like the fiber optic cable, and the flat glass for flat panel TVs, and Apple's (AAPL) iPhone 4S.

Disclosure: I am long SIRI, VZ, T.