It's somewhat comical that the Motley Fool empire speaks with three different voices about the same company. Can we make sense of it? We got an unsolicited stock-promo mail for Motley Fool that got us mildly interested. We'll spare you the hype and give you a few of the more useful tidbits:
In 2009, this company won an $800 million contract with the Department of Energy, the largest of its kind in U.S. history
Its CEO -- truly the godfather of the industry -- was the first to develop a special, new kind of contract that guarantees his customers actually spend less on energy. It's called "performance contracting."
Esteemed consulting firm McKinsey estimates that performance contracting will be worth $520 billion by 2020.
Just since 2001, this company's revenue has increased 28 times. (And that's organic revenue growth, not just the result of a bunch of acquisitions.) And it boasts a five-year compound annual sales growth rate of 19%, return on equity of 21%, and even an awe-inspiring $1.2 billion backlog of orders.
Unlike most alternative energy companies, this company's solution is already proven and already profitable.
This small energy company devises and installs energy-efficiency measures that reduce customers' energy use. The customer then pays for the project out of their energy-bill savings. It's a win-win.
That's how performance contracting works. But here's the most important thing. For government entities like public schools and federal agencies, there's no capital outlay.
Because of the innovative way this company contracts its business, budgets cuts and recessions just don't matter.
So no wonder this little company saw its revenue increase substantially throughout the Great Recession. It is both riding and leading a massive long-term trend that is only growing, gathering speed as we speak.
The little energy company I've just been telling you about is trading for just 13 times earnings -- less than $10 a share!
We cut down the blurb by 90% and what remains is actually something useful and interesting. The problem is, we don't know what company they're talking about. But there are a few clues: Department of Energy contract, trading under $10, performance contracting.
We end up at the page of the Federal Energy Management Program, which lists the Department of Energy Energy Service Companies. There are 16 candidates:
Ameresco (NYSE:AMRC)
Chevron - too big
Clark Energy Group - not public
Consolidated Edison Solutions - $17B market cap, too big
Constellation Energy Group (NYSE:CEG) - $7.64B market cap, too big
FPL Energy Services Inc. - private
Honeywell International (NYSE:HON) - too big
Johnson Controls Government Systems (NYSE:JCI) - $21B market cap, too big
Lockheed Martin Services Inc. (NYSE:LMT) - too big
McKinstry Essention - private
Noresco - private
Pepco Energy Services - part of Pepco Holdings (NYSE:POM), $4.36B
SAIC Energy, Environment & Infrastructure (SAI) - $4.2B market cap
Schneider Electric Buildings Americas - part of French company Schneider
Siemens Government Services
Trane US Inc. - acquired by Ingersoll-Rand (NYSE:IR)
But as you can see, many of them are private or too big, or part of bigger companies. Actually only the first, Ameresco, fits the bill. So Ameresco it is. The list serves as a nice overview of the competition.
There exists already an excellent description of the company from Mitch Vine. Some of his observations put some of Motley Fool in a somewhat more sobering light, for instance:
Revenue has increased from $20.9 million in 2001, the first full year of operations, to $618.2 million in 2010. (Much of this growth comes from acquisition). [So, organic growth might be a lot lower than one would think from reading Motley Fool, and indeed, they've completed more than ten acquisitions]

Ameresco will also assist customers in obtaining third-party financing for the cost of constructing the facility improvements, resulting in little or no upfront capital expenditure by the customer. [So, the suggestion that these contracts don't require up-front capital isn't really true]
The market, as described by Vine, indicates continued growth:
The market for energy efficiency services has grown significantly, driven largely by rising and volatile energy prices, advances in energy efficiency and renewable energy technologies, governmental support for energy efficiency and renewable energy programs and growing customer awareness of energy and environmental issues. [Mitch Vine]
And it's difficult to disagree here, as they have a filled order portfolio:
As of June 30, 2011, we had backlog of approximately $507 million in future revenue under signed customer contracts for the installation or construction of projects, which we sometimes refer to as fully-contracted backlog; and we also had been awarded projects for which we do not yet have signed customer contracts with estimated total future revenue of an additional $648 million. As of June 30, 2010, we had fully-contracted backlog of approximately $668 million in future revenue under signed customer contracts for the installation or construction of projects; and we also had been awarded projects for which we had not yet signed customer contracts with estimated total future revenue of an additional $465 million. The contracts reflected in our fully-contracted backlog typically have a construction period of 12 to 24 months; this is the period over which we expect to recognize revenue for customer contracts. [10-Q]
OK, the fully-conctracted backlog has gone down from $668M last year to $507M now, but that is still almost a year in revenues, and that is not even counting the not yet signed awarded projects, which have gone up.
You might have noticed that Mr. Sakellaris, the company's founder, principal stockholder, president and CEO is the only one to hold "Class B common shares" which have five times the voting rights compared to the Class A common shares that everybody else has. We're not too impressed by that, as it concentrates a lot of power in one person, and it will be near impossible to take over the company.
The shares are basically back to their IPO price of July 2010 ($10):
On July 27, 2010, the Company completed its initial public offering of 8,696,820 shares of Class A common stock at a price to the public of $10.00 per share. Of the shares sold, the Company issued and sold 6,000,000, and existing stockholders sold 2,696,820. In addition, on August 25, 2010, pursuant to the partial exercise of the underwriters' over-allotment option, the Company sold an additional 342,889 shares of its Class A common stock at an offering price of $10.00 per share. The offering generated gross proceeds to the Company of approximately $63,400,000, or approximately $56,400,000 net of underwriting discounts and offering expenses. [10-Q]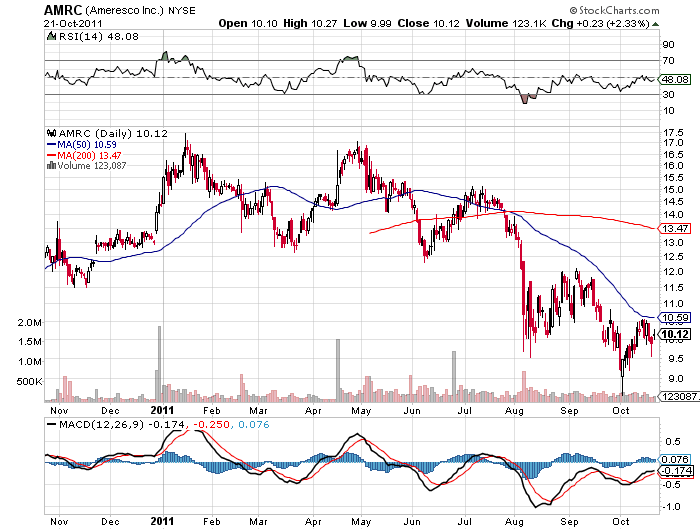 Let's see what kind of metrics we can provide (from Yahoo):
Market cap $426M, 43M shares outstanding
20% of shares held by insiders (nice!)
Revenues $618M (2010)

Debt $278.5M Cash $60M
That's fairly good. However, the shares have been in a bit of a funk since early May. At first sight, there seem to be little reason for that. There was a nice 20% earnings beat (CNBC called this even a knockout quarter). The next quarter, reported in August, wasn't so good as they managed to match expectations only.
The first half of 2011 produced better margins for their two main segments (energy efficiency and renewable energy), so underlying things still seem to improve:
Energy efficiency gross margin increased to 18.0% in the first six months of 2011 from 17.1% as compared to the same period of 2010, due in part to a one time project closeout which contributed to the gross margin and higher installation margins. Renewable energy gross margin increased from 20.2% in the first six months of 2010 to 22.9% as compared to the first six months of 2011 due to the mix of renewable energy products, mainly from growth in small scale infrastructure, integrated-PV, and O&M, which typically produce higher margins. [10-Q]
Although there was a large (35.3%) increase in salaries and benefits:
This was primarily due to the additional staff necessary to support expanded sales and development activity, including expansion in the northwest and southeast regions of the U.S., and the addition of new positions generally to support our growth plans. [10-Q]
However, there was a considerable sell-off, which got another part of the multi-faced Motley Fool stating the following:
Sure, on the surface, everything looks peachy-keen, jellybean at this "energy efficiency solutions" provider -- 15 P/E stock, 21% estimated growth rate. Can't beat that -- what worries me is what lies beneath. Ameresco's cash flow statement shows that over the last four reported quarters, this company burned through more than $27 million in negative free cash flow, even as it was claiming GAAP profits of more than $32 million. [Motley Fool]
So we look up the latest 10-Q (page 41) and find that:
Operating activities used $24.0 million of net cash during the six months ended June 30, 2011. During that period, we had net income of $14.1 million, which is net of non-cash compensation, depreciation, amortization, deferred income taxes and other non-cash items totaling $6.6 million. Net increases in restricted cash draws (net of Federal ESPC financing), project development costs and other liabilities also provided $10.1 million. However net decreases in accounts receivable, inventory, costs and estimated earnings in excess of billings, prepaid expenses and other current assets, accounts payable and accrued expenses and income taxes payable used $54.7 million in cash. Changes in other liabilities provided the balance of net cash during the period.
And the first half of 2010 wasn't much better (operating cash flow a negative $15.5M). For the full year (2010) what stands out is the huge increase in accounts receivable (from $62.5M in 2009 to $188.4M in 2010)
They can still easily finance it, though:
Net cash provided by financing activities during the six months ended June 30, 2011 totaled $48.6 million. Most of this was due to the draw down of the $40.0 million term loan portion of our renewed senior secured credit facility (see Note 13 and the discussion below) and proceeds from long-term debt financing of $5.5 million. Exercises of options and warrants also provided $4.0 million. [10-Q]
But it is somewhat worrying. However, yet another part of Motley Fool (Rex Moore) noticed something else:
Ameresco carries $20.6 million of goodwill and other intangibles on its balance sheet. Sometimes goodwill, especially when it's excessive, can foreshadow problems down the road. Could this be the case with Ameresco?
Moore goes on to quote a book by Heiserman (It's Earnings That Count), who came up with two metrics (intangible asset ratio and tangible book value) to assess the situation. Ameresco only has a 3% intangible asset ratio, way below the 20% danger threshold from Heiserman and it's tangible book value (at $199M) is way above zero, again posting no danger.
Conclusion
We would, like Motley Fool (at least one part of it), not hesitate to buy Ameresco. It shares have sold off considerably and are now quite cheap, and this is a company that grows steadily even against economic headwinds.
However, we agree with another part of Motley Fool in worrying a little about the negative cash flow and the ballooning accounts receivables, which considerably dims our enthusiasm. We'll wait until the next quarterly figures (November 9) for more clarity on these.
Disclosure: I have no positions in any stocks mentioned, and no plans to initiate any positions within the next 72 hours.