Background
Oil sand is consolidated sandstone saturated with a dense and extremely viscous form of hydrocarbons that is called bitumen or (colloquially) tar. Bitumen deposits are found in a number of countries, but the only economically relevant production happens in the Canadian province of Alberta. The most prominent deposits there are the Athabasca oil sands. Although oil sand deposits in the Venezuelan Orinoco Belt are even more promising, due to the political instability in that country little endeavor has been made to produce them.
Oil sands are either produced via surface mining or sub-surface in-situ production (either steam-assisted gravity drainage - SAGD or cyclic steam stimulation - CSS). Bitumen that is produced from surface mining is sometimes upgraded on-site and delivered as synthetic crude oil - SCO, which has the advantage of higher prices and enables transport through conventional pipelines, but also causes high costs. CSS means the injection of steam from a wellbore into the reservoir. After some time, where the steam is left to soak, the same well is turned into production mode. SAGD is an enhanced oil recovery technology used for production of heavy crude oil and bitumen. It primarily consists of two horizontal wells that are positioned only a few meters away from each other. Steam is injected into the upper wellbore in order to heat the oil and reduce its viscosity (the fluid's resistance to flow). Subsequently, the lower wellbore pumps the oil out. 2012 was the first year, with in-situ production exceeding production from mining.
In a world, where oil production from traditional sources has most likely reached a plateau, the economic importance of oil sands has risen. In this article and the last one I investigate production costs of oil companies that are primarily engaged in the hydrocarbon extraction from oil sands. My last article featured Cenovus (NYSE:CVE), Canadian Natural Resources (NYSE:CNQ) and Canadian Oil Sands (OTCQX:COSWF). In this article I discuss Husky Energy (OTCPK:HUSKF), Imperial Oil (NYSEMKT:IMO), Meg Energy (OTCPK:MEGEF), and Suncor Energy (NYSE:SU).
I have also calculated 2013's production costs for 121 companies. The link to the summary can be find here. It also contains links to articles that discuss the investigated companies in more details.
Methodology
The key point for me is to catch the real production costs of hydrocarbons as accurate as possible. For that reason I only consider costs that are directly related to oil and gas production. As the upstream business is a pure commodity business, many companies have bought derivatives to hedge their sales. As gains or losses from that instruments are not directly related to production, I do not consider them directly in my method. Nevertheless, as they might have impact on the future of the company, I mention them if they are significantly high. The same is true for impairments.
In contrast to my other articles, where I investigate operations that produce oil and gas simultaneously, only bitumen and SCO are produced from oil sands. It makes sense to use barrel rather than boe, as I did in my previous articles.
Commonly, costs are divided in costs that can directly be related to production (cost of sales) and costs that cannot directly be related to output (overhead). However, many oil companies are also active in downstream and midstream or other economic sectors (e.g. ExxonMobil (NYSE:XOM) in chemical engineering). Hence, I have divided sales, general and administration expenses (SG&A) by total revenues and multiplied it with the revenue of the E&P division to get SG&A for E&P. I did the same for any similar type of cost (marketing expenses, R&D) and for financial expenses. Depreciation, Depletion and amortization, on the other hand, can be directly linked to oil production.
Costs of sales are divided into 3 sub-categories:
Exploration costs
Lifting costs
Non-income related taxes
Exploration costs are costs related to all attempts to find hydrocarbons. This category includes cost for geological surveys and scientific studies as well as drilling costs. As the occurrence of oil sands is generally well known, this cost category has only a tiny contribution to total costs.
Lifting costs are the costs associated with the operation of oil and gas wells to bring hydrocarbons to the surface after wells (facilities necessary for the production of oil) have been drilled. This figure includes labor costs, electricity costs and maintenance costs.
Non-income related taxes: as production of hydrocarbons is such a lucrative business, governments also want to have their shares. There exists an abundance of different model how the state can profit from hydrocarbon production (profit sharing, royalties, etc.).
It might be, that different companies use different categories for the same type of expenses, but eventually the sum of all costs should be their total cost for producing 1 boe.
The following figure shows the pattern of the cost model: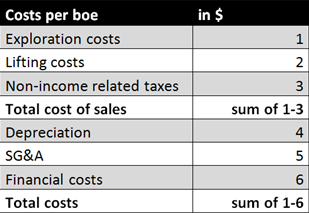 As I have noticed in one of my articles, that cash flow situation does not look well for the majors. In the long term, a profitable company must be able to generate enough cash flow to cover its capex and to buy money back to its shareholders (either via dividends or share buybacks). Therefore I included operating cash flow and total capex in my data. Operating cash flow and capital expenditure both refer to the whole company. Capital expenditure is investment in assets as well as in subsidiaries if they are not consolidated. This number does not include any subtractions because of the selling of assets. I also add the cash flow companies generated through sale of assets.
Application on 4 Oil Sand Producers
I have applied my method to 4 major North American shale gas producers. Last year I have already considered 3 of them, with MEG being the only exception. MEG focuses on in-situ development and production in the southern Athabasca oil sands region, at the moment focused on Christina Lake. This project focuses on in-situ production with SAGD. Additionally, the company has a 50%-stake in the Access Pipeline and owns the Stonefell Terminal.
For MEG, Suncor and Husky I have only considered numbers for their oil sand production divisions. However, Imperial Oil got 86% of its production from oil sands and does not divide its operations into different segments. Therefore, I also considered conventional oil and gas operations in my calculations.
This year I make a small change in the types of costs I consider: some oil sand producer blend their bitumen with other oils they purchase and book sales from the total blend as revenue. In this article I only consider revenues from own production. Therefore, I excluded costs for blending oil from my model. As mentioned above, oil sand producer are mainly Canadian companies. Therefore, I had to convert CAD in USD. I used an exchange rate of 0.905.
The results for 2014 can be found in the table below: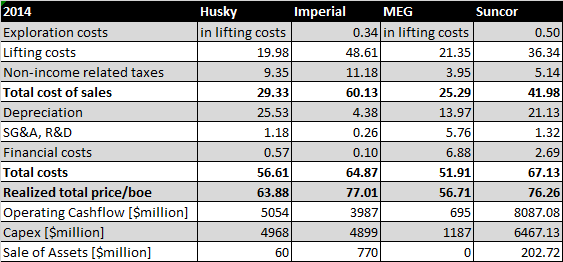 (source: Annual Report 2014 if already published, otherwise company websites)
I have also used my methodology in the following articles:
Discussion
All of the three companies could increase their production from 2013 to 2014. Husky did so only slightly, while Imperial raised its production by 49% and Suncor by 36%. However, as result of the decrease in the oil price a large number of investment projects are expected to be postponed or cancelled in 2015.
Husky could realize a much higher price per bbl bitumen in 2014 as it did in 2013. On the other hand, production costs rose significantly, especially lifting costs. The only category that fell were costs related to SG&A. As a result, pre-income tax margin for the company's oil sand operations went down to 11%. Husky is one of the few companies that is able to fund its capital expenditure with cash flow generated from operational activities.
Imperial Oil could also increase the price it realized for its products. However, while average received price per bbl bitumen was $60.48 in 2014, this value fell to $48.03 in the last quarter. This makes the outlook for 2015 not very pleasurable. Similar to Husky, costs rose even more. The increase in lifting costs is remarkable high, while DD&A per bbl produced fell significantly. Imperial was able to decrease its expenditures related to SG&A to the very low level of $0.26 per bbl. The pre-income tax margin fell to 16% in 2014. Although Imperial sold assets worth $770 million, it was not able to fund its capital expenditure with cash flow from operations and this sum.
With 24.54 million bbl produced in 2014, MEG is a small oil sand upstream company. This fact is also depicted in the extremely high expenses for SG&A and the payment of interest. With regards to operational costs, MEG is quite successful. The low non-income related taxes are notable. Overall, the company managed a pre-income tax margin of 8%, which itself is not very outstanding. But in combination with the high SG&A and interest expenses, the company can be seen as quite successful. Nevertheless, operational cash flow was way below capital expenditure.
Suncor produces bitumen from both mining and in-situ activities. In 2014 the company could realize an average price of $76.26 per bbl of its goods. Total costs amounted to $67.13 per bbl, with production costs and depreciation being the most important contributors. For a company that is as big as Suncor, SG&A and interest expenses are relatively high. Eventually, Suncor had a pre-income tax margin of 12%. Very positive is the ratio between operating cash flow and capital expenditure (valid for the whole company, not only the oil sand division).
The data from this article are more ambivalent than the data from the last article. The only clear trend is rising production with a general decrease in costs related to SG&A. Pre-income tax margins are not very impressing for all of the four companies and for the whole oil sand industry. Nevertheless, in the oil sand industry there are some companies that are able to fund their investment with money generated from operations.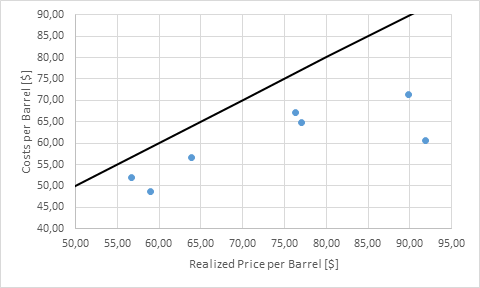 The chart shows the relationship between costs and revenues for all investigated oil sand companies. Depending on the product the companies sold, revenues will be higher or lower (bitumen). The black lines indicates price-cost equality, i.e. a profit of zero. As all companies are below the line, all of them were profitable.
Disclosure: The author has no positions in any stocks mentioned, and no plans to initiate any positions within the next 72 hours.
The author wrote this article themselves, and it expresses their own opinions. The author is not receiving compensation for it (other than from Seeking Alpha). The author has no business relationship with any company whose stock is mentioned in this article.
Editor's Note: This article discusses one or more securities that do not trade on a major U.S. exchange. Please be aware of the risks associated with these stocks.