Sherwin-Williams Co. (NYSE:SHW) will release its results for the third quarter of 2011 before the market opens on October 25, 2011.
Sherwin-Williams reported net earnings of $1.58 per share in the second quarter of 2011, missing the Zacks Consensus Estimate of $1.77 per share. However, excluding charges of 8 cents per share relating to costs to repurchase $84.9 million of long-term debt, diluted net income was $1.66 per share versus $1.64 per share in the prior year quarter.
The second quarter earnings were at the low end of the company's guidance range due to high raw material costs versus the timing of its price increases.
In the upcoming quarter, the Zacks Consensus Estimate for Sherwin-Williams is pegged at a profit of $1.70 per share, reflecting an annualized growth of 6.15%.
With respect to earnings surprises, the company surpassed the Zacks Consensus Estimate in two out of four quarters - an average surprise of 5.24%.
Second Quarter Review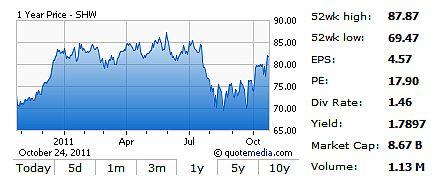 Net sales for the quarter increased 9.9% year over year to $2.36 billion driven by acquisitions and selling price increases and strong organic sales growth by the Global Finishes Group. Sales were also boosted by favorable currency translation rate changes. Sherwin-Williams' second quarter sales also missed the Zacks Revenue Estimate of $2.40 billion.
Cost of goods sold increased 13.7% to $1.33 billion in the quarter and expressed as a percentage of revenues, it increased to 56.6%. Gross profit surged 5.2% to $102.2 million while gross margin dipped 200 basis points year-over-year to 43.4%.
Selling, general and administrative expenses were $755.6 million, an 8.5% climb over $691.2 million in the prior-year quarter.
The Paint Stores Group posted net sales of $130.0 million, up 9% from $124.5 million in the year-ago period. The improvement was largely attributable to selling price increases and expanding domestic architectural paint sales to residential repaint contractors and do-it-yourself customers.
Segment profit decreased 2.5% year over year to $206.6 million and as a percentage of net sales it decreased in the quarter to 15.9% from 17.0% last year.
Net sales of the Consumer Group fell 8.4% from the same period last year to $375.6 million due primarily to the elimination of a portion of a paint program with a large retail customer partially offset by selling price increases. Segment profit decreased 23.9% to $61.4 million year over year mainly because of increasing raw material costs, but partially offset by selling price increases.
Net sales of the Global Finishes Group soared 39.5% to $678.9 million in the quarter as a result of acquisitions, higher paint sales volume, selling price increases and favorable currency translation rate changes. The segment's profit was $46.1 million, up 15.3% from $40 million recorded during the corresponding quarter of 2010. The progress was derived from increased paint sales volume and favorable foreign currency translation rate changes.
Agreement of Estimate Revisions
One out of the 13 analysts covering the stock for the third quarter of fiscal 2011 has made a downward revision in the last 7 days. No one has made an upward revision during that time.
Magnitude of Estimate Revisions
The third quarter 2011 estimate remained flat at $1.70 per share in the last 7 days and last 30 days. The Zacks Consensus Estimate for the third quarter is 6.15%, higher than the year-ago profit of $1.60 per share.
Our Take
Sherwin-Williams has experienced weak pricing power in the Consumer and Paint segments. The Consumer business has lost a significant customer while continuing to experience weak sales among large retail accounts. This suggests that end-market demand among third party distributors is not strong enough to shield Sherwin-Williams from any significant price hikes.
Consequently, we remain skeptical about a strong near-term improvement of these segments. The company's operating segments continue to control costs and implement price increases in an effort to keep pace with rising raw material costs. However, higher raw material prices remain a concern. We currently have a Zacks #4 Rank (short-term Sell recommendation) on the stock.
Management expects net sales to increase in the range of 10% to 15% in the third quarter of 2011 compared to the third quarter of 2010. The company expects diluted net income per common share for the third quarter to be in the range of $1.65 to $1.75 per share compared to $1.60 per share in 2010.
For full year 2011, Sherwin expects consolidated net sales to increase above 2010 levels by high single digits to low teens percentage. With annual sales at that level, the company forecasts its full year 2011 guidance for diluted net income per common share for 2011 to be in the range of $4.65 to $4.85 per share, compared to $4.21 per share earned in 2010.
Based in Cleveland, Ohio, Sherwin-Williams is a developer, manufacturer, distributor and seller of paints, coatings, industrial and marine products, original equipment manufacturer product finishes and related items, and automotive finishes and refinish products in North and South America, Europe, and Asia. The company's key competitors include PPG Industries Inc. (NYSE:PPG), The Valspar Corporation (VAL) and Air Products and Chemicals Inc. (NYSE:APD).
Read the full analyst report on SHW

Read the full analyst report on PPG

Read the full analyst report on VAL

Read the full analyst report on APD