As if helping run the stock of a company with an unsustainable business model past $300, executing public relations disaster after disaster and predicting quarterly losses come 2012 was not enough, Netflix (NASDAQ:NFLX) CEO Reed Hastings embarrassed himself a bit further in front of analysts and investors on his company's Q3 earnings call.
For a rehash of the unmitigated disaster the call and preceding report was, read my post-mortem, Netflix Earnings Disaster, Calling The Short Of The Century.
Because you would have good reason not to believe the true story I am about to tell, here's a link that proves I did not have a crazy dream. This is the audio of Netflix's Q3 Earnings Q&A Session. Move forward to about the 27:00 mark to hear the exchange I will refer to. It is also excerpted below from Seeking Alpha's transcript of Netflix's call.
Before I tell you what happened, here's a brief history. Netflix uses a rather odd conference call format. It releases a letter to shareholders and its financial statements prior to its call. The company solicits email questions from analysts and investors. Its VP of Investor Relations then proceeds to read questions that she, presumably, selects to Hastings and CFO David Wells, who respond to them.
While this, technically, happens "live," it does not possess the true live nature of other conference calls where the actual people with the questions get to ask them, in real-time, and then ask follow-up questions. It also begs the question, which Netflix, to my knowledge, has not answered, does the company strategically select questions that best fit the narrative it wants to tell and/or does it choose not to select questions that do not?
I have been one of the most vocal critics of the format, asking, on occasion, is it live or is it Memorex? I have got to think that the dog and pony show that took place at the end of Monday's Q3 call was in direct response to people such as myself.
After the typical Q&A pitch and catch between Ellie Mertz, the Netflix VP of IR and Hastings and Wells, Netflix opened the call up to live questions. After receiving one from an analyst at Jefferies, the call moderator asked for other questions. A bit of fumbling ensued and the moderator repeated his call for questions. Apparently, there were none. Here's how it all went down: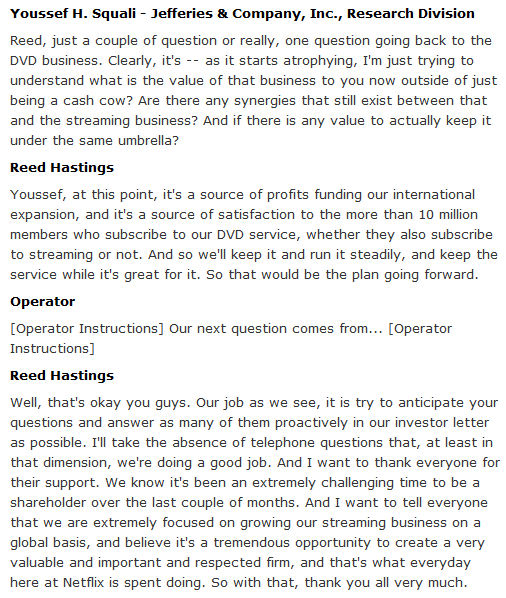 Click to enlarge
I am not here to speculate about whether or not that scene or any other that came before it on a Netflix call was legitimate or not. Other than asking questions that the company tends not to answer, there's not much more I can do other than take things at face value. I can, however, point out how downright petty and absurd Reed Hastings' response to the lack of questions was.
While I appreciate that they paid attention to the criticism and opened the call up, even if for a short time, I cannot help but question Hastings' closing statement. Paraphrasing, Hastings chalked up the lack of questions to the fact that the company "anticipates" questions so well in its shareholder letter. He went on to note that, at least in that regard, the company has been doing something right.
Make of that whatever you will, but this just shows (NYSE:A) the nerve of Hastings and (NYSE:B) the continuing presence of an arrogance he claims was diluted after consumer reaction to the price increase and Qwikster missteps.
Quarter after quarter, investors wanted answers to questions it felt Netflix was not providing enough color on. In some areas, Netflix did a nice job providing them at its website or through people such as their very good VP of Corporate Communications, Steve Swasey. In other areas, however, Netflix, in my opinion, neglected to give answers that would have helped investors make informed decisions about the state of Netflix at the time. In fact, the shareholder letters and the is it live or is it Memorex conference calls did very little to help investors connect the dots between Netflix with a $300 stock and what the company has become.
Instead, bears and shorts -- people like Whitney Tilson, Len Brecken and I -- told the story. While I am not saying Netflix should have been in the business of predicting its own demise, a fine line does exist between shooting yourself in the foot and living up to your responsibility to investors.
To close the call the way Hastings did Monday shows a complete disregard for investors. Even though he basically apologized for the stock's performance and recent tough times, he also said, in so many words, back when the writing was on the wall, we gave you such great answers that no need existed for further questions. Hastings gave off the air that Netflix was the ultimate decider on the questions that needed to be asked and the questions that needed to be answered. There simply was no need for any additional input from the peanut gallery that watched the stock subsequently lose about three-quarters of its value.
That's arrogance with a capital A.
Disclosure: I have no positions in any stocks mentioned, but may initiate a short position in NFLX over the next 72 hours.