At the 2015 Mobile World Congress (MWC), Intel (NASDAQ:INTC) announced that their new Wi-Fi chips would not only support the latest Wi-Fi standards, but also would enable indoor location positioning. Currently, smartphones stop being able to track their locations when they move indoors because they lose reception of GPS satellite signals. Intel's new chips will enable phones to track their location indoors as well.
Intel is often seen as lagging in the mobile arena, not yet succeeding in leveraging their success in PC chips in the mobile market. Some recent success with their mobile CPU chips and modem chips may be a turning point, and this new announcement may signal Intel not only catching up on today's mobile chips but jumping ahead on next-generation trends.
GPS-based location services have become ubiquitous on today's smartphones and mobile devices. Location is used for a wide variety of mobile apps, from mapping and navigation to social networking. Location also is used for basic phone features such as picture geotagging and emergency call locating (E911).
But GPS only works outdoors, so today's phones stop tracking location accurately when they enter the door of a building or underground parking lot. They still know what building they're in, but not what floor they're on or what room they're in. So social networking apps can know you're in the mall, but not which store, and navigation apps can't help you find your way to the store or office you're looking for.
A lot has been written about indoor location technology before. According to this new report, there are over 150 companies currently developing indoor location technology. Apple (NASDAQ:AAPL) acquired WiFiSLAM and then brought BLE beacons to the fore, Google (NASDAQ:GOOG) (NASDAQ:GOOGL) has supported rudimentary indoor location in Google Maps, and major network companies like Cisco (NASDAQ:CSCO), Aruba (NASDAQ:ARUN) and Ruckus Wireless (NYSE:RKUS) all support indoor location tracking.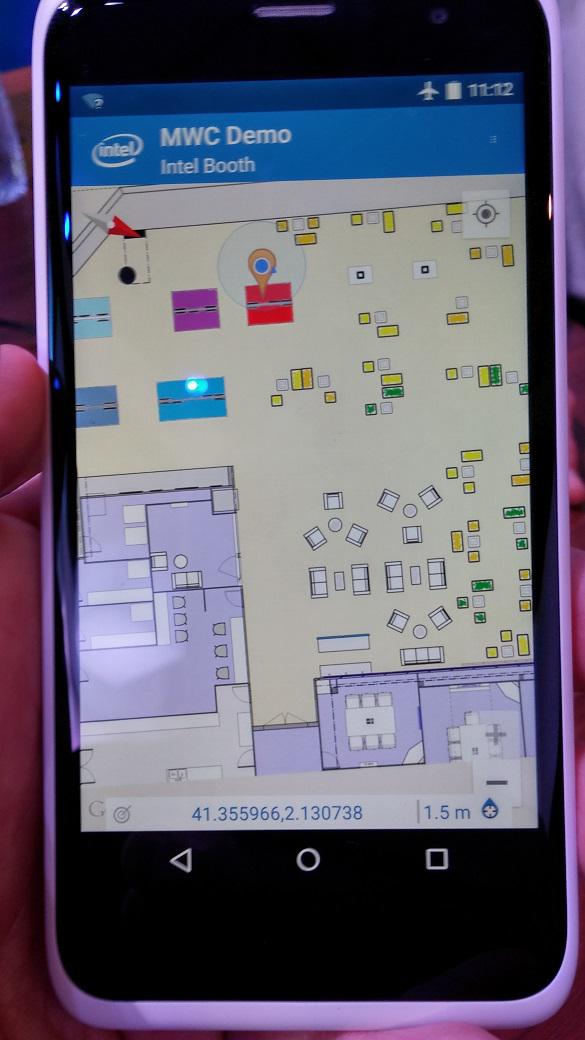 But the latest trend with the biggest potential implications is support for indoor location positioning in chips. Qualcomm (NASDAQ:QCOM) has released their IZAT location technology in their chips, and Broadcom (BRCM) has also released chips supporting indoor location. Now Intel has entered the fray, with support for indoor location positioning in their new Wi-Fi chips.
Intel's indoor location support looks great. As this video from the recent 2015 Mobile World Congress shows, their system is able to track a device as it moves around a site, even at a conference with a huge amount of wireless signals.
The reason this trend is so big is that if location positioning can be done in chips, it can be made available in smartphones throughout the market. More importantly, location positioning done in chips will require much less CPU power and much less battery than if similar location positioning is done in software.
Most of the companies bringing indoor location technology to market are doing so one site at a time. Many stores, shopping malls, hospitals, airports, offices and other indoor sites have released applications with indoor mapping and navigation services included. But chip-based indoor location capabilities promise to track indoor locations on a universal, always-working and always-available manner. Even if these chip-based systems are not as accurate as a system customized for a specific site, the very fact that chip-based approaches can work everywhere makes them revolutionary.
Intel's indoor location positioning uses the new 802.11mc standard to measure the distance between the device and each Wi-Fi access point nearby. It then uses a technique called multilateration to find the exact place that's the right distance from each access point.
Multilateration has been used for indoor location positioning a lot in the past, but chip-based technology such as Intel's can measure the distances to each access point a lot more accurately than can be done in software. Most software-based approaches measure the strengths of the signals from the access points and then convert signal strengths into distance estimates. But signal strengths are not accurate determiners of distance because they are impacted by the environment, such as being weakened by objects in between an access point and the device. But chip-based approaches can measure distance much more accurately.
One catch is that chip-based approaches need the new chips to be both in the devices and in the Wi-Fi access points, which means that it will take some time for these new chips to be able to track locations universally. Intel's chips can work with any other chips that are 802.11mc-compliant, not only with Intel chips, so devices with their chips will have a good chance of being able to track locations as this new standard spreads.
The new indoor location tracking capabilities of Intel's new chips shows Intel's entry into this new trend. As indoor location positioning chips enter the market, Intel will be well-poised, alongside Broadcom and Qualcomm, to bring location applications indoors.
Disclosure: The author has no positions in any stocks mentioned, and no plans to initiate any positions within the next 72 hours.
The author wrote this article themselves, and it expresses their own opinions. The author is not receiving compensation for it (other than from Seeking Alpha). The author has no business relationship with any company whose stock is mentioned in this article.