Although World Series commercials are not as hyped as Super Bowl commercials, they can be just as entertaining and can uncover a few good publicly traded companies to invest in. It should be no surprise that the companies that have the money for expensive television advertising have businesses that are growing and successful. I have compiled a list of companies that are running entertaining commercials during the World Series which might be worth investing in.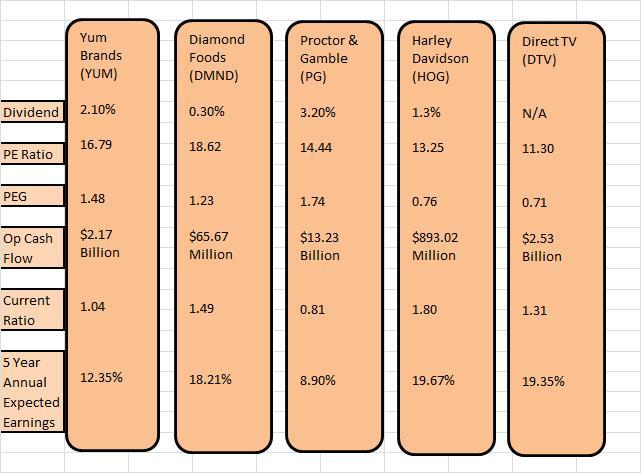 Yum Brands (NYSE:YUM) has been running the Taco Bell commercials which feature Giants closer, Brian 'the beard' Wilson. In addition to Taco Bell, Yum Brands owns the following brands: Pizza Hut, KFC, Long John Silvers, and A&W All American Foods. It operates 37,000 restaurants in 110 countries. S&P upgraded YUM in August from stable to positive saying that its improved financial position is expected to continue into the next year.
Yum Brands is seeing significant growth in Africa, where it has 44% market share. Africa's population of one billion prefers chicken on the bone as their protein source, so there is a lot of growth potential for KFC restaurants throughout that continent. Other strong growth potential exists in Indonesia, Malaysia, and Vietnam, which is expected to account for 60% of YUM's growth by 2015. When you combine Yum Brands dividend of 2.1% with its expected annual growth of 12.35%, you can reasonably expect a 14.45% annual appreciation over the next five years.
Diamond Foods (NASDAQ:DMND) has been airing the Kettle Brand potato chips commercials featuring a man who gets his bag of chips stuck in the vending machine. Diamond Foods also owns the Emerald, Diamond of California, and Pop Secret brands. It produces snack foods which include: potato & tortilla chips, nuts & trail mixes, microwavable popcorn, dried fruits, and seeds.
Diamond Food's strong 5 year annual expected earnings growth of 18.21% should be achieved as it continues to strategically advertise their brands in a fun, energetic way during peak viewing events such as the World Series and other sporting events. Look for Diamond Foods to outperform the market as it continues to successfully sell its products to drug store chains, wholesale clubs, grocery stores, convenience stores, and mass merchandisers. Also with its strong insider buying in the last month, Diamond Foods is not really a tough nut to crack. Expect to receive an 18.51% annual yield over the next five years from buying its stock.
Proctor and Gamble (NYSE:PG) has been airing the Old Spice commercials which show a sea captain with an alien on his back as thousands of coins empty from his pockets and fill his living room. P&G is a conservative, well diversified company selling a variety of consumer staples. It's a dividend paying Warren Buffett owned stock that beats the market overtime.
P&G is a little more conservative in growth than the others in this article, but it is also a defensive stock with little downside risk. It manages 23 brands that individually generate over $1 billion in annual sales and 20 brands that individually generate half a billion in annual sales. P&G generates at least 30% more revenue than its closest competitor, Unilever. With its 3.2% dividend and steady growth, PG stock is a good place to park some money for consistent appreciation with a certain degree of predictability without excessive volatility. It should yield 12.1% annually when adding the dividend with its projected earnings growth.
Harley Davidson (NYSE:HOG) has been running the commercials featuring a motorcycle rider who hooks up leashes to the cage doors of a number of dogs; the rider then hops onto his hog and drives off, as the cage doors pop off, releasing the dogs onto the sidewalk for a run.
Harley Davidson gets 60% of its sales from the U.S. and 40% from outside the U.S. HOG stock is still undervalued with a forward PE of 13.25 and a PEG of 0.76. Its stock also trades under 4 times book value per share, showing a good value. Its projected annual earnings growth of 19.67% should be achieved by strong growth in the U.S., Europe, and by tapping into the emerging markets in Asia. HOG investors should ride well with a total annual yield of 20% from its dividend plus stock appreciation for at least the next five years.
Direct TV (NYSE:DTV) has continued airing the commercial for its multi-room DVR, which shows a couple of robots fighting while destroying some guy's house. It has also done some smart marketing by offering the NFL Sunday Ticket at no additional cost to subscribers.
Direct TV is the most undervalued of the stocks in this article with a forward PE of 11.30 and a PEG of 0.71. It is the largest direct broadcast satellite service provider in the U.S. and the second largest pay-tv service provider after Comcast. I think that Direct TV will achieve its growth from value conscience consumers who want to pay less for a bundle of channels compared to what Comcast or Verizon charges. Direct TV's 5 year projected annual earnings growth of 19.35% looks easily achievable due to its ability to gain and retain new cost sensitive customers.
Disclosure: I have no positions in any stocks mentioned, and no plans to initiate any positions within the next 72 hours.