Last week Edelman & Company, Ltd. (Edelman) released a letter it sent to Central Steel & Wire Company (OTCPK:CSTW) dated September 14, 2011. Edelman is a financial advisor to certain shareholders of CSTW owning approximately 12% of the outstanding shares. Edelman is seeking to sell this 12% stake on behalf of its client shareholders to a third party which has proven difficult due to 61% of the outstanding shares being owned by the James R. Lowenstine Trust (Trust). Prospective buyers are unwilling to purchase the 12% stake without a concurrent purchase of control which would include the shares held by the Trust. In addition, Edelman has contacted CSTW directly in the past regarding a possible repurchase transaction by the company which has been rejected.
On June 27, 2011, the Trust received a letter from Samuel, Son & Co. offering $1000 per share. Samuel, Son & Co. is the 5th largest processor and distributor of carbon steel, stainless steel, and aluminum in North America. This offer was rejected by the Trust in a letter dated July 18, 2011. According to Edelman, this offer represented a premium of 52% to the average closing price of CSTW shares reported during the last 12 months on the OTC Pink market.
It is important to point out that the trustees of the Trust are for the most part the same as the management and directors of CSTW. This would seem to put these individuals in direct conflict as fiduciaries for the Trust as well as CSTW.
Edelman included other pieces of correspondence and exhibits with his letter dated September 14, 2011 that give a more complete picture and timeline of events. Also included in the press release was the response from CSTW to the September 14 letter from Edelman and a copy of the Second Restatement of James R. Lowenstine Trust Dated August 17, 1981. If you have any interest in CSTW, I encourage you to take the time to read the documents released by Edelman. It becomes clear that management of Central Steel has very little interest in a sale at any price. Edelman points out that in his process to sell on behalf of his client shareholders 12% stake, other third parties have made overtures to CSTW only to have them soundly rejected.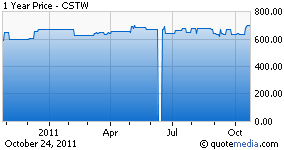 This team of managers and trustees would appear to be completely ignoring their fiduciary responsibility to both CSTW shareholders and the Trust. The stock price has barely budged in the last 5 years while earnings and dividends have declined. In fact, the only investors that can be pleased with their returns are those that bought on dips between 2000 - 2004. However, if the stock continues to be stagnant and the company is unable to return to dividend levels not seen since 2008, even those investors are going to have their returns quickly eroded.
Central Steel is a well-run company and is an attractive and relatively conservative small cap stock. It was especially attractive when the annual dividend was $30, $35, $40 and $30 per share in 2005, 2006, 2007 and 2008 respectively. Dividends at these levels certainly make an investor more patient. I agreed with the board's decision to aggressively cut the dividend to $10 per share in 2009 due to poor economic conditions in order to conserve cash. Of course this should be temporary and the higher dividends should be reinstated when the earnings recover and justify the higher dividend.
The ability of management to effectively run the company's operations is not in question. However, their ability to act independently and serve not only the interest of the shareholder, but also the best interest of the Trust certainly is being questioned. As we see time and time again, management of many companies continue to entrench themselves in order to not be challenged by potential suitors or activist investors. By rejecting to even discuss potential offers, it would seem that is exactly the goal of CSTW management.
At a minimum, the company should have disclosed the offer to shareholders with a detailed response as to why the offer was rejected and a concise plan as to how the board and management intend to increase shareholder value. In addition, the five directors that are also officers of CSTW and trustees of the Trust only own 0.1% of the outstanding shares of CSTW. Therefore, it would appear their interests are more tied to collecting a paycheck than seeing CSTW acquired at a premium.
This is definitely a sit back and wait stock, but with a $1000 per share offer being put on the table, it appears to be tremendously undervalued. Additional information on CSTW can be found in my previous article titled, "Central Steel & Wire Company: Potentially Undervalued Assets, Increasing Earnings."
For comparison purposes, I have included information on some more liquid stocks that also operate service centers in the steel industry and as you will read, there is definitely consolidation going on in the industry.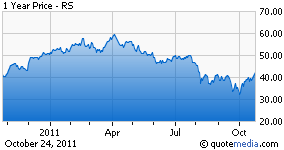 Based in Los Angeles, California, Reliance Steel & Aluminum Co. (NYSE:RS) is the largest metals service center company in North America and is the one Edelman used in its it letter to compare returns. According to Edelman, the returns for RS for the last 5, 10 and 15 year periods as of the date of his letter have been 31%, 218% and 447% respectively. While CSTW produced returns of only -1%, 27% and 1% for the comparable periods.
In addition to locations in 38 states, RS has locations throughout the world including Belgium, Canada, China, Malaysia, Mexico, Singapore, South Korea and the United Kingdom.
While RS is set to release third quarter earnings on October 27, its second quarter report resulted in an earnings increase of 60% to $61.5 million or $1.31 per diluted share on a sales increase of 26% to $2.05 billion. Also of note, RS announced in August that it had completed the acquisition of Continental Alloys & Services in a transaction valued at $415 million. According to the press release, Continental had net sales of approximately $196 million for the six months ended June 30, 2011. According to Edelman, CSTW finished the same six month period with net sales of $412.6 million.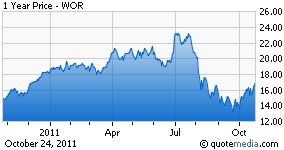 Worthington Industries, Inc. (NYSE:WOR) is headquartered in Columbus, Ohio and is primarily a steel processor with an increasing presence in the manufacturing of pressure cylinder products such as propane, oxygen and helium tanks. WOR has locations in North America, Europe and Asia.
For its fiscal first quarter ended August 31, 2011, WOR reported net sales slipped 2% to $602.4 million while net earnings increased nearly 15% to $25.7 million or $0.35 per share. At end of September, WOR announced that it had purchased the assets of STACKO which is a Polish producer of toroidal and cylindrical LPG tanks.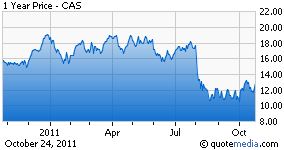 A.M. Castle & Co. (NYSE:CAS) recently relocated its home base to Oakbrook, Illinois and is a distributor of primarily specialty metal products and to a lesser extent plastics. CAS provides a range of value-added processing and has a network of service centers that act as supply chain intermediaries.
For the second quarter ended June 30, 2011, CAS reported net sales increased 17.7% to $282.6 million. Adjusted net income increased significantly to $4.5 million or $0.19 per diluted share, but still fell short of street estimates of an adjusted $0.27 per diluted share. CAS expects to report its third quarter earnings on November 1, 2011.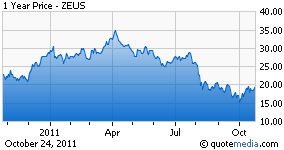 Olympic Steel, Inc. (NASDAQ:ZEUS) is another Ohio-based metals service company located just outside of Cleveland in Bedford Heights. The company, including its subsidiary Chicago Tube & Iron, currently operates 28 facilities throughout the United States and Mexico.
For the second quarter ended June 30, 2011 ZEUS reported net sales increased 41% to $299 million on a 13% increase in tons sold. Net income jumped 144% to $7.9 million or $0.73 per diluted share. The second quarter of 2011 also included non-recurring pretax expenses of $940 thousand related to its recent acquisition of Chicago Tube & Iron. ZEUS has announced its third quarter earnings will be released November 4, 2011.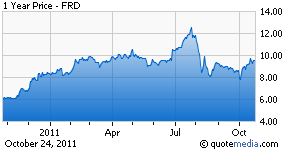 Friedman Industries, Inc. (NYSEMKT:FRD) calls Houston, Texas home and is engaged in steel processing, pipe manufacturing and processing, along with steel and pipe distribution. FRD is the smallest of the companies mentioned sporting a market cap of roughly $65 million and operating facilities in only Texas and Alabama.
The company's first quarter ended June 30, 2011 showed net sales increased nearly 37% to $38.9 million and net earnings were up 28% to $1.8 million or $0.27 per share. While the company is small, it boasts a very clean balance sheet with $17 million in cash and only $11.8 million in current liabilities and no long-term debt. In addition, if the company maintains the dividend of $0.13 per share that it has paid the last two quarters; it will give the stock a yield of 5.4% which is the strongest of the stocks mentioned.
Sources:
Edelman & Co., Ltd.
Central Steel & Wire Company
Reliance Steel & Aluminum Company
Worthington Industries, Inc.
A.M. Castle & Co.
Olympic Steel, Inc.
Friedman Industries, Incorporated
Samuel, Son & Co.
Disclosure: I am long CSTW.PK.