In Dec 2010 I wrote an article, Exasperation with the Salesforce Bears. The theme of the article remains very much intact; in fact, the argument is all the more pertinent in light of subsequent events.
The gravity-defying valuation of Salesforce.com (NYSE:CRM) continues to baffle me. And cost me money through my short. The gist of my argument is as follows:
Yes, all you rational Salesforce bears, I am so with you on the ludicrous valuation, all the more glaring in today's bear market...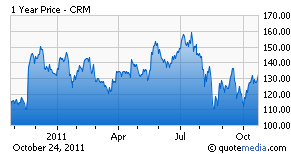 BUT: The bullish broker analysts (i.e., all of them - weird, isn't it?) will tell you the future revenue space is potentially the entire current revenue of SAP (SAP) and Oracle (ORCL), who have really lagged in providing an on-line SAAS hosted service in the 'cloud'.
The bullish brokers will also tell you that these legacy players who have huge vested interests in the existing software paradigm (true) will not adapt it to provide a SAAS offering (false; they have, albeit with huge delays and disappointments). But as of two weeks ago, Oracle has a legitimate and competitive offering (and now own RightNow (NASDAQ:RNOW) and SAP's conferences imply theirs is very imminent. So the bull says, CRM will grow its revenue into its market cap. (PS, I totally disagree; it's very reminiscent of the dotcom argument where Amazon (AMZN) would one day sell 30% of the world's books, CDs, sofas etc).
But the cloud picture gets murkier. Salesforce.com is effectively just that: a customer relationship management tool. Yes, with lots of bells and whistles, but still a CRM package. The partial success it has had with large enterprises (i.e. with ERP systems like SAP or Oracle is when CRM's software sits on top of the integrated ERP (mostly on top of an Oracle database and middleware, with perhaps VMware (NYSE:VMW)), discrete and as an added tool to the front line staff. It's perfect for people/sales orientated companies (like insurance brokers or real estate agents) and yes, they have had some success.
However, any company with a manufacturing or complex business process (i.e. Fortune 500) would be far better off adding the CRM module from SAP or Oracle to its existing software. Granted, both incumbents have dragged their feet at entering the cloud, but this in itself points to the complexity of transferring a custom-built ERP system to the cloud paradigm, and (finally!) these are now available for both the software giants. So what's Salesforce.com's future growth rate? Have the bulls factored in the gigantic marketing budget and determination Oracle has, as evidenced in its recent OpenWorld Conference (Oct 2011), to penetrate the SAAS CRM space? Larry Ellison isn't kidding - he never is.
So when investors muse about CRM, they are wrong to brand it as a springboard into the enterprise for cloud computing; it's more an isolated appendage sitting on top of the enterprise's main nervous system, the ERP.
More importantly: This stock has defied/exceeded even the most absurd dotcom-like comparisons for at least a year. Nothing stops its ascent: massive and direct insider selling (in the last six months, 239 sales versus zero purchases - wow!), dilutive acquisitions, Microsoft (MSFT) offering a cheaper CRM, a negative GAAP earnings forecast, and my favourite, the CEO saying he swims with dolphins weekly.
It has cost me a ton, and I remain resolute. Stop loss does not exist in my vocabulary. I believe in rational markets, and this is the most absurd valuation in my career. But through sheer pain and bewilderment, I will confidently say there is something going on with CRM trading that will decimate any bear. Over the last two years it has outperformed the S&P by 87% and continues its gravity-defying ascent this year (up relative 19% to market) to lob another $2.7Bn onto its capitalisation. And it will not fall.
Many bulls have highlighted the 600+ P/E on GAAP earnings being a delusion. However, in my book, stock compensation to employees is as legitimate a cost as any, even if we are floating in a cloud. And the current price/sales ratio of 9 stands out like a sore thumb in the software space (the acquisition of RNOW by ORCL with the premium on 23 Oct was done at a P/S of 5.9 and it has a GAAP P/E of 55; this is all the more galling because after all costs none of Salesforce.com's sales filter down to the net profit line on a GAAP basis).
One day all will be revealed. My conjecture: two hedge funds trading it back and forth, huge volumes, in bed with Benioff who officially still owns a ton, but used to sell 10,000 a day; or maybe a QE3 derivative funded by the Fed and transacted via the investment banks as the last desperate hope of the American renaissance dream - a la Apple (NASDAQ:AAPL) - which will restore America's dominance over a shrinking mercantilist empire).
But until then, this will rip off any and every bear's trousers.
To repeat the valuation metrics of Oracle's bid for RightNow, after the bid premium:
RNOW P/S 5.9, GAAP P/E 55.
CRM: P/S 8.91 GAAP PE +600
It's nigh time for rain from Salesforce.com's cloud. Investors, beware the deluge.
Disclosure: I am short CRM.