Step into the shoes, or more accurately Crocs, of CEO John McCarvel, of Crocs (NASDAQ:CROX) footwear, for a moment. Ask yourself if just ten days before your Q3 earnings call you would release a downward revision to guidance, slashing earnings estimates by 20% and destroying nearly half your stock's value, if you had a positive outlook for Q4 to communicate during the earnings call?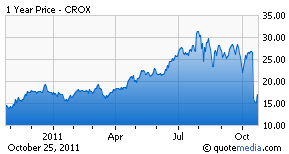 I think if you had a positive outlook, you would wait until the earnings call where you can mitigate the damage of the previous quarter. There is no duty to update guidance for a bad quarter a few days before an earnings call; that is why we have earnings calls – it's a perfect time to disappoint. Thus, I am skeptical that a rosy Q4 outlook is waiting to be delivered at the conference call later this week that could rebound Crocs's stock. If anything, I am cautioned that the timing of the release may have been an attempt to stagger the impact of a second shoe yet to drop in the form of fourth-quarter guidance.
Before discussing the outlook for Q4, let's first look at the guidance revisions for Q3 that caused the stock to plummet. The original guidance predicted earnings of $0.40 per share and revenues of $280 million. The new Oct. 17 guidance revised earnings to $0.31-$0.33 per share and $273-275 million of revenue. That is a 20% decline in earnings estimates, but notice that Crocs still expects to make up to 98% of its original revenue forecast. In other words, there was no meaningful revenue shortfall in Q3; the real culprit was a shortfall in the profit margin.
Also in the Oct. 17 release was partial Q4 guidance in the form of a revenue forecast and the state of Crocs's order backlog at the end of Q3. The release forecasted revenue in Q4 to grow year-over-year in the "low teen range." This comes after a slew of quarters posting roughly 30% revenue gains, which includes this quarter, the one with the big earnings miss. If margins remain low heading into Q4, then it's hard to see how the situation improves in Q4 when we compound the problem of declining margins with much lower revenue growth.
The best positive forward-looking data point Crocs released was the continued 30% year-over-year growth of its order backlog. In a vacuum this is very positive, but when released at the same time as a statement that revenue next quarter is projected to increase on a percentage basis in the low teens, it becomes evidence of further margin erosion heading into Q4. The order backlog represents mostly (if not entirely) wholesale orders, and if it is increasing faster than revenue growth, perhaps it is crowding something else out – like higher margin direct channel sales.
During last year, Q4 was Crocs's weakest quarter, earning just $0.05 per share. In a way, this is positive because it sets the bar low. Also having an earnings benchmark near zero makes it easier to show large gains. After all, in percentage terms, any increase from zero is infinite, and a gain of a single cent from last year's earnings would make for a solid 20% gain. But the standard cuts both ways, as losses are magnified just as much. With Crocs's stock price having broken from its trend, investors may use shorter time horizons to try to extrapolate earnings growth, giving the results of Q4 more impact than they would normally receive.
The Take Away: The decline in gross margins Crocs experienced in Q3 is likely to persist into Q4. Wholesale indicators continue to grow extremely well, but when combined with Crocs's sluggish revenue forecast, it may be evidence that higher margin channels will continue to decline into Q4. The weak revenue forecast for Q4 combined with continued margin erosion may pressure earnings even more than we saw this quarter.
Given the significant fall in the stock price, investors will be extrapolating trends using shorter time horizons, giving the stock more volatility. Last year's Q4 was fairly close to break-even, which will tend to make even small earnings gains or losses look large in percentage terms. Because of the likelihood of continued margin deterioration in Q4, I believe an entry point into the stock should come after the data or guidance more clearly reflects these changes, so the market can price it in.
Disclosure: I have no positions in any stocks mentioned, and no plans to initiate any positions within the next 72 hours.