The Indian government is on the right track of implementing business reforms. Corporate taxes will be reduced from existing 30% to 25% in the next four years. India will allow foreign investors to increase their stake in the insurance sector from 26% to 49%. This move will lead to capital inflow of more than $7 billion in India's insurance sector. Recently, the Indian Parliament cleared the Mines and Minerals Amendment Bill and the Coal Bill, which will rejuvenate India's mining sector. These two bills would bring about greater transparency in mine allocation through auction process.
Foreign investment
India attracted foreign investment worth $65.5 billion in the first ten months of FY 2014/15 (April 2014 to March 2015). The net foreign direct investment (or FDI) amounted to $30.4 billion, while the net portfolio investment in equities and bond market touched $35.1 billion. Foreign Institutional Investors hold nearly $60 billion in Indian debt market. India has set FY 2015/16 (April 2015 to March 2016) fiscal deficit target to 3.9% of GDP. The recent reforms will bring more foreign investment in Indian equity and debt market.
Trade deficit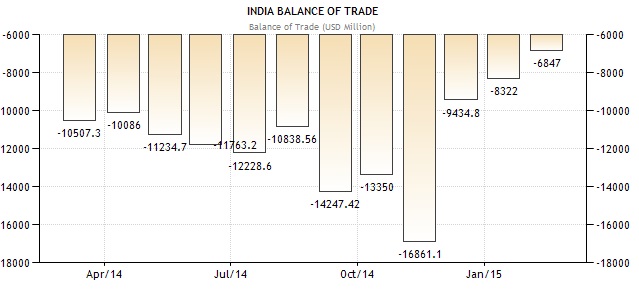 Source: TradingEconomics.com
India imported 664.29 tons of gold worth $25.74 billion the first nine months of FY 2014/15. The Indian government maintained 10% import duty on gold in its current budget. This move will keep gold imports under control.
India's trade deficit has been declining due to the sharp fall in crude oil prices. In February, India's trade deficit narrowed to $6.85 billion. Brent crude oil prices have been trading around $54 a barrel. If Western sanctions on Iran are lifted, then Brent crude oil prices could drop by $10 a barrel. This will reduce India's crude oil imports in value terms.
Improvement in local supply reduced Indian coal imports by 21% month-on-month in January. The coal auction process and production boost by Coal India will increase India's coal output from 630 million tonnes (or MT) in FY 2014/15 to 700 million tonnes in FY 2015/16. Improved coal production will reduce Indian imports and trade deficit in FY 2015/16.
Forex reserves
India's forex reserves now stand at $338 billion, and are sufficient enough to cover 74% of its external debt. The RBI regularly intervenes in the currency market to support the Indian Rupee. The central bank's net forex purchases amounted to $8.9 billion in FY 2014/15. India's forex reserves will increase due to capital inflows and declining imports. Barclays (NYS: BCS) expects India's forex reserves to touch $380 billion by the end of this year.
Final Thoughts

Source: Yahoo Finance
The Indian Rupee is one of the most stable currencies among all the emerging markets. A stable currency will benefit exporters and keep inflation under control. We remain neutral on the Indian Rupee and expect it to trade in the range of 61 to 63 against the U.S. dollar.
Disclosure: The author has no positions in any stocks mentioned, and no plans to initiate any positions within the next 72 hours.
The author wrote this article themselves, and it expresses their own opinions. The author is not receiving compensation for it (other than from Seeking Alpha). The author has no business relationship with any company whose stock is mentioned in this article.
Additional disclosure: This article is for information purpose only. Please do your due diligence carefully before investing.