Weyerhaeuser Co. (NYSE:WY) manages more than 20 million acres of forests and sells lumber products, as well as building homes worldwide. It sells most of its products through its own distribution facilities, and much of its products are used in the building and home construction industries. Its shares have suffered in the markets since the financial crisis in 2008, and from all time highs around $85 now linger below $20. It converted to a REIT in early 2010.
WY shares are currently trading around $17, and the mean 12 month price target from analysts researching the stock is $20.39 (20% upside potential). This stock is trading below its 50-day exponential moving average of $17.14 and its 200-day exponential moving average of $20.10. The stock has fallen away from its 12-month high of $25.33 set in the first quarter, and this fall increased in pace with the falls in the broader market, seen in August. However, the share price has recovered since its 12-month low of $14.82 was hit in early October, and has been heading higher since.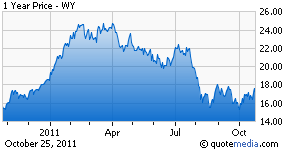 Last year, the company took the decision to convert to a REIT, and in doing so have posted earnings per share for the last 12 months of $2.87. With conversion and related business sales nearing completion, the earnings in its next fiscal year (ended Dec 2012) are expected to be in the region of $0.57. These numbers place the shares on a forward price to earnings ratio of 29.98.
For investors looking at dividend paying stocks, WY's payment of a dividend of $0.60 last year gives the stock a yield of 3.50%. The company has stated that it expects to pay the same dividend through the current year.
Current operating margin at WY is 7.82%, with a return on assets of 2.35% and a return on equity of 31.94%. Other competitor REITs' operating margins are as follows: Host Hotels & Resorts'(NYSE:HST) operating margin is 6.36% (return on equity –0.49%), Simon Property Group (NYSE:SPG), 45.06% (roe 18.39%), Equity Office Management (NYSE:EQR), 26.38% (roe 0.44%).
WY has been divesting itself of loss making businesses. The latest is the sale of its hardwood business to American Industrial Partners, and proceeds from the sale will be $108 million. Its core wood products business was a main driver behind a 29% fall in second quarter net income from a year earlier. Revenues in this sector of its business had fallen from $809 million to $726million the year before.
WY has cash of $881 million, and a total of $4.51 billion in debt. The company's debt/ equity ratio is 95.23, high but lower than EQR's 151, and SPG's 300.
At the current level, WY shares offer shareholders a yield of nearly 4% Its dividend looks safe, and shareholders will continue to be rewarded under the REIT structure. The company's transformation continues, with sales of poorly performing businesses. Such cash generative sales will help the balance sheet, and cut its interest payments on its debt. The shares could pop from current levels: the chart pattern looks bullish at this juncture. BUY.
Disclosure: I have no positions in any stocks mentioned, and no plans to initiate any positions within the next 72 hours.