We tend to focus on growth stocks, given our penchant for investing in secular trends, and willingness to pay up for best-in-class growth. But, every so often, we see a stock that is simply too compelling in terms of value to pass it up. While we invest in growth stocks, we do so for capital appreciation, and if a value stock presents a great chance at capital appreciation, then we will invest in it. We have found just such a stock, and it is in an unexpected sector. Amgen (NASDAQ:AMGN) is the world's largest biotech company, and we think it is a great stock to invest in going forward. When people think of biotech, they usually think of unprofitable pre-launch companies such as Pharmasset (VRUS) or companies just launching a new drug, such as Dendreon (NASDAQ:DNDN). Amgen is in a class of its own. As the world's largest biotech company, it dominates the sector. Yet, despite its ever-increasing profitability, shares of Amgen have barely moved over the past year, posting a gain of 2.43%, compared to the S&P 500's 6% rise.

Amgen has had an incredible run since its IPO, advancing over 17,000% since 1983. But lately, the stock has stagnated, over worries that we think will soon abate. In investing, the past and the future can be radically different, and we think Amgen's future is bright. Amgen's most recent quarter, had the company report a better than expected quarter, earning $1.40 a share on revenues of $3.9 billion. While GAAP earnings were $0.50 cents a share, this was due to a charge the company took to settle legal cases, and does not reflect operational weakness at the company. The company has yet again raised its revenue and EPS guidance, to $15.4-$15.6 billion and $5.15-$5.30 respectively. CFO Jonathan Peacock, on the company's conference call, stated:
Overall, revenues grew 3% in the quarter. Excluding ESAs, product sales grew 13%, reflecting strong growth across the portfolio, particularly on Europe franchises.
It is interesting to note that Amgen chose to highlight European sales as a key area of strength. How many companies actively boast of strong growth in Europe? On the call, analysts questioned Amgen on sales and pricing in Europe, and the company responded:
...our business in Europe continues to grow. So overall, we're pleased with the performance of the business internationally, and we continue to launch new products and benefit from those new product launches. So we're growing internationally. We recognized other significant macroeconomic pressure, and some of that pressure may be reflected in price changes, and we're continuing to watch that pretty carefully.
Europe, despite all the headlines, is not a problem for Amgen, but rather, a source of increasing profits. Amgen, like all big-cap pharma, is fighting to replace revenue from aging products with new drugs. We think the company is succeeding. Over the last 5 years, Amgen has posted revenue growth that averages 3.9% per year. While this is certainly not stellar performance, we think that revenue growth will accelerate, given Amgen's strong new drugs. Sales of XGEVA, Amgen's new osteoporosis drug, have soared to $100 million this quarter, and the company was granted EU marketing authorization on July 15, 2011. Sales grew by 40% over the prior year, and we think they will grow just as fast,
if not faster, in the quarters to come.

But what has us truly excited about Amgen is the pipeline. With most biotech stocks, R&D is financed either through debt or dilutive share offerings. Furthermore, early stage biotechs often have enough cash to research only a few products. Should any one of them fail, the consequences could be dire. At Amgen, however, the company's present sales and cash flows support R&D that few of its competitors can match. Amgen has dozens of products in development, and even if only a few succeed, its R&D investments will pay off handsomely. But, Amgen has always been disciplined with its costs. Roger Perlmutter, Executive VP &
head of R&D stated on the call that:
I have previously discussed with you our commitment to ensure that we continue to live within our means. With this in mind, last week, we announced a reduction in R&D headcount. This was necessary to refocus our R&D programs on those efforts likely to have a near-term clinical impact.
Amgen is focused on profitability, both in the near-term and the long-term. Amgen
has many products in the pipeline
. By our count, there are 45 products in various stages of development. We would like to highlight 4 that we believe hold special promise:
AMG-785: This is a "a humanized monoclonal antibody that targets sclerostin, a protein secreted by bone cells that inhibits bone formation. AMG 785 (also known as CDP7851) is being developed in collaboration with UCB for bone-related conditions, including postmenopausal osteoporosis and fracture healing." The company had great Phase II trials with it, and is currently in discussions with the FDA regarding Phase III trials.
XGEVA: While XGEVA is an approved product, Amgen is conducting Phase III trials to expand its use, into the prevention of bone metastases in breast and prostate cancer. Should its use be expanded, sales will soar even faster than the already impressive growth the drug has.
AMG-145: Though this antibody is in Phase I trials, Amgen has said that the outlook is very promising. This "is a fully human monoclonal antibody to Proprotein Convertase Subtilisin/Kexin Type 9 ("PCSK9"), a negative regulator of LDLR. AMG 145 is being investigated for the treatment of hypercholesterolemia." The head of R&D, Roger Perlmutter stated on the call that "it's behaving extremely well, and we hope to be able to share Phase II data with you in not too long of time."
Ganitumab: This antibody, known also as AMG-479, is currently in development with Takeda. It targets pancreatic cancer by blocking cell growth via inhibition of the type 1 insulin-like growth factor receptor (IGF-1R). The product is currently in Phase III trials, and data should be expected in October 2013. Though this is 2 years away, we feel that it is products like these that separate Amgen from the rest of the field.
Amgen has more than an outstanding pipeline, however. It also has a solid balance sheet, with almost $3.8 billion in net cash.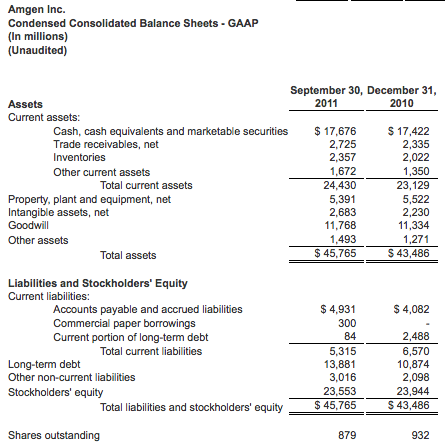 Amgen has expanded its stock buyback to $10 billion, and has repurchased $3.2 billion in shares in 2011 alone. Amgen is investing in the business on all fronts, yet is also firmly committed to returning cash to shareholders. The company is investing heavily in R&D, yet is also focused on rewarding shareholders in the form of stock buybacks and dividends. Amgen recently became the first major biotech company to pay a dividend. The stock currently pays 28 cents a share in dividends, for a yield of 1.9%. Amgen has stated repeatedly that it is committed to raising the dividend. CFO Jonathan Peacock reiterated this on the call, saying:
Amgen's Board of Directors, again as Kevin [CEO Kevin Sharer] mentioned earlier, has authorized an increase for the company's stock repurchase program to a total amount of $10 billion. We intend to use this to accelerate our share repurchase program, reflecting our confidence in the outlook and the long-term value of the company and the attractive interest rate environment. The capital plan we communicated in April left us with a significant and increasing net cash position. We now believe we can maintain the flexibility that we need to grow our business...while also improving the returns to our shareholders by accelerating our stock repurchase plans. This means that we plan to return more than 60% of our net income to shareholders, on average, over the next few years. Within this, we maintain our plan to increase the dividend meaningfully over time, and we'll also maintain a solid investment grade rating.
Though Amgen has nearly $14 billion of debt, it has good investment grade ratings. Its cash position and 4.6% annual increase in cash flows mean stockholders and bondholders can rest easy. Amgen raises guidance quarter after quarter, accelerates share buybacks, and has pledged to boost the dividend. Yet the stock does not budge. We think that the malaise in the stock will end as investors see steadily increasing revenues, EPS, a lowered share count, and a fantastic pipeline. Amgen shares, at a P/E of about 12 and a forward P/E of 10.5, are too cheap. Analysts agree. S&P sees the stock reaching $68, BMO sees it at $67, and Citi sees it reaching $65. Though the Reuters average target stands at $64.40, we feel this is too low, given all the catalysts Amgen has. As more data comes out on the pipeline and revenue growth accelerates, that average will drift up. Amgen is innovating at a rapid pace, and is poised for continued success in the years to come. And we think that investors who invest at these levels will be just as successful.
Disclosure: I am long AMGN via the FBT, an ETF that tracks the NYSE Arca Biotechnology Index, where AMGN has a 5.01% weighting. I am also long DNDN via the same ETF.