Up until a few hours ago, it was starting to look like all the silver buyers were in the process of packing up their bags and going home, but one little canceled meeting for European officials trying to solve their sovereign debt crisis for the millionth time changed all that rather quickly.
There had been a steady outflow of metal from the still-very-popular iShares Silver Trust ETF (SLV) in recent days (see the iShares website for complete details), some 229 tonnes in all exiting the trust over the last three weeks as indicated below, however, that trend could reverse quickly after today's price surge that, at the moment, is the biggest one-day move higher in almost two months.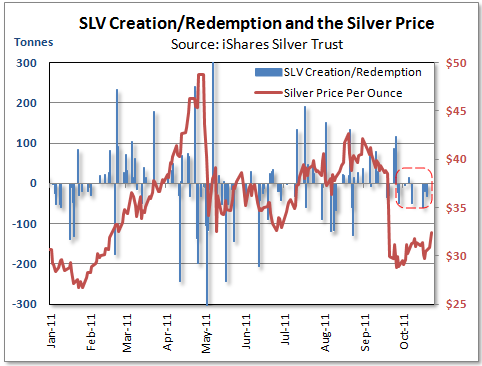 Also, the premium being paid for shares of the Sprott Physical Silver Trust ET (PSLV) had just recently dipped from the low 20 percent range to 17.5 percent as of yesterday's close (see the Sprott website for details), but that too could quickly change.
In fact, if current prices hold, you can bet on that premium moving higher.
One thing seems certain - the silver price has been taking its cues from the gold price since tumbling from the $50 mark earlier this year and it is not likely to make any sustained move back toward the $40-$50 range without the gold price heading back toward its summer highs.
With investors' attention soon turning to the U.S. debt problem (and with the prospect of the eurozone crisis extending indefinitely), that could happen sooner than many people think and today's price action could just be a taste of what is to come in the months ahead.
Disclosure: I am long SLV.