By Brian McCormick
The ProShares Short High Yield exchange-traded fund (NYSEARCA:SJB) has seen a change in direction that is worth noting ahead of the debt-crisis summit in Europe tomorrow.
The SJB moves inversely to the price of corporate junk bonds. When the fund's price is falling, it is an indication that traders are more willing to hold risky assets.
Today an appreciable bump in the fund could signal a return of risk aversion. On the chart below--plotted on a two-week, 15-minute basis--the SJB is shown in red and the S&P 500 in green. As we can see, the percentage return of the ETF has fallen as the S&P 500 has risen in the last two weeks.
I have written many times in the last several months about using the SJB as an indicator paired with the S&P 500. Because junk bonds are inherently more risky by nature, they are particularly sensitive to changes in risk perception.
If traders don't get some form of major relief at the summit tomorrow, there is a very good chance we will see risk aversion return. Conversely, if ETF pulls back, it could be a major positive for equities and their indexes.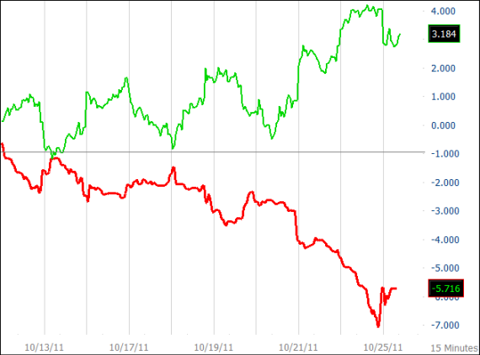 (Chart data provided by Thomson Reuters)