The rural economy continued to inch forward in October and has remained above growth neutral for nearly two years. Farmland values remained elevated as bankers are optimistic about growing appreciation for the next 12 months, driven by rising cash rental rates.
The Rural Mainstreet Index (RMI) advanced to 52.9 from 52.2 to remain positive for the second straight month, and positioned well above the 48.4 it posted 12 months ago. Although the RMI shows a positive trend, it is increasing at a sluggish rate.
Farmland values remained elevated as bankers are optimistic about growing appreciation for the next 12 months, driven by rising cash rental rates.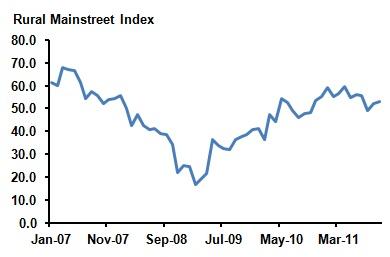 Creighton University economist Ernie Goss said,
Survey results over the past several months, similar to national surveys, indicate that the economy is growing but at an anemic pace. However, companies linked to agriculture continue to experience healthy growth.
Agriculture
The farmland price index remained unchanged at 66.9 in October. This marks the 21st straight month the index has been above growth neutral. The farm equipment sales index decreased to a still strong 63.1 from September's 65.4.
Goss said:
Throughout the region, bankers are reporting very strong growth in farmland prices. One banker in Storm Lake, Iowa, reported a recent farmland sale of $13,000 per acre. Current high agriculture commodity prices and record low interest rates are supporting these prices. I am concerned that a sharp upturn in the value of the dollar, as happened with the failure of Lehman Brothers in 2008, could take some of the air out of this price bubble by pushing agriculture commodity prices lower.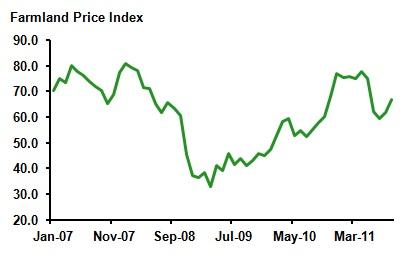 Bankers were asked to project 2012 cash rents for farmland. An average of 8.2% increase is expected in 2012 and over 18% of respondents expect cash rents to grow by more than 16%. The USDA expects farm income to rise 31% in 2011, which we expect will drive farmland values and cash rents in 2012.
Banking
The loan volume index decreased to 57.3 from 62.5 a month prior. The check deposit index increased to 71.1 from 60.3 in September and the certificate of deposit and savings instruments increased to a still weak 44.9 from 41.2 last month.
October's job index increased to 56.4 compared to 54.7 in September. "Year over year job growth for Rural Mainstreet communities is approximately three times that of metropolitan areas of the region. Even with the recent strength, employment for Rural Mainstreet communities is down approximately 3.1 percent from pre-recession levels," said Goss.
The economic confidence remained unchanged at a flat 50.0. "While the index stood at growth neutral 50.0, bankers remain less than optimistic about future economic conditions, compared to last year at this time," explained Goss.
Survey
This survey represents an early snapshot of the economy of rural, agriculturally and energy-dependent portions of the nation. The RMI is a unique index covering 10 regional states, focusing on approximately 200 rural communities with an average population of 1,300. It gives the most current real-time analysis of the rural economy.
Disclosure: I have no positions in any stocks mentioned, and no plans to initiate any positions within the next 72 hours.