So let's say you have some money allocated to biotechnology and your holdings in that sector are allocated something like this: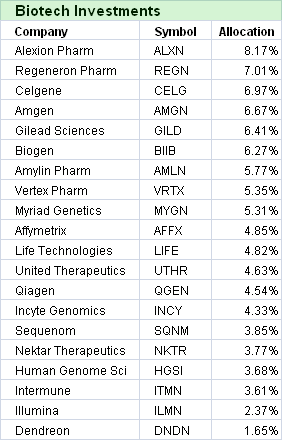 Part of the reason why you're weighted more in shares of ALXN, REGN, and CELG could be because those stocks have done well lately. ALXN and CELG, for example are near year-to-date highs.
On the other hand, you've got some dogs in there, too. Dendreon announced sales of its Provenge drug won't be as optimistic as Wall Street expects – so it dropped 65% in just one day back in August.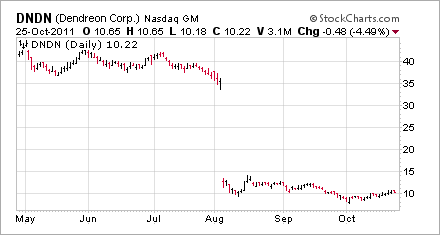 And while I don't know the specifics, it seems as if Illumina and Intermune also displeased Wall Street over the past quarter.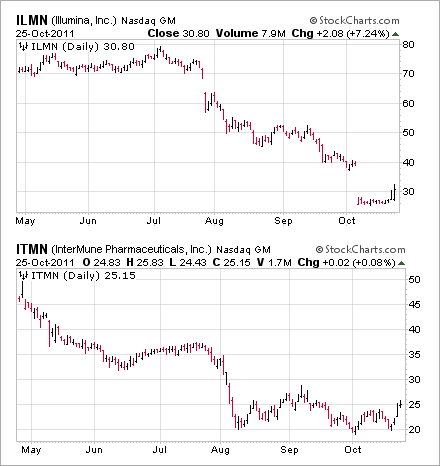 Well, that's how it goes in the biotech sector. Some of these companies could come back – and strong. Others won't.
You might consider rebalancing the portfolio, selling some shares of the winners to buy more of the losers.
Good idea or bad idea? Well, it doesn't really matter if you own shares of the First Trust NYSE Arca Biotechnology ETF (NYSEARCA:FBT) – because that's what you ended up doing in the past couple of days.
A look at rebalancing
Here's a look at FBT's holdings by weight on October 20 vs. October 24: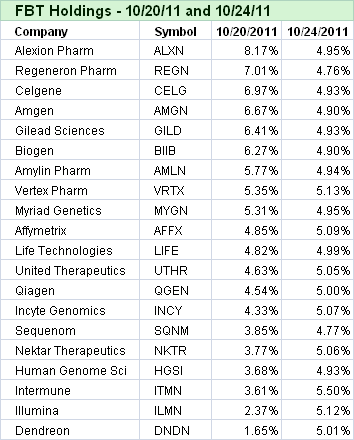 Because this is an equal weighted index, it's rebalanced each quarter, most recently this past Friday. So your biotech portfolio would have changed fairly substantially.
Not all equal-weighted funds in this sector operate quite the same way. The S&P Biotech ETF (NYSEARCA:XBI) is also based on an equal-weighted index, the S&P Biotechnology Select Industry Index. This was rebalanced at the end of last month, but out of 44 stocks in the portfolio, the first 22 stocks account for two-thirds of the fund's holdings.
Why? The XBI index methodology takes market cap and share liquidity into account in rebalancing holdings. As I understand it, this attribute was added to the methodology to protect against having too much of the fund locked up in stocks with very low liquidity
You can see that from this list of the fund's holdings as of October 24. The smaller cap stocks tend to be weighted less than the larger ones.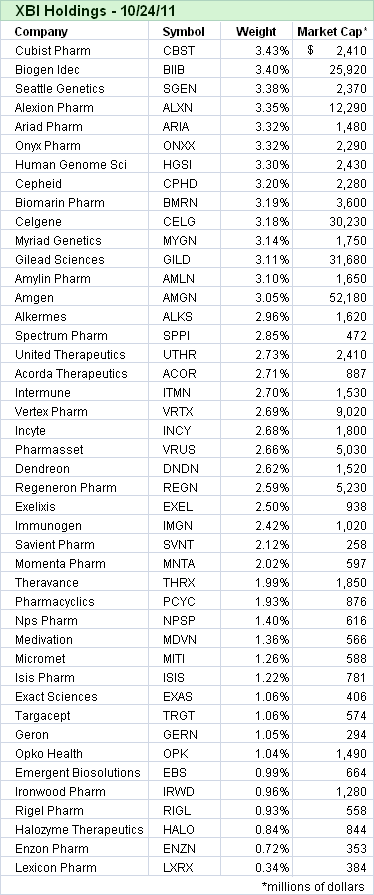 Now let's take another look at the First Trust Biotech ETF. I listed the market caps, plus the value of the shares the ETF owns as a percentage of the market cap (based on the fund's assets of about $418 million):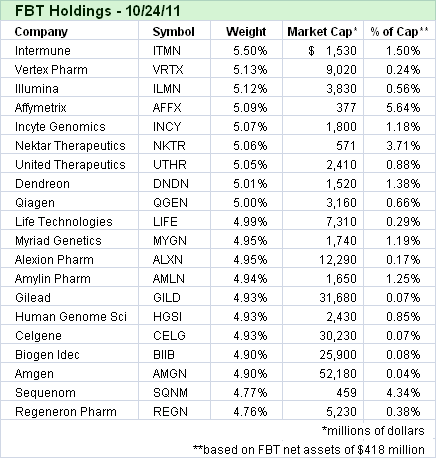 To me it seems as there's an awful lot of AFFX, NKTR, and SQMN tied up in this relatively small ETF.
That can happen in the XBI, too, but there are lot more stocks in the XBI, more than twice as many as XBI. And a quick check shows that for only one of them would XBI's holdings amount to more than 3% of a company's market cap (That would be Savient Pharmaceuticals (NASDAQ:SVNT)).
But while the First Trust FTB ETF doesn't appear to be as diversified as the SPDR XBI ETF – and may be overly concentrated in some small stocks – it looks like the approach has worked out well for investors.
This chart shows the relative performance since mid-2006, just after the fund began. I also included the S&P 500 ETF (NYSEARCA:SPY).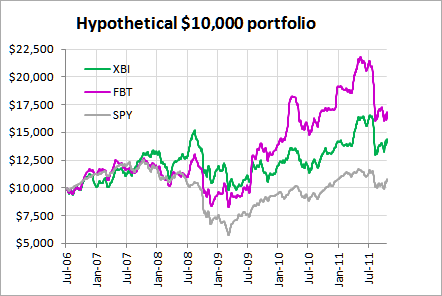 While I own XBI and not FBT, the chart tells me that, yes, I am missing out on potential gains, but there appears to be less risk. FBT is off nearly 26% its year-to-date high while XBI is down a more modest 15%.
FBT is worth a further look if you're willing to study its holdings more carefully – and clearly understand what can happen to its holdings when they're rebalanced on the third Friday of January, April, July, and October.
Disclosure: I am long XBI.