The US economy has shown strong resilience at a time when other developed market economies have been struggling for growth. This factor, along with the factor of QE ending in the United States has resulted in a strong dollar.
As the chart below shows, the dollar has surged against major developed market economies since the second half of 2014.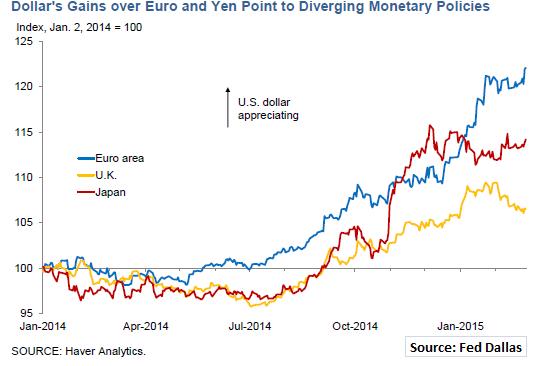 A strong US economy is a big positive and the US economic growth sustaining after the QE is another big positive factor. However, a strong dollar is not desirable for policymakers as it has a negative impact on the country's exports. I believe that this is one of the key considerations for the Fed whenever it decides to increase interest rates.
The point that I want to make it clear from the chart below that gives the percentage change in US exports growth on a year-on-year basis.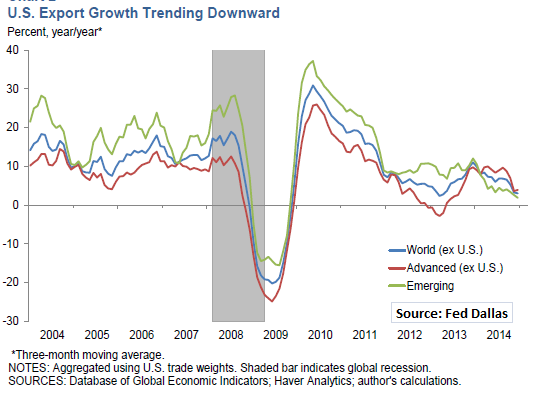 It is worth noting that US export growth has been trending down and the slide has accelerated in the recent past. There are two reasons for the decline in exports. First, a strong dollar is having an impact on exports growth and second, the global economy has weakened in the recent past. However, a strong dollar remains a key factor.
I would remain moderate and not blame the entire decline in exports on a strong dollar as this article from Bloomberg explains -
For example, in the industrial supplies and materials group, which is responsible for 35 percent of the drop in the value of total exports from October to January, non-monetary gold was the biggest culprit, followed by natural gas liquids and organic chemicals, Sharif wrote. "I'm not sure I'd be too concerned about a drop in exports of these sorts of items, especially given that the price of gold and natural gas is down sharply since last summer, likely weighing on these nominal export figures...
While I am in agreement with this point, I also believe that the next few months will reveal the real impact of a strong dollar on exports as it clearly makes US goods more expensive for foreign buyers and expensive goods would hurt when other developed market economies are struggling for growth.
I must also point out that expansionary monetary policies continue in the US and the strong dollar is not a function of an end to easy money. It is more a function of weaker currencies and expansionary monetary policies elsewhere that are bigger than that in the US. To back my point, the chart below gives the US adjusted monetary base. In general, an increase in the adjusted monetary base is indicative of accommodative monetary policies and a decline in indicative of contracting monetary policies.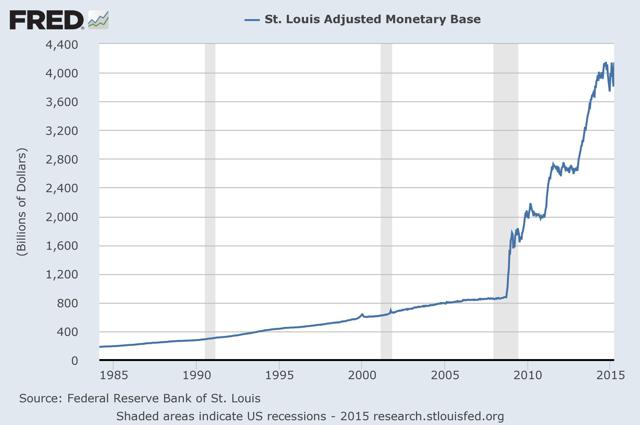 It is clear from the chart that there has been no change in terms of policy stance with the adjusted monetary base near $4.1 trillion. The adjusted monetary base had declined from $4.1 trillion in August 2014 to $3.7 trillion by December 2014. However, the monetary base has surged back to record high levels as of March 2015.
I wanted to mention this point specifically from an investment perspective. In general, a strong dollar is indicative of contracting global liquidity and this can be negative for equities and other asset classes. However, the dollar strength comes from a weak euro and other currencies at a time when accommodative monetary policies continue in the US. The implication is that there is unlikely to be any negative impact on asset markets coming from a strong dollar. The US equities (NYSEARCA:SPY) still remain at near record high levels and I believe that this upside trend will sustain in the coming quarters.
In the recent past, I have been bullish on the healthcare sector and the defence sector and I maintain my view on these sectors with exposure through the Vanguard Health Care ETF (NYSEARCA:VHT) and the iShares U.S. Aerospace & Defense ETF (BATS:ITA).
In addition, I am of the opinion that investors can consider accumulating energy shares and the Vanguard Energy ETF (NYSEARCA:VDE) provides exposure to some quality energy stocks. While the inventory glut remains for oil, increasing geo-political tensions in the Middle-East can take oil prices higher. On the bearish side, investors need to keep a close watch on developments related to a nuclear deal with Iran. If the deal is finalized, oil can move significantly lower.
In conclusion, a strong dollar will have an impact on GDP growth in the coming quarters. This is especially true for exports driven growth. It remains to be seen how much the Fed can delay an imminent interest rate hike due to the dollar factor. The exports trend over the next few months will dictate the trend. However, liquidity remains ample in the global financial system and equities will continue to move higher.
Disclosure: The author has no positions in any stocks mentioned, and no plans to initiate any positions within the next 72 hours.
The author wrote this article themselves, and it expresses their own opinions. The author is not receiving compensation for it (other than from Seeking Alpha). The author has no business relationship with any company whose stock is mentioned in this article.