We at Stock Rover are excited about the NCAA Division I "March Madness" Basketball tournament this month, so in honor of the event we thought we'd run a single-elimination style tournament of our own. Stock Rover has never been very good at basketball, but it has always been good at comparing equities, so with that in mind, we set up a tournament more appropriate to the program's skill set.
Thus, we bring you March Midness, in which 32 mid-cap stocks will battle it out on the financial courts. Mid-caps (generally considered to be stocks that have between a $2 and $10 billion market cap) are often described as being a "sweet spot" in the investing world, because they can offer substantial growth potential with less risk than small caps.
Here's how the tournament works. There will be five themed rounds of competition. In each, the competing stocks will be compared in a handful of simple, straightforward tests. The winner of each round moves up. In the event of a tie, we have tiebreakers. At the end, we'll be left with one stock that has passed all the tests and warrants serious consideration as a potential investment. We'll probably also have discovered a few other contenders that could make for strong picks as well. These are the five rounds:
Earnings Growth
Financial Health
Efficiency
Competitive Advantage
Valuation and Risk
The first two rounds are included in this post; I will post the results of the next three rounds in an article next week.
A few things to keep in mind: We're approaching this from a buy-and-hold perspective, and we're also going to be dividend neutral. Finally, as a disclaimer, the competition is not a completely comprehensive assessment, so while we hope the winning stock is indeed a strong pick, we are certainly not recommending that you buy it based on this competition alone.
To select the competitors, I've created a quant screener that will filter, score, and rank stocks according to the following criteria: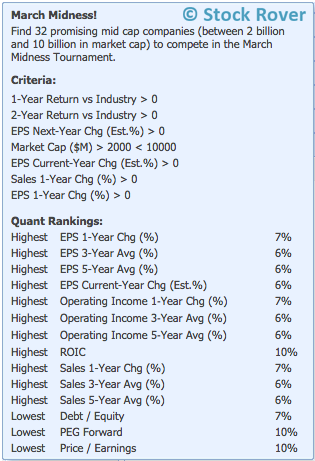 This finds the top 32 mid-cap companies that perform well in selected growth, profitability, and valuation categories. Additionally, we are filtering for companies that have matched or exceeded their industry's performance in the last two years. The screener is meant to yield a strong population - ideally, any stock on this list could prove to be a strong pick. Here is the list of passing stocks on March 12th, 2015, in alphabetical order: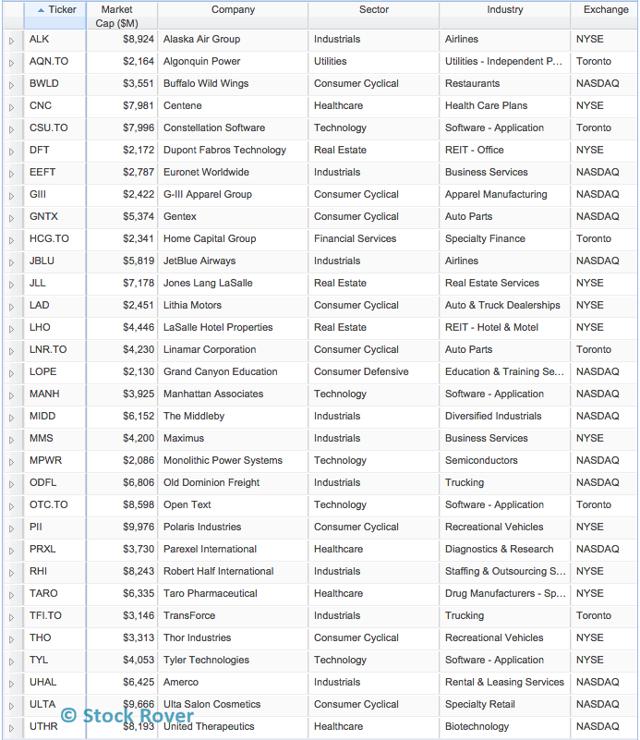 I've put these stocks into a watchlist, from which I will eliminate the losing stocks each round. Because it was a quant screener, the passing stocks were scored and ranked, which gives us the seeding. Here is the official tournament bracket, including seeding: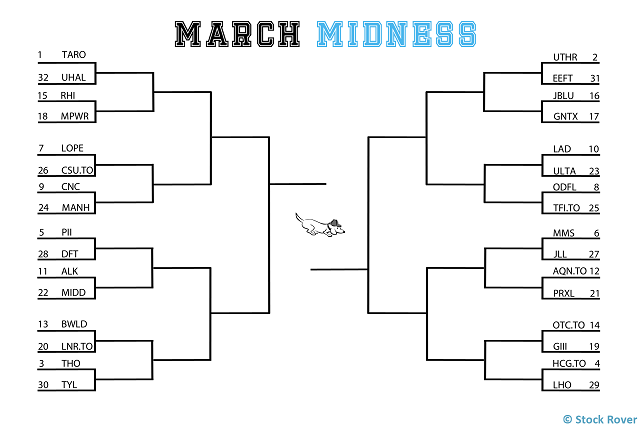 So without further ado, let the games begin!
Round I: Which company demonstrates better earnings growth?
Earnings growth is a critical element of a growth stock, and it is especially important in the mid-cap context. While there are multiple ways to examine growth, we're taking a strictly quantitative approach, scanning the tried and true metrics of EPS, sales, and operating income for positive growth. To compare stocks in these areas, I've again created a quant screener that I can apply to the stocks in my March Midness watchlist, so that each stock is scored according to the following criteria: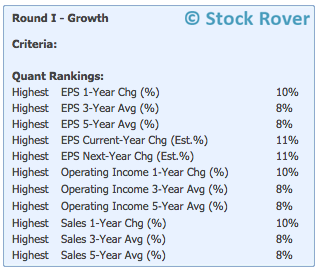 Overall, the criteria are all close in weight; however, 1-year and expected growth metrics are weighted slightly more heavily because we are hoping for accelerating growth. We'll apply this scoring criteria to all 32 competing stocks, and then simply compare the ranks of the stocks in each match. The winner advances.
Results
Here are the full results of the Round I Growth screener scoring. In addition to the relative rank of all stocks in the watchlist, I've included the columns for each of the weighted criteria so you can see exactly how each performs.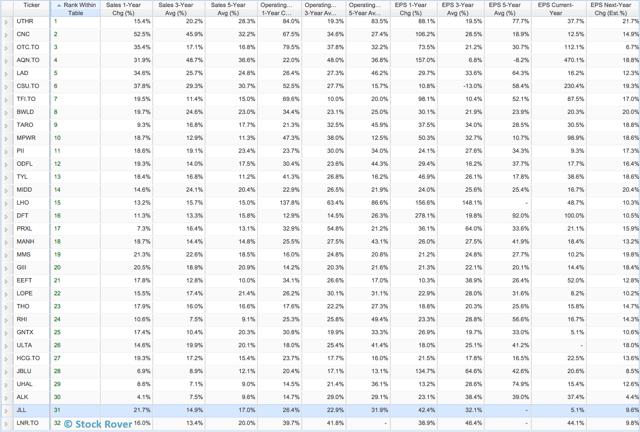 United Therapeutics (NASDAQ:UTHR), the highest-ranking stock, had a quant score of 81.34 (quant scores are only available in mouseover tooltips and therefore not visible in the table above), while the lowest-ranking stock, Linamar Corporation (OTCPK:LIMAF) (LNR.TO), had a quant score of 61.23. That means that even the lowest-ranking stock is still demonstrating above average growth (scores are calculated using percentiles in the North American market context). The screener we used to find these stocks (shown earlier in this article) has apparently done a good job in finding growth stocks. Most of the numbers in this table are strongly positive.
The closest match, based on quant score, was Polaris Industries (NYSE:PII) versus DuPont Fabros Technology (NYSE:DFT), which had scores of 73.36 and 72.66, respectively. As you can see from the table, DFT has an incredibly fast growing EPS, which clearly boosted its score. I examined this further and discovered that the stock has a huge jump in EPS in 2014 relative to 2013, from $0.31 to $1.19. Impressive, although this does provide some context - the exceptionally fast-paced growth is coming off a historically low base for DFT. LaSalle Properties (NYSE:LHO) and Algonquin Power (AQUNF) (AQN.TO), which are both advancing to the next round, also post some triple-digit numbers on the board, but both also have relatively low base EPS numbers - especially AQN.TO, whose EPS of $0.22 is the lowest among all competing stocks. A fluke? We'll see if this utilities stock can cut it in the financial strength round.
When we take the ranking to the match-ups on our bracket, we have our Sweet Sixteen: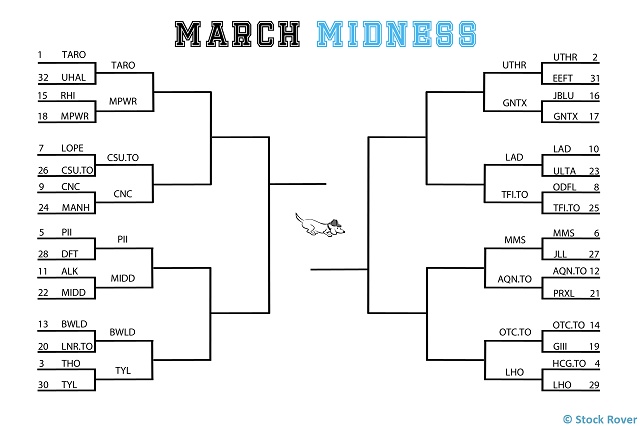 (Note that the numbers shown in the above bracket represent the original tournament seeding, not the scores from this round.)
Round II: Which company is financially healthier?
Now, with our Sweet Sixteen, we turn our attention to financial health. Specifically want to see that companies are not diluting their shares, are able to meet their short- and long-term financial obligations, have a safe level of debt, and have increasing cash flow and free cash flow.
Scoring: In order to compare the financial health of the competing equities in each match, I've created a scoring system where stocks are assigned a 1, 0, or -1 in the following fields:
Morningstar Financial Health Grade: The grade Morningstar has assigned to the company based on financial leverage and trend, according to the company's most recent quarterly balance sheet. Because this particular group of stocks does very well in this category, I graded on a curve. Rubric: 1 for A, 0 for B, -1 for C
Share Count Over Time: The number of shares over the past 10 years. An increasing number indicates share dilution, which, while not a bad thing in all cases, is certainly not something we're looking for. Meanwhile, a decreasing share count indicates that the company is buying back its own shares, therefore increasing the value of outstanding shares. Rubric: 1 for decreasing share count, 0 for the share count staying roughly the same, -1 for an increasing share count
Debt/Equity: A straightforward measure of financial leverage, comparing total debt to total equity. Rubric: 1 for below 0.4, 0 for between 0.4 and 0.7, -1 for above 0.7
Debt/Equity Over Time: We want to see the company's debt load decreasing relative to its equity. Rubric: 1 for decreasing under 0.7 or steady under 0.4, 0 for under 0.7 and increasing or over 0.7 and decreasing, -1 for increasing at or over 0.7
Current Ratio: A measure of the company's ability to pay short-term obligations, calculated as current assets divided by current liabilities. Rubric: 1 for 2 and over, 0 for between 1.5 and 2, -1 for below 1.5
Quick Ratio: Also called acid test or liquid ratio, this measures a company's ability to meet its short-term obligations with its most liquid assets. It is calculated as current assets minus inventory divided by current liabilities. Rubric: 1 for 1.0 and over, 0 for 0.8 and 0.9, -1 for below 0.8
Cash Flow Over Time: Cash flow is the measure of cash into or out of the company. Rubric: 1 for increasing, 0 for remaining roughly the same, -1 for decreasing
Free Cash Flow Over Time: Free cash flow measures how much cash a company generates after capital expenditures. It is calculated by subtracting capital expenditure (cap ex) from cash flow. Rubric: 1 for increasing, 0 for remaining roughly the same, -1 for decreasing
The scores are totaled for all of the competing stocks and compared. In most cases, the scoring rubric worked beautifully. In a handful of cases, evaluating the trend was not cut-and-dried, so I used my best judgment. So whereas Round I was completely quantitatively determined, Round II is just the slightest bit squishier.
The process of evaluating the stocks in each of these areas was fairly quick. I created a view with all the relevant columns, then simply expanded the 10-year historical data for each row.
For example, here is my Round II table with Maximus (NYSE:MMS) (in blue) expanded: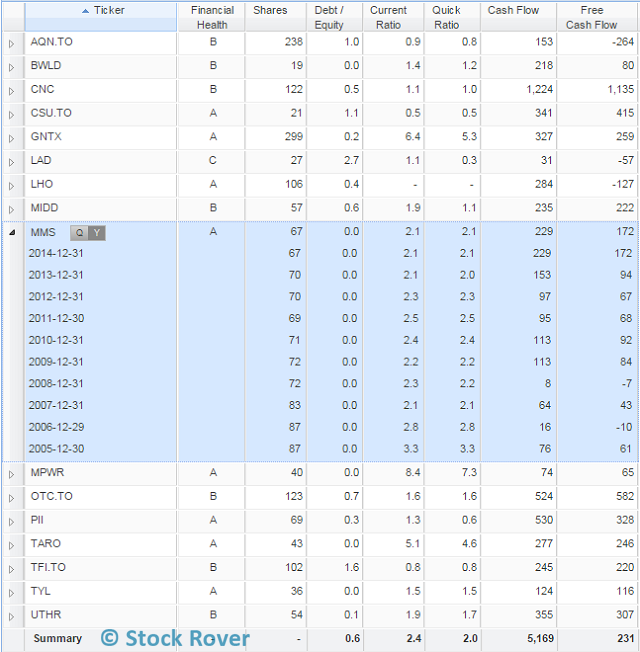 Now here is the resulting score sheet for each of the matches: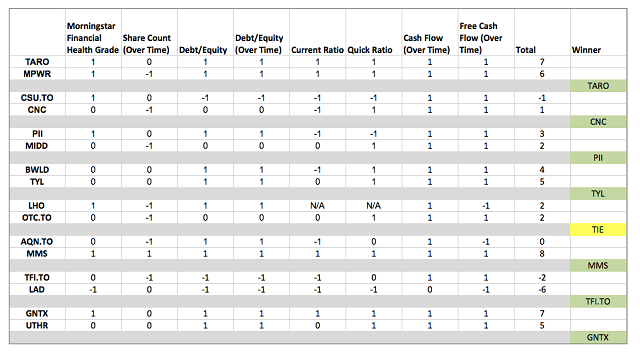 All but one of the companies received a 1 for increasing cash flow over the years. Free cash flow trends also looked generally good in this group, with all but three companies receiving a 1. Other metrics helped put some daylight between the contenders, although most companies still ended up with a positive score.
MMS turned out to be the only company that received a perfect score (thereby crushing its opponent, Algonquin Power, which had a score of 0). Other strong showings came from #1-seeded Taro Pharmaceutical Industries (NYSE:TARO) and Gentex (NASDAQ:GNTX), which both appear to stand on very solid financial ground, with low debt and high current and quick ratios. That is unfortunate for United Therapeutics, which had an above-average score, but not enough to catch its opponent GNTX.
Lithia Motors (NYSE:LAD) was the big loser. While the company has been growing earnings fast enough to make it this far in the tournament, its relatively poor financial standing was exposed in this round. With a high debt/equity that has increased over time, negative free cash flow, and poor current and quick ratios, this company needs to get its balance sheet in order before it has a shot at the championship.
LHO vs. OTC.TO
As you might have noticed in the score sheet above, we have a tie on our hands. LaSalle Hotel Properties and Open Text (NASDAQ:OTEX) (OTC.TO) each have 2 points. So this match goes into overtime, which is just as well - since LHO does not have a current or quick ratio available, this will give us more comparison opportunity.
Our tie-breaking factor will be equity growth. We'll be calculating the compound annual growth rate (CAGR) for the 10-, 5-, and 1-year periods. Best out of three wins.
Here is how each company has grown its equity over the past 10 years: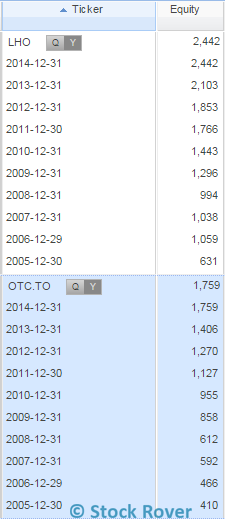 LHO's equity has traveled a farther distance, but as you'll see below, its CAGR is lagging over all three periods.

So that settles it. OTC.TO wins this match and advances to Round III!
Moving Up
We now have our Elite Eight. Here is our bracket going into the next round: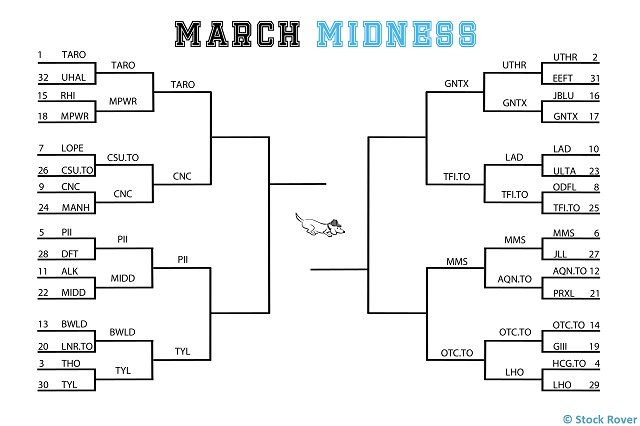 So far, it seems that any of these companies could be a champion, as they all have had fairly strong showings so far. Our lowest-seeded survivor at this point is Tyler Technologies (NYSE:TYL), which was ranked 30 out of 32 by our original March Midness quant screener. TYL performed well in this round - I'll be interested to see if it can upset #5-seeded Polaris Industries in the Efficiency round.
Next week, I'll post the results of the next three rounds, including the championship.
Disclosure: The author has no positions in any stocks mentioned, and no plans to initiate any positions within the next 72 hours.
The author wrote this article themselves, and it expresses their own opinions. The author is not receiving compensation for it. The author has no business relationship with any company whose stock is mentioned in this article.