The Economic Cycle Research Institute announced September 30, that it is forecasting the U.S. Economy will enter a recession. The current call is out of consensus as most current economic indicators show some signs of growth, albeit muted compared with pre-2008. Recessions are typically observed several months after they actually begin due to the time lag in collecting economic data. However, the ECRI is making a forecast, not an observation, so if it is correct it could be months before a recession is officially recognized.
Time will tell if ECRI is vindicated. However, its track record in calling recessions is worth noting. In March 2008, and March 2001, it accurately forecasted recessions. As Jon Markman recently noted, these two predictions were followed by brief market rallies lasting about two months, before U.S. equity markets took significant losses.
Below is a monthly chart of the S&P 500 (NYSEARCA:SPY) Index from early 2000 to the present. The approximate time of the 2001, 2008, and current ECRI recession forecasts are noted by the vertical red line - (click charts to enlarge):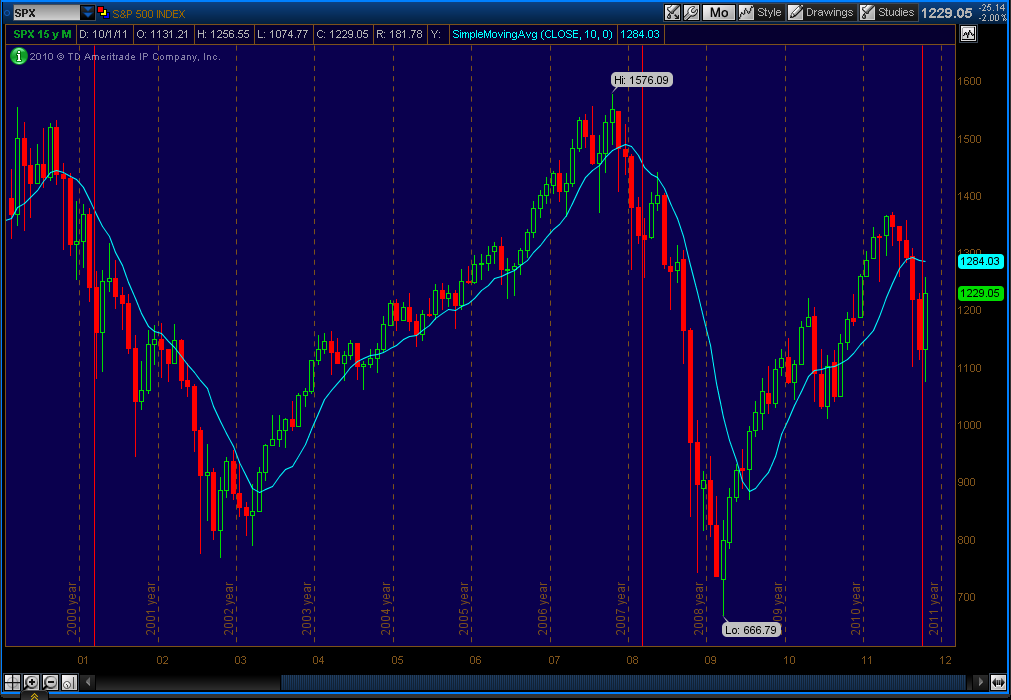 As you can see, the timing of the recession forecast does not necessarily trigger an immediate sell-off. in fact, the 2001 and 2008 forecasts coincided with market rallies lasting about two months to the 10 month simple moving average, that were then followed by significant declines.
Our current market is following a similar trajectory - we have rallied strongly in October and the 10-month SMA is looming at 1284. The winter is typically a seasonally strong time period for equity markets, so this rally could continue until the end of the year. However, if we follow a similar path as 2001, and 2008, more pain lies ahead for equity investors.
One factor working against equity investors is the long-term valuation of equity markets that does not look especially cheap. One of my favorite tools for gauging long-term valuations is the P/E10 ratio, tracked by Doug Short. The current reading is 19.7, which puts us in the 74.7 percentile, with the 100 percentile being the "Tech Bubble" in the late 90s/early 2000s.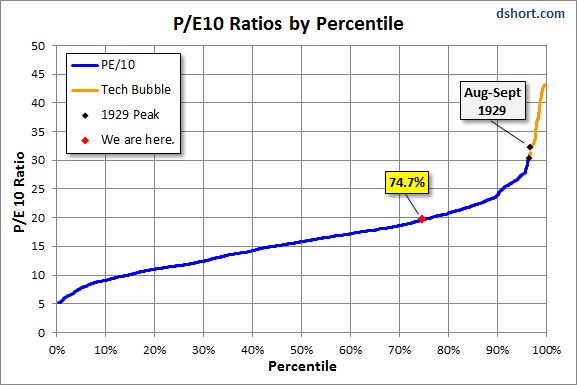 I noted yesterday that fundamentals and trends ultimately drive the market over the long term, but technicals tend to hold sway over shorter time periods. On Monday I said we had hit some short-term resistance on SPY (based on fibonacci retracements) and we subsequently sold off on Tuesday. It is possible these short-term resistance levels do not ultimately hold and the rally resumes. However, if we approach the 1285-1300 level on the S&P 500 Index, this becomes a key resistance zone (along with the 10 month simple moving average, presently at 1284) in determining the market's next move.
I also watch ETF relative strength as indicators of short and intermediate trends. My current ETF Replay portfolio, which rebalances on the 1st of each month, is holding bonds. It will not rebalance until October 31st/November 1st, but to put the recent equity rally in persepective, it has not done enough to switch intermediate trends and buy signals to equities. If I were to rebalance this portfolio today, it would be allocated to Investment Grade Corporate Bonds (NYSEARCA:LQD), 7-10 year Treasuries (NYSEARCA:IEF), Treasury-Inflation Protected Securities (NYSEARCA:TIP) and Gold (NYSEARCA:GLD).
It is always important to keep an open mind - in the coming months I do not expect new highs for equities (above 1370 on the S&P 500), but strong rallies above key resistance levels and changes in relative strength would do enough to change my mind. Long-term valuation is presently not appealing, but earnings ratios could "catch up" if corporate profits remain strong, Europe pulls a rabbit out of its hat, and ECRI's recession forecast does not come to fruition. Presently, I do not see these scenarios as likely.


Disclosure: I have no positions in any stocks mentioned, and no plans to initiate any positions within the next 72 hours.