The global economy seems to be heading for a slowdown. Although some analysts still have a bullish long-term market outlook, the recent volatility in the market may be a signal that the economy might dive into a recession. The indebted PIIGS nation in Europe has been getting the majority of the press, but the slowdown is worldwide.
Most analysts and market participants have closely been watching the debt crisis in Europe and it appears that the eurozone's sovereign debt crisis may yet again be papered over with another round of bailouts from the Northern European states. However, this will only provide a temporary fix and ultimately make the problem worse. Europe's political leaders are for the most part still in denial of its economic situation, but the markets have already priced-in disaster and only the details of the pending crisis are still left to be ironed out.
Nevertheless, it seems that the crisis in Europe have drawn attention away from what's happening in China. China is the 800 pound gorilla in the room that almost no one is talking about. China appears to be experiencing a typical Austrian economic boom-bust cycle, fueled by credit growth, and with the boom phase nearing its end. The degree of mal-investment is unprecedented, and it far exceeds the dislocation of capital that brought on the 2008 housing collapse. The most noticeable signs of mal-investments are newly built cities with almost no inhabitants and giant new malls with almost no tenants. However, the problem runs much deeper than unoccupied buildings. The root of the problem is that the banking industry is totally devoted to serving the State, and as a consequence, a lot of bank lending is done with complete disregard for economics.
Taking into account that most analysts and investors think that China's red hot economy is making rapid real progress, and that China will pull the world out of this economic slump, one of the next shoes to drop might be the broad recognition that that China's economy is slowing down.
The charts show China's GDP growth since 2010.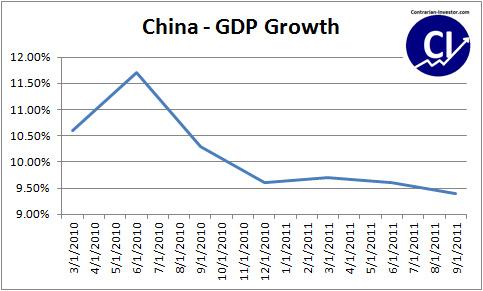 Source: TradingEconomics.com; National Bureau of Statistics
The chart shows China's industrial production growth, which measures changes in output for the industrial sector of the economy, including manufacturing, mining, and utilities.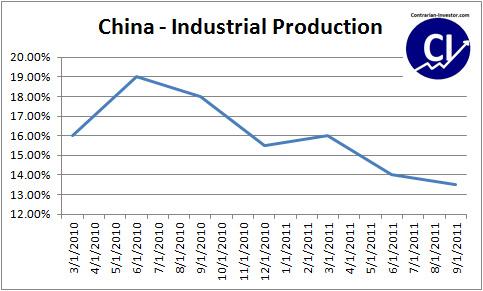 Source: TradingEconomics.com; National Bureau of Statistics
The next chart shows the world's major economies' GDP growth. It appears that economic activity peaked in early 2010. Much of the economic growth was fueled with massive government stimulus programs, and after the initial stimulus wore off, most countries' economies have been in decline.

This chart shows the combined GDP growth of the world's major economies and more clearly illustrates the decline in growth.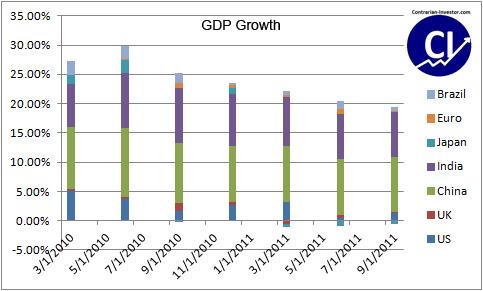 After the crisis of 2008 the precedence was set to tackle any economic decline with quantitative easing and stimulus programs. It started with TARP in the US and it was quickly adopted by most other governments around the world who created their own stimulus programs, bailouts, and other liquidity infusion programs.
The result of these activities has led to rapidly increasing public debt and an increase in the monetary base. Public debts have been rising quickly and many governments have already reached a point of no return, in terms of serving their debt loads. According to the Committee for a Responsible Federal Budget (CRFB), once a country reaches a debt to GDP ratio of 90%, interest payments quickly rise and impede the country's ability to grow and pay back debt.
Without a drastic change, more and more revenue will go to servicing debt, and interest payments will eventually account for 100% of all government revenues. However, well before that happened, a country will either default or print money and repay its debt with devalued currency. Since default is not a politically viable option in today's society, most governments will opt to continue with its monetary easing programs and pay back its debts with a devalued currency. This will create inflation and it's very bullish for gold, silver and other hard assets.
Investment Implications
As the global economy slows down, most governments will stimulate the economy to try to reignite growth and cause inflation. This has been the trend worldwide and it is likely to continue. In such a scenario, bonds and cash will do poorly while gold, silver and other hard assets will outperform. Gold and silver have clearly outperformed the stock market and almost all other assets classes since 2008 and will in all likelihood continue to outperform the broader equity market in the future.
iShares Silver Trust (SLV) is one of the most popular silver ETFs. The trust holds physical silver in a custodian bank, and is designed to reflect the price of silver on the market less expenses and liabilities. Although you are subject to the risk of relying on a custodian to hold your silver, this ETF is a very cost efficient instrument and an excellent trading vehicle.
SPDR Gold Trust (GLD) is one of the most popular gold ETFs. The trust holds physical gold in a custodian bank, and is designed to reflect the price of gold on the market less expenses and liabilities. Although you are subject to the risk of relying on a custodian to actually hold your gold, this ETF is a very cost efficient instrument and an excellent trading vehicle.
Market Vectors ETF Trust (GDX) attempts to replicate NYSE Arca Gold Miners Index. GDX represent a mix of 30 small, mid tier and large capitalization gold mining companies. GDX's holdings include some of the biggest and best producers in the industry and they are far better positioned to withstand a downturn than many other gold mining companies.
Market Vectors Junior Gold Miners ETF (GDXJ) is made up of 72 junior gold miners. The index provides exposure to a wide range of small to medium capitalization gold mining companies globally, that generate at least 50% of their revenues from gold and silver mining. Because of its holdings, GDXJ is more volatile than most other ETF's invested in precious metals. This ETF is suited for investors that wish to speculate on price movements in gold, but refrain from holding individual junior minors.
Silver Wheaton Corp. (SLW) is the largest metals streaming company in the world. It generates its revenue primarily from the sale of silver. It buys streams at low fixed prices and sells the metal at market prices. The streaming strategy allows the company to significantly reduce its operating costs and keep its capital expenditures at a minimum, while still having access to a large amount of silver.
The company at present has 14 silver purchase agreements and two precious metals agreements where, in exchange for an upfront payment, it has the right to buy all or a part of the silver production, at a low fixed cost, from high-quality mines located in various geographical regions. In 2010, the company generated sales of $423 million, and with an impressive 69% margin, SLW made $290 million in net income.