In Part 1 of this post I mentioned that many Business Development Companies (BDCs) are currently trading at a discount to their Book Value. This post will provide some more information on how the book value for the group of companies has fared for past quarters in addition to providing information on the current BV trend. This post relies on a large amount of data, but I have distilled it into some charts and quick lists for easy reading.
Data Set Overview
The companies chosen are the same companies I have been using in recent posts. This list is: American Capital (NASDAQ:ACAS), Apollo Investments (NASDAQ:AINV), Ares Capital Corp (NASDAQ:ARCC), Blackrock Kelso Capital Corp (NASDAQ:BKCC), Kohlberg Capital (NASDAQ:KCAP), Main Street Capital Corporation (NYSE:MAIN), PennantPark (NASDAQ:PNNT), Prospect Capital (NASDAQ:PSEC), Solar Capital (NASDAQ:SLRC) and Triangle Capital Corp (NYSE:TCAP).
The time being examined stretches from reported Q3 2008 book values through Q2 2011. This covers the peak of the financial crisis through the recovery in 2009 and back into our current mini-crisis levels. The reason I chose this date range is to show how much some of these book values have been hammered and to highlight how some management teams have restored the book value while other firms are still trying to catch up.
My data sources for this post include Yahoo Finance, the SEC website and Seeking Alpha. If you have a Bloomberg terminal you could also access this information, but I went the public route to show what type of data is available to people who are willing to read some 10-Qs and download returns.
Chart 1 - Comparison of Company Book Value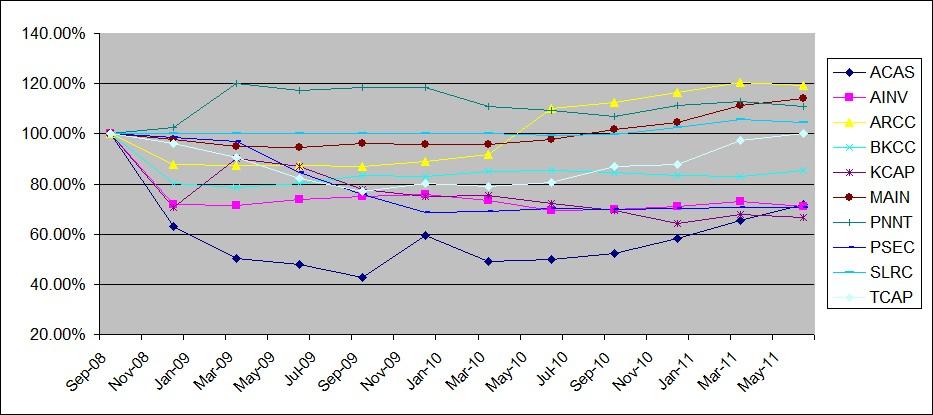 Chart 1 Detail
This chart () starts out by taking the companies' book values on 9/30/2008 and dividing all subsequent quarters by those values. This allows the different firms' book values to be normalized and to be compared. Each value is then calculated out from Q3 2008 through Q2 2011. As you can see, most of the companies had a peak BV on 9/30/2008, before the crash hit.
Some key things jump out when looking at this chart. MAIN and TCAP have increased their BV above the baseline value. MAIN has had a more stable upward slope, but TCAP has been showing gains since the second half of 2010. These firms are trading above their BV at the moment. ARCC has a significant jump in their BV for Q2 2010, but this jump was fueled mainly by the Allied Acquisition in April of 2010. After that, the ARCC performance has been relatively stable (no big up or down).
Chart 2 - Summary of Trends from Chart 1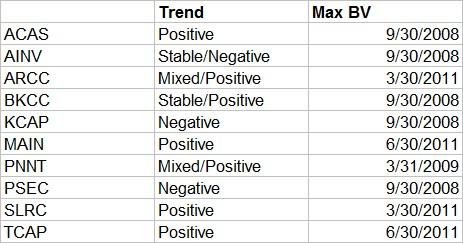 Chart 2 Detail
This chart is just a quick summary of the above charts. ACAS is the firm that saw the greatest decline from their Q2 2008 BV of 18.33 to a minimum value of 7.8 in Q3 2009. Since that time they have done a good job of increasing their BV each quarter to their highest amount Q2 2011 BV of 13.16 since the crisis began.
Conclusion
Looking at the book value chart has shown how some companies are just now getting back to where they were in 2008, other companies are excelling and still some other companies may never get back to where they were. ARCC, MAIN and TCAP have all increased book value over their original amount. AINV, KCAP and PSEC have all had a downward trending BV. The other firms (excluding SLRC as they are a "newer" BDC) are somewhere in the middle. The reason for this split? It could be any number of issues - fortunate equity raise timing, strong portfolio companies, favorable lender terms and finally superior management teams. I encourage everyone to do some additional analysis and decide for themselves.