Windstream Corporation (NASDAQ:WIN) services approximately 3.3 million access lines, 1.3 million internet customers, and operates around 60,000 miles of fiber routes across the United States. Its business is providing solutions in data and voice communications through access to communications networks, and it serves a range of customers, from business to residential to governmental.
WIN shares are currently trading just over $12, and the mean 12 month price target from analysts researching the stock is $14.40 (nearly 20% upside potential). This stock is trading at its 50-day exponential moving average of $12.06 and near its 200-day exponential moving average of $12.43. The stock has seen a steep decline in price through July and August, as it tracked the market lower. With a bounce from its 12-month low of $10.76 (created in early August) through to the peak of this bounce in mid September and the subsequent drop away and rise through October, the stock price is displaying a classic 'W' pattern. This points toward an impending break on the upside.
Earnings per share for the last 12 months are $0.55, and these are expected to reach to $0.85 in its next fiscal year (ending Dec 2012). These numbers place the shares on a trailing price to earnings ratio of 21.89, and a forward multiple of 14.14. This trailing price to earnings ratio is one of the highest in the sector. Far larger competitor AT&T's (NYSE:T) multiple is 8.48, though Verizon's (NYSE:VZ) is 6.79. However, looking at earnings expectations, the forward price to earnings ratios of these companies are 11.47 and 14.50, respectively.
For investors looking at dividend paying stocks, WIN's payment of a dividend of $1.00 last year gives the stock a yield of 8.40%, though this is not covered by its earnings. However, the company has paid a dividend of $1.00 per share since 2007, and it looks likely that it will continue to do so.
Current operating margin at WIN is 29.08%, with a return on assets of 6.79% and a return on equity of 38.04%. This compares favorably to other small telecoms companies like Frontier Communications (NYSE:FTR), which produces an operating margin of 20% and return on equity of 6.39%, and CenturyLink (NYSE:CTL) where the operating margin is 23.62% and the return on equity just 4.94%. The current revenue from WIN's income statement is $9.57 billion, and last quarter's revenue showed year on year growth of 148.60%. WIN has cash of $2.55 billion, and a total of $21.34 billion in debt. The company's debt/ equity ratio is 98.63, a concern especially with its proposed purchase of PAETEC (NASDAQ:PAET) to be completed by a combination of stock swap and debt assumption.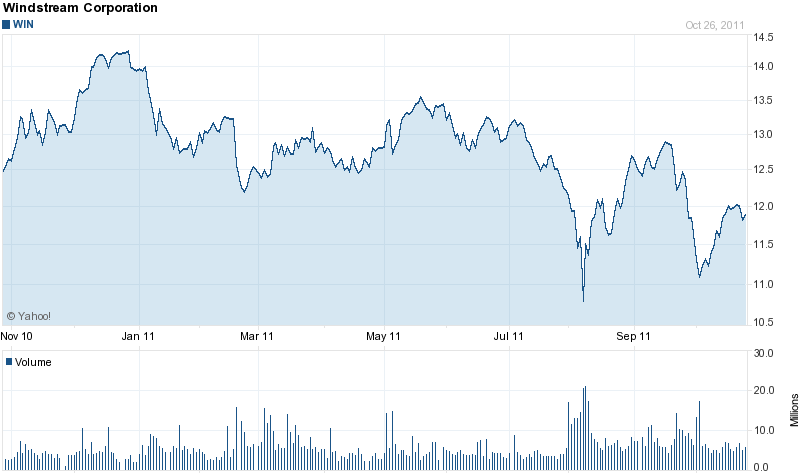 Looking at the 12-month chart, shareholders in WIN have suffered a small under-performance when compared to the fortunes of the S&P 500 index this year, though fared markedly better than holders of Frontier. The share price has been held back by a lawsuit that PAET shareholders brought against PAET and WIN, but this has been settled and should pave the way for the merger to proceed. Should WIN take control of PAET, it will increase its national fiber network by 100,000 miles. This will be an earnings positive deal for the company. The deal looks likely to happen given that PAET has an exclusivity deal, part of the shareholder lawsuit, with WIN that bars PAET from considering other bids.
WIN has recently announced the launch of a second generation cloud platform, and expects to capitalize on increased customer demand for this technology.
Overall, the trading pattern of WIN shares, along with its strong fundamentals lead me to consider this is a stock that is about to pop. Its forward price to earnings ratio is in line with competitors, and its dividend policy should prove attractive to would be shareholders. With management seeking to give more options to its customers, and proactively doing so, and the uncertainty of the PAET shareholders' lawsuit now removed, it is time that investors looked at WIN's shares again. Though the assumption of PAET debt causes a little concern, the positive considerations of the merger outweigh this. BUY.
Disclosure: I have no positions in any stocks mentioned, and no plans to initiate any positions within the next 72 hours.