Everyone who has been on the long side of the market going into Amazon's earnings report cannot help but be disappointed by the company's earnings report.
Another quarter, another blockbuster earnings report by Amazon (AMZN). On Tuesday afternoon, the company reported third quarter earnings of 14 cents, comparing to 51 cents a year earlier—missing analysts' 24 cents forecast due to lower profit margins. The company's revenues and revenue guidance also missed analysts' estimates, sending the stock sharply lower in after hours.

A survivor of the dot.com era, Amazon's performance has been often compared with all sorts of web-based companies, including Netflix (NFLX), Open Table (OPEN) and Google (GOOG). But the company has also been expanding from books to consumer electronics and all sorts of merchandise for bargain hunters — usually low-income consumers. As such, Amazon can be compared against low-end brick retailers like Wal-Mart (WMT), which it beats by a wide margin in terms of market performance.
Click to enlarge: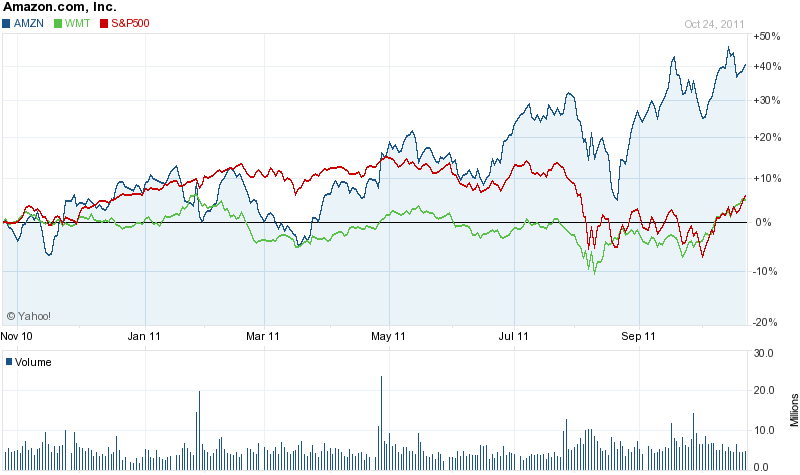 Amazon's superior stock performance isn't confirmed by financials, however. The company commands a PE of 100.1 compared to 11.06 for Wal-Mart; an EPS of 2.27 compared to 4.58 for Wal-Mart; and lower profit margins.

| | | |
| --- | --- | --- |
| Company | Amazon.com | Wal-Mart |
| Forward PE | 100.20 | 12.06 |
| Diluted EPS | 2.27 | 4.58 |
| Profit Margin (ttm) | 2.85% | 3.87% |
| Operating Margin | 3.14% | 6.01% |
| Quarterly Revenue Growth (yoy) | 51.20% | 4.4% |
| Quarterly Earning Growth (yoy) | -7.70% | 3.0% |
Wednesday's Amazon's disappointing report, together with the disappointed reports of Netflix and Open Table, confirm that web-based companies cannot escape the basic problems every business is facing, that is, building a business infrastructure that eventually squeezes their profitability.
What does it mean for investors? Conservative investors are better off with Wal-Mart. Aggressive investors are better off with Amazon.

Disclosure: I have no positions in any stocks mentioned, and no plans to initiate any positions within the next 72 hours.